Agility Fundraiser Travel Mugs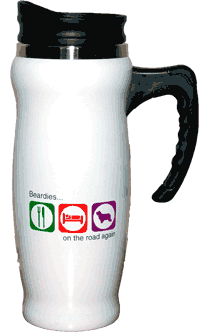 You don't have to do agility in order to appreciate these terrific travel mugs. You don't even have to travel. Even if you're just enjoying your morning cuppa at the breakfast table, the double stainless-steel walls of this beauty will keep your beverage of choice hot for a good long while.
These high-quality travel mugs are being offered as a fundraiser for the National Specialty's Agility Trial.
Color: Pearl white with four-color printing and the slogan "Beardies... On the Road Again." If you've had to get up early to drive to an event, you can appreciate the sentiment!
The icons on the mug represent the important things in life: Food, Sleep, and Beardies! The colors even match your BAD T-shirt!
16-ounce capacity.
Price: $20.00 plus shipping. Use our handy order form, or go to http://bcca2009.com/funds/agility-mugs.html to order through PayPal.