CH Cameron's Celtic Charm MX MXJ MJB
---
Cale-dog-4/30/01-DL89114901
Breeders: Kelly Canham
BIS Am.Can.Ch. Cameron's D'Arque Reflection, NAJ, NJC, NGC, ROM (Cole) x
Am.Can.Ch. Cameron's Forever Forbes
Owner: Richard Masley of Chagrin Falls OH
ThistleBrae Bearded Collies
www.ThistleBrae.net
---
AKC DL89114901
Standard Titling

10/02/07 Novice A 20"-Leg 1        95    1st/10   56.73'/73'  2.96
12/02/07 Novice A 20"-Leg 2       100    1st/2    45.25'/61'  3.13
12/14/07 Novice A 20"-Leg 3       100    1st/3    48.83'/71'  3.40               NA

 3/16/08 Open 20"-Leg 1            95    1st/5    49.73'/59'  3.17
 4/06/08 Open 20"-Leg 2           100    1st/5    49.17'/64'  3.53 
 4/26/08 Open 20"-Leg 3            95    2nd/10   51.20'/67'  3.57               OA

 7/13/08 Excellent A 20"-Leg 1    100    1st/10   53.06'/60'  3.52
 8/10/08 Excellent A 20"-Leg 2    100    3rd/16   56.20'/63'  3.54
 9/07/08 Excellent A 20"-Leg 3    100    2nd/13   51.55'/61'  3.74               AX
AKC Jumpers with Weaves

 8/11/07 Novice A 20"-Leg 1       100    1st/4    30.01'/36'  3.57
10/02/07 Novice A 20"-Leg 2       100    1st/10   26.95'/35'  3.93
12/02/07 Novice A 20"-Leg 3       100    1st/2    24.13'/36'  4.43               NAJ

12/14/07 Open 20"-Leg 1           100    1st/16   31.92'/39'  4.26
 3/15/08 Open 20"-Leg 2           100    1st/6    29.90'/36'  4.18
 4/26/08 Open 20"-Leg 3           100    2nd/10   30.86'/37'  4.15               OAJ

 6/06/08 Excellent A 20"-Leg 1    100    2nd/6    36.61'/44'  4.48
 7/12/08 Excellent A 20"-Leg 2    100    1st/8    36.99'/40'  4.08
 7/13/08 Excellent A 20"-Leg 3    100    2nd/11   32.84'/42'  4.78               AXJ
Championship Legs
Standard Titling

10/10/08 Excellent B 20"-Leg 1    100             52.63'/64'  3.86
10/11/08 Excellent B 20"-Leg 2    100             52.02'/62'  3.76           QQ
11/29/08 Excellent B 20"-Leg 3    100             56.46'/65'  3.60
 1/24/09 Excellent B 20"-Leg 4    100             50.87'/60'  3.73
 1/25/09 Excellent B 20"-Leg 5    100             53.97'/63'  3.68
 5/30/09 Excellent B 20"-Leg 6    100             50.57'/60'  3.71           QQ
 9/04/09 Excellent B 20"-Leg 7    100             54.11'/64'  3.71  CPs-  9							
11/28/09 Excellent B 20"-Leg 8    100             53.16'/61'  3.63  CPs-  7
 1/30/10 Excellent B 20"-Leg 9    100             54.98'/60'  170   CPs-  5
 3/19/10 Excellent B 20"-Leg 10   100             59.80'/65'  187   CPs-  5      MX
 5/15/10 Excellent B 20"-Leg 11   100             48.42'/62   178   CPs- 13  QQ
 8/13/10 Excellent B 20"-Leg 12   100             57.04'/64'  184   CPs-  6  QQ 
 8/15/10 Excellent B 20"-Leg 13   100             57.48'/60'  169   CPs-  2  QQ
10/15/10 Excellent B 20"-Leg 14   100             55.25'/60'  172   CPs-  4  QQ
10/17/10 Excellent B 20"-Leg 15   100             61.62'/62'  177   CPs-  0  
10/24/10 Excellent B 20"-Leg 16   100             59.26'/65'  187   CPs-  5  QQ
11/06/10 Excellent B 20"-Leg 17   100             57.29'/61'  173   CPs-  3  QQ
12/18/10 Excellent B 20"-Leg 18   100             59.76'/67'  191   CPs-  7
01/29/11 Excellent B 20"-Leg 19   100             56.62'/61'  174   CPs-  4
02/19/11 Excellent B 20"-Leg 20   100             57.62'/62'  176   CPs-  4
04/03/11 Excellent B 20"-Leg 21   100             62.87'/65'  186   CPs-  2 QQ
04/30/11 Excellent B 20"-Leg 22   100             53.78'/61'  174   CPs-  7 QQ


AKC Jumpers with Weaves

 7/20/08 Excellent B 20"-Leg 1    100             36.30'/38'  3.94-under Jeff Ipser
 8/08/08 Excellent B 20"-Leg 2    100             30.06'/38'  4.66
 9/05/08 Excellent B 20"-Leg 3    100             33.92'/40'  4.42
10/11/08 Excellent B 20"-Leg 4    100             33.75'/40'  4.44           QQ
12/13/08 Excellent B 20"-Leg 5    100             30.73'/39'  4.65
 3/29/09 Excellent B 20"-Leg 6    100             34.45'/40'  4.35
 4/24/09 Excellent B 20"-Leg 7    100             34.17'/41'  4.45
 4/26/09 Excellent B 20"-Leg 8    100             33.19'/41'  4.61
 5/30/09 Excellent B 20"-Leg 9    100             35.38'/39'  4.18           QQ
 7/11/09 Excellent B 20"-Leg 10   100             31.89'/41'  4.77               MXJ
 8/08/09 Excellent B 20"-Leg 11   100             30.34'/40'  4.98  CPs-  9							
 9/05/09 Excellent B 20"-Leg 12   100             31.60'/43'  5.06  CPs- 11
 9/06/09 Excellent B 20"-Leg 13   100             34.28'/41'  4.43  CPs-  6
10/06/09 Excellent B 20"-Leg 14   100             34.36'/44'  4.83  CPs-  9
02/20/10 Excellent B 20"-Leg 15   100             31.52'/38'  141   CPs-  6
03/20/10 Excellent B 20"-Leg 16   100             36.36'/43'  162   CPs-  6 
04/03/10 Excellent B 20"-Leg 17   100             37.20'/41'  154   CPs-  3 
05/01/10 Excellent B 20"-Leg 18   100             35.85'/42'  158   CPs-  6 
05/02/10 Excellent B 20"-Leg 19   100             34.22'/46'  172   CPs- 11 
05/15/10 Excellent B 20"-Leg 20   100             35.49'/47'  178   CPs- 11  QQ
06/05/10 Excellent B 20"-Leg 21   100             32.24'/41'  153   CPs-  8 
06/06/10 Excellent B 20"-Leg 22   100             31.48'/41'  155   CPs-  9
07/16/10 Excellent B 20"-Leg 23   100             33.55'/41'  152   CPs-  7
07/17/10 Excellent B 20"-Leg 24   100             37.13'/45'  170   CPs-  7 
08/13/10 Excellent B 20"-Leg 25   100             35.10'/39'  145   CPs-  3  QQ  MJB
08/14/10 Excellent B 20"-Leg 26   100             36.07'/42'  156   CPs-  5 
08/15/10 Excellent B 20"-Leg 27   100             33.95'/38'  142   CPs-  4  QQ
10/15/10 Excellent B 20"-Leg 28   100             38.77'/42'  156   CPs-  3  QQ
10/24/10 Excellent B 20"-Leg 29   100             38.36'/42'  157   CPs-  3  QQ
11/06/10 Excellent B 20"-Leg 30   100             35.53'/39'  146   CPs-  3  QQ
12/03/10 Excellent B 20"-Leg 31   100             38.19'/41'  155   CPs-  2
12/04/10 Excellent B 20"-Leg 32   100             39.17'/41'  155   CPs-  1
02/20/11 Excellent B 20"-Leg 33   100             37.33'/39'  146   CPs-  1
04/02/11 Excellent B 20"-Leg 34   100             42.57'/44'  166   CPs-  1
04/03/11 Excellent B 20"-Leg 35   100             41.72'/45'  169   CPs-  3 QQ
04/29/11 Excellent B 20"-Leg 36   100             39.73'/43'  161   CPs-  3
04/30/11 Excellent B 20"-Leg 37   100             35.71'/37'  137   CPs-  1 QQ
Championship Points

 7/20/08 CPs-   1
 8/08/08 CPs-   7
 9/05/08 CPs-   6
10/10/08 CPs-  11
10/11/08 CPs-  15 QQ 
11/29/08 CPs-   8
12/13/08 CPs-   8
 1/24/09 CPs-   9
 1/25/09 CPs-   9
 3/29/09 CPs-   5
 4/24/09 CPs-   6
 4/26/09 CPs-   7
 5/15/10 CPs-  24 QQ 
 5/30/09 CPs-  12 QQ
 7/11/09 CPs-   9    MXJ
 8/08/09 CPs-   9
 9/04/09 CPs-   9								
 9/05/09 CPs-  11
 9/06/09 CPs-   6 
10/06/09 CPs-   9
11/28/09 CPs-   7
 1/30/10 CPs-   5
 2/20/10 CPs-   6
 3/19/10 CPs-   5    MX
 3/20/10 CPs-   6 
 4/03/10 CPs-   3 
 5/01/10 CPs-   6 
 5/02/10 CPs-  11 
 5/15/10 CPs-  11
 6/05/10 CPs-   8 
 6/06/10 CPs-   9
 7/16/10 CPs-   7
 7/17/10 CPs-   7 
 8/13/10 CPs-   9 QQ 
 8/14/10 CPs-   5 
 8/15/10 CPs-   6 QQ
10/15/10 CPs-   7 QQ
10/17/10 CPs-   0  
10/24/10 CPs-   8 QQ
11/06/10 CPs-   6 QQ
12/03/10 CPs-   2
12/04/10 CPs-   1
12/18/10 CPs-   7
 1/29/11 CPs-   4
 2/19/11 CPs-   4
 2/20/11 CPs-   1
 4/02/11 CPs-   1
 4/03/11 CPs-   5 QQ
 4/29/11 CPs-   3
 4/30/11 CPs-   8 QQ

   TOTAL CPs- 350 QQs- 10  
---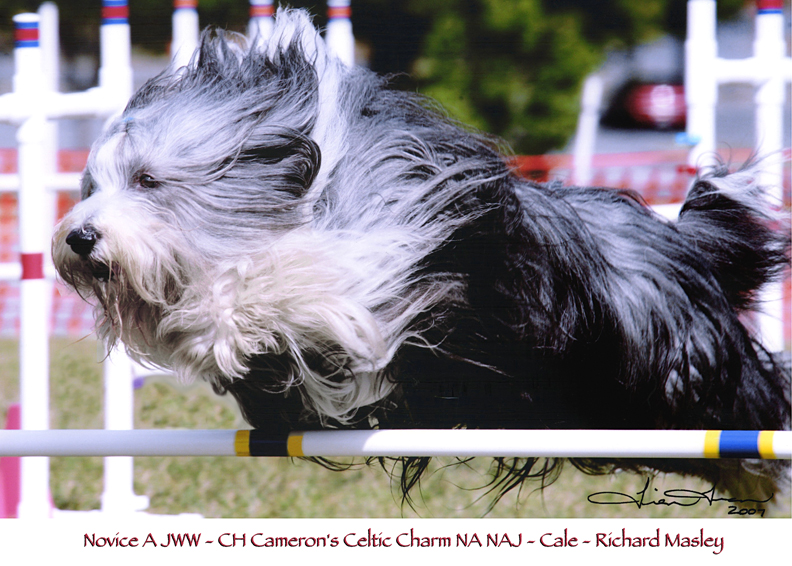 ---
8/29/08

Hi Libby,
It's been a GREAT year indeed. Cale never fails to give me 110% ... if only his handler could do the same. All in all it's been a blast and after all, isn't that what it's supposed to be about?
Cale's first Ex. B. JWW leg was under BAD's own Jeff Ipser. What a fun jumpers course he put togther too! Cale earned his first CP under Jeff. How appropriate :)
---
11/24/08

Hi Libby,
I just wanted to let you know that Cale's awards arrived! They are gorgeous. I couldn't wait to put them up. I can't thank you enough for all your hard work and dedication to keeping BAD together and running as smoothly as it does. Truly amazing!
---
Monday, April 20, 2009
Today is a very special day here as it was eight years ago that Cale (Ch. Cameron's Celtic Charm AX, AXJ) was born. I can still remember getting the email from Kelly asking if we were interested in Cole's #1 son. You could have knocked us over with a feather. Needless to say, the rest is history.
Cale can only be described as being an absolute delight. A cuddy bug by nature, Rosanna and he can often be found curled up on a sofa sharing ice cream or quiet time. And although his love for her is exceedingly apparent, he allows me to run him in agility ... always giving 110% despite my handling deficiencies. In short, our world is certainly much better for having him in our lives. I can only hope he feels the same way about us :)
So , with unending and limitless love ....
Happy Birthday Cale!
Richard, Rosanna, Piper and Anna
PS - Special thanks to Kelly for letting this wonderful Beardie fill our home and hearts with so much joy.
------------------------------
Wow what a memory that day has for me. Cole's first litter, and he wasn't even home to see them. He had gone down to the Nat Cap Specialty with Gramma Cathy Perry and went WD/BOW for his third straight major.
Deja vu saw Cole back in the ring at Nat Cap this weekend taking two Best in Veteran Sweeps and Best Stud dog.
Cale has far surpassed dear old dad in the agility field and we at Cameron couldn't be more proud with all the hard work Richard and Rosanna have put into his new career!
Happy Birthday Cale and Norah!
Kelly
---
Cale's Links
---
BAD-Midwest Beardies
BAD
BCCA
Organizations
---

Off to a BAD Start
BAD Handlers] | [BAD Dogs] | [BAD Events] | [BAD Links]
[BAD Greetings] | [BAD News] | BAD Beginnings]
[BAD Advice] | [BAD Attitudes] | [BAD Goods]