AKC National Agility Championships
West Springfield, Massachusetts
3 - 5 November 2000
Doug Klein's Maggie, handled by Jan Norikane
Joanne Williamson and Sean
Leslie Dawson-North with Chase, behind, and Kassi, in front
Jerry Bergen and Breezy
Liz Cox and Lucy
---
Beardies have competed in all five of the AKC National Agility Championships beginning with Penny Leigh's Tribbles in 1996. In 1997 Jerry Bergen's Breezy, Ann Krafcheck's Tasha, and Charles Gibson's Mikie participated in Chicago. In 1998 Breezy, Joanne Williamson's Sean and Leslie Dawson-North's Chase and Kassi made the trip to Atlanta. At that event Chase made Beardie history by coming in 4th out of 96 in the 20" class. In 1999 several qualified but only Sean and Karen Barratt's Boo! travelled to Denver.
In 2000 a whopping thirteen Beardies qualified:
Of these thirteen, six attended the event. To give you a sense of their excitement, I have decided to let the participants speak for themselves.
"The fifth AKC Agility National Championships and the first to be held in the Northeast are now history. With 474 entries representing 76 different AKC recognized breeds, it was the largest championship event the AKC has hosted. Not surprisingly, Shetland Sheepdogs were the most numerous breed entered with 88, followed by Border Collies with 68, and Aussies with 28. The Beardie entry was also a record at 6: Chase and Kassie, owned and handled by Leslie Dawson-North of Canada; Lucy, owned and handled by Liz Cox of North Carolina; Breezy, owned by Jerry and Lu Bergen of Vermont, and handled by Jerry; Maggie, owned by Doug Klein of Indiana and handled by Jan Norikane; and Sean, owned and handled by Joanne Williamson, representing NJ. Jerry and Lu printed out signs with the BAD logo to put around our crating area and we were one of the few groups organized by breed. BAD member, Toni Tuck, who was running her Cavalier, Emmie, also joined us. There were three rings to handle all the entries. Dirt was brought in and packed on the cement to form the ring surfaces. Thick rubber matting or carpet was placed under the practice jumps. State flags and banners were hung from the ceiling to give the arena a festive air and there were plenty of vendors selling all manner of goods and equipment for both dog and handler. A great place to do some early Christmas shopping!" Joanne
"The nationals are just BIGGER than the usual. Bigger in the sense that you see license plates from all over as you drive onto the grounds. The RV parking looks like a small town. The first familiar feeling is being around all the handlers and dogs. Everybody had a look of fun in their eyes as we arrived. While walking in all the equipment, there was a real loose sense of enjoyment in the air. There was anticipation, too, but no sense of panic or real concern.
I knew Friday was the State Trials, a "fun" event. I did not realize how big a deal it was. Jan took off with Maggie to be with her team. Jo and I settled in to watch the parade and see how the surface lasted up to the trial runs. The parade was even more fun than Jan had made it sound. I video taped from near the announcers' platform, and enjoyed every minute. Especially, when the dogs and handlers joined in howling the Star Spangled Banner with the soloist. Not that the soloist howled, but the doggies where I was standing sure did. It was like everyone took it up a notch when the soloist hit the "And, the rockets red glare" part. It was great. Everybody had fun." Doug
"The team tournment was held Friday. This segment of the competition was governed by international, rather than AKC, agility rules. The contact zones are smaller and the A-frame higher, knocked bars and missed contacts are points off rather than an automatic NQ, and the time standard is faster. Both the JWW and Standard courses were fun and fast to run. The SCT for JWW was 37 seconds and for standard (with no table), 47 seconds. Individual rankings were only given out at the international jump heights of 16" and 26". Jerry and Breezy were on the New England team; Jan and Maggie, the Middle America team; Chase, Kassie and Leslie, the Wisconsin-Ontario team; Lucy and Liz, the North Carolina team and Sean and I on the NJ team. In
total, there were 23 teams. Leslie ran Chase and Kassie at 26"; everyone else competed at their standard AKC jump height of 20". All of us had trouble making the SCT's- some had course faults as well. California had
the largest team entry with 50 and finished the preliminary round in first place. NJ just missed making the five team final round again, finishing sixth; we had three dogs with double clear rounds but our 4th, the usually
reliable Diane Bauman with Torville, had a refusal on the standard course and that knocked us out. The five teams making the finals were CA, TX, PA, OH, CO but it was Ohio team that prevailed in the end with Texas, second and California, third." Joanne
"The four rounds of the National Championships were held Saturday and Sunday. By the end of Saturday, it was clear that the excitement we had in Atlanta in 1998 of seeing Leslie with Chase and Kassi in the finals would not be repeated by any Beardie in 2000. The first class on Saturday was standard with an SCT of 58 seconds (no time was added for the table); a nice, flowing course that was fun to run. However, only Kassi managed a clean run in this first round; Breezy, Chase, Lucy, Maggie and Sean all NQ'd. Toni Tuck's Cavalier, Emmie, had a fine run on the 12" course to qualify and finish her MX! The afternoon JWW course was also quite reasonable but with a tight SCT of 37 seconds. The Beardie results were a little better: Chase and Maggie managed clean runs but Breezy and Lucy were over-time, Kassi had an off-course and Sean, a knocked bar. On Sunday, the JWW course was run first. The judge was Jim Sanders of PA who is known for his JWW courses with no tunnels. This was another good one but with a tight SCT of 36 seconds. Chase and Kassi both had nice clean runs but the rest of us managed to NQ for a variety of reasons (over-time, Breezy; refusals, Maggie & Lucy; knocked-bar, Sean). The final standard round was a lovely flowing course with no table, but we had only 50 seconds to do it in (at 198 yards, that figures out to almost 4 yards/second-- the time-standard dogs who apply for the world team are required to meet- the normal AKC time standard for excellent is 3 yds/second)! In my opinion, this radical change in the time standard (the first time this has been done at the Nationals) was very unfair to those of us who came only to compete, have a good time and maybe earn a double-Q and some MACH points. I was tempted not to run Sean in the final round as he had knocked a bar in each of the three preceding ones and 4 yds/sec is way above what he is capable of even running his fastest. But I decided finally that since we were here and this might be his last Nationals that we would give it one last try. Sean ran a wonderful course, one of his best, qualifying but not fast enough to escape having time faults. Lucy and Maggie also had fine runs and qualified with time faults. Breezy ran well and covered the course at 3.4 yds/sec, well above the normal AKC Excellent requirement, but unfortunately not quite good enough to qualify on this day. Chase and Kassi both had beautiful clean runs to complete double Q's. But you needed to have three clean initial rounds to qualify to run in the final ten in front of the Animal Planet cameras so no Beardies will be on TV this year. "
Joanne Williamson
"This was my first time visit to the nationals. Jan Norikane runs the trials, my wife, Jo, and I come along for support and because we wouldn't miss it unless we had to. On Saturday, the Nationals began. I'll admit it right up front, there is this little thought that you have to have at something like the Nationals. Everybody has a chance, so if Mag had a weekend way above her norm, we could maybe do something. I mean, "how much does it take to finish in the top 25%?" All it took was watching one or two of the elite level teams move through the course. Wow! The spot where that other thought came from suddenly asked, "And why exactly did we come here?" After a couple more elite level teams, I pretty much had come back into focus on why. I was there just to be able to say I was there. If Mag did real good, cool. If she did not, that was cool, too. Maggie and Jan ran right about where they usually do. We got two qualifying legs, one Standard and one Jumpers."
Doug Klein
"This was my first AKC Nationals. My only goal was to go and have fun with my dog, Lucy. It was exciting to see other beardies running and we all supported each other during our runs. The course times were very fast, which we knew ahead of time, but we went out to run the best we could. I was so proud of Lucy for running as well as she did in all four runs. Her mom wasn't quite on the ball some of the time, but she just kept doing whatever she was told. We came home with only one green ribbon, but more importantly we came home with memories of a weekend of fun together. It's just one more experience I've been able to share with Lucy that has helped build a stronger bond between us. It was great fun."
Liz Cox

"Leslie Dawson-North did a fantastic job of running 2 Beardies and having them finish side-by-side high in the final ranking. That demonstrates competence and consistency in training and handling. All the Beardie handlers did a superb job competing with the top agility teams in the country. Several times during the Beardie runs the announcer commented on the number of Beardies entered and their great performances. I'm proud of all of them."
Jerry Bergen
"When I arrived I saw that Jerry had a BAD sign out so that all of the Beardie folk could crate together.
I really enjoyed talking with Gill Crawford, who judged Agility at the '99 BCCA Nationals in Washington. She watched our runs remarking how wonderful, athletic, and powerful Beardies are. My two girls ran fabulously, without flaw. I had one off-course with Kassi and a knocked bar with Chase. Kassi, at 9 1/2 years old, ranked in the top 20. Without the off-course, she would have been in the top 12. Chase and Kassi ran with Team Wisconsin and were ranked 3rd and 4th on the Team. Overall, running well amongst such a level of competitors made me feel good about our performance. I am tickled ending up where we did. I most enjoyed meeting the Beardie people, cheering on the competition, and seeing people that I knew of but had never met."
Leslie-Dawson North
"I didn't stay to see the top competitors do their final round. Saturday was Corey's 15th birthday and I wanted to get home early enough Sunday night to celebrate with him and Springfield is a three hour drive from home. The 24" National Championship was won by Linda Kip and her Border Collie, Jessie in a repeat of their win last year (my instructor and friend, Elicia Calhoun and her Aussie , had had a magnificent Nationals and were in first place by about 4 seconds going into the final round but Elicia made a handling error right at the start of the final course and caused a refusal so her championship dreams for this year were lost); the 20" National Champion was Pauleena Hope and her Border Collie, Timeflies; the 16" National Champion was Erin Schaeffer and her Shetland Sheepdog, Jag; the 12" Champion was Kathy Leggett and her Shetland Sheepdog, Heather, in another repeat win; and finally the 8" Champion was Debbie Moore and her Toy Poodle, April, yet another repeat winner.
It was great to meet Doug, Jan and Maggie and to see Leslie and her girls, Liz and Lucy, and Jerry & Lu & Breezy again. Doug took a group picture of the dogs which we should title "Sean and his Harem" since he was the only boy Beardie. And now its time to dream about the Nationals in Denver, this time next year!"
Joanne Williamson
"Since I do not have to get into the ring, I use the time and energy to try to learn about the sport. I videotape as much as I can. I watch tapes a lot during the winter in Chicago. All I could think about was how much I was going to appreciate watching the action in slow motion when I got home. That way I can just about comprehend some of what the better teams do, and why they do it. I'm getting a better eye for spotting things in real time, but I have a long way to go. When I watch the tapes of our events, I watch it forward a couple of times, to get an overall impression of how trial went. Then, if our team had a rough spot, and I cannot spot it in forward motion, I just remember the spot where Mag barked. I run the tape in slow motion reverse, and usually, whatever she did not like is immediately after (in reverse) the bark. It doesn't always work, but Mag doesn't hold back much. She reacts pretty quickly if something happens out there that doesn't meet her satisfaction.
Jo and I had two days of hanging out with some of the best agility folks in the country. We got to watch an international sporting event. We met new friends and Beardie owners. We'll do it again every chance we get. If it is within a 4 - 6 hour drive, we would go just to watch, even if we did not have a beardie competing."
Doug Klein
"This trial marks another 1st for Breezy: the first time she failed to earn a qualifying score at a titling event since she began agility 4 years ago. This trial also marks a last for Breezy: the last AKC agility trial. Breezy will be 10 years old in January so Lu and I decided that she should no longer jump 20". Next year Breezy will be entered only in NADAC Veterans and USDAA Performance where she will jump 16". Now, if only the courses could be made shorter for us aging handlers!"
Jerry (Lu and Breezy, too)
---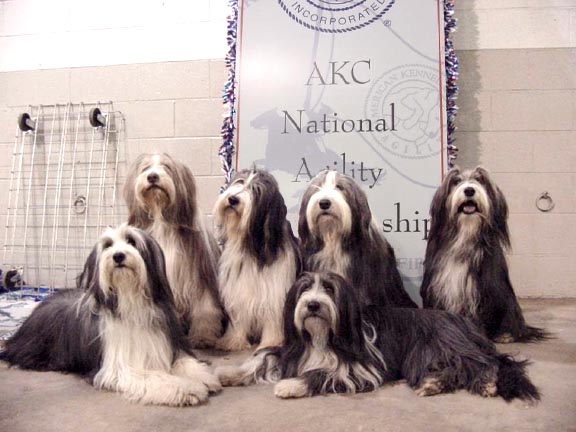 Maggie, Sean, Chase, Breezy, Lucy, and Kassi (in front)
---
Final Results -- Standard and JWW -- Cumulative of 4 runs
4 and 5 November 2000
20" Class (111 Participants)
Beardie Standings
17th:  Chase  382, 161.83  three qualifying rounds
18th:  Kassi  382, 169.15  three qualifying rounds
49th:  Breezy 319, 203.29  no qualifying round
74th:  Maggie 273, 189.00  two qualifying rounds
85th:  Sean   250, 190.67  one qualifying round
89th:  Lucy   246, 206.80  one qualifying round
---
Rnd #1-Standard
23rd:  Kassi  100, 52.74/58
44th:  Chase   82, 49.96/58
63rd:  Breezy  73, 67.49/58
89th:  Sean    34, 62.27/58
94th:  Maggie   0, 66.25/58
98th:  Lucy     0, 69.73/58

Rnd #2-Jumpers
31st:  Chase  100, 33.55/37
42nd:  Maggie 100, 36.17/37
56th:  Lucy    94, 39.28/37
58th:  Breezy  91, 40.37/37
73rd:  Kassi   82, 36.24/37
75th:  Sean    82, 37.11/37

Rnd #3-Jumpers
30th:  Chase  100, 32.23/36
33rd:  Kassi  100, 32.38/36
69th:  Maggie  82, 32.91/36
85th:  Breezy  76, 38.34/36
94th:  Lucy    64, 42.84/36
104th: Sean    43, 37.88/36

Rnd #4- Standard
20th:  Chase  100, 46.09/50
24th:  Kassi  100, 47.79/50
40th:  Sean    91, 53.41/50
41st:  Maggie  91, 53.67/50
46th:  Lucy    88, 54.95/50
63rd:  Breezy  79, 57.09/50



---


The final International scoring for the Beardies over the two rounds (faults/total time) was as follows: 
26" class ­ 78 participants 
21st:  Chase   6.29/80.09
22nd:  Kassi   6.45/80.81

20" class -- no rankings given 
       Lucy    6.12/90.12
       Sean   22.21/91.21
       Breezy     e/98.59
       Maggie     e/109.13
---
AKC National Agility Championships 2003
AKC National Agility Championships 2002
AKC National Agility Championships 2001
AKC National Agility Championships 2000
AKC National Agility Championships 1998
AKC National Agility Championships 1997
---

Off to a BAD Start
[BAD Handlers] | [BAD Dogs] | [BAD Events] | [BAD Links]
[BAD Greetings] | [BAD News] | BAD Beginnings]
[BAD Advice] | [BAD Attitudes] | [BAD Goods]

Email Libby with an update