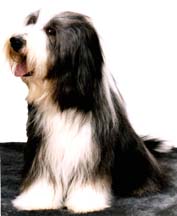 BAD ADVICE
---
Visit JO SERMON's Page on the BAD Website.
Jo has given many workshops in her Native UK as well as around the United States.
---
Stuart is a six-time agility champions finalist, including 1991 National Champion. He was included in the USDAA Agility Hall of Fame in 1991. Stuart has a training facility in Florida. He offers national training seminars and judges for all major agility organizations.
---
Advice for the Novice's First Run -Ann Krafcheck and Helix Fairweather
Ann speaks from the perspective of the Master's level handler. She and Tasha went to the AKC Nationals in '97. Her young Beardie Drake keeps her on her toes! This last year Tasha earned the Versatility Excellent Title, an all around Performance award from the Bearded Collie Club of America.
Helix speaks as a Novice, explaining what she finds works for her and Brady at this level.
---
Advice for the Novice Gambler -Jack Buhite
Jack handles Skyedance and Caper and particularly loves Games, including, Gamblers, Snooker, and Jumper. He has attended seminars with Nancy Gyes, Jim Basic, Stuart Mah and the Boltons and has brought his own trial experience to bear in writing this article.
---
Snooker? -Lott, Leek, Buhite
---
Speeding up the Slow Dog -Suggestions from Emily Venator and Glenn Hamilton
---
Last updated 11 December 2002
---
---
---
---
---
---



---
BAD Honors:
---
BAD Awards:
---

Off to a BAD Start

[BAD Handlers] | [BAD Dogs] | [BAD Events] | [BAD Links]
[BAD Greetings] | [BAD News] | BAD Beginnings]
[BAD Advice] | [BAD Attitudes] | [BAD Goods]
[BAD Member Breeders]
Email Libby with an update