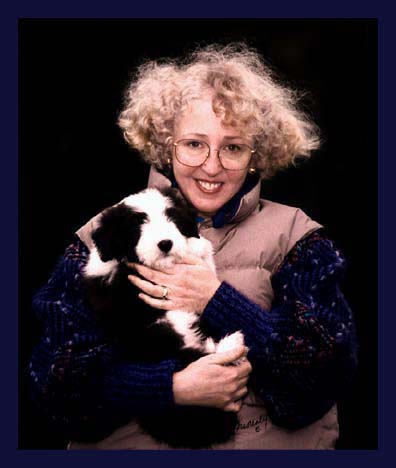 14 February 2008
Happy 10th Anniversary to all Beardie Agility Diehards!
On New Year's we celebrated the tenth anniversary of our Website, which is dedicated to you and our Agile Beardies and which reflects your ideas and achievements.
On 2 October 2007 we held our 10th Annual BAD Dinner and Awards. At least seventy-five percent of Beardies currently doing USA agility belong to BAD members and it is due to you that this organization exists and is flourishing. I look forward to receiving your letters about your weekend adventures and training insights, as well as more pictures of you and your Beardies.
First, a big Thank You! to Karen Norteman who suggested the Web Site, started it, and gave me many hours of technical assistance and training before transferring the site to me.
Thank You! to Gretchen Blackburn, who designed our BAD Logo and made our BAD T-shirts. It is truly an outstanding design, which won first place in the Professional Art Category at the '97 Specialty! As we wear our BAD shirts we feel a sense of unity and many attest to the luck it brings them in Agility (and Herding!) trials. It was great fun inaugurating them at the '97 Specialty and at the '97 AKC Nationals and having a special reprint, including embroidery for our 10th Anniversary!
Special Thanks to Betty Winfield, Jerry Bergen, Glenn Hamilton and Emily Venator, who helped me in my pursuit of the NADAC and USDAA Beardies back in the Spring of1997 and inspired me to found BAD.
Thank You! to Sharon Prassa who encouraged me when I first started thinking about turning my new found connections with Agility Enthusiasts into a cohesive group of Diehards!
We are blessed not just with one BAD Artist, but with three! Thank you to John Wilkins of MacLean & Co for sharing his cartoons, which you will find on the Northern California Beardie Fanciers' page and on our BAD history page. He makes delightful stationery and shirts, so that we can stay BADly attired for every occasion!
Chet Jezierski has sent us a picture of the Diehard Trophy print which you can see under BAD Goods.
I have also added a few designs of my own: Joie de Vivre and Weaving through the Aspens.
Thank You, too, to those of you,who wish to remain anonymous, who contributed well in excess of your membership dues! You are truly helping us in our Agility Publications!
My personal thanks, to my husband, Jack Buhite, whom you may remember as our '97 Specialty piper and course builder and the runner of two very fast Beardie boys at the '99 Specialty. He is the one who trains and handles Skye, Caper, and Ceilidh and inspires me in my BAD endeavors, bought me the latest Mac, a scanner, and PhotoShop, so that I can really give my all to this project. I look forward to many happy hours of creativity!
---
As you explore our site, you will see that there are several categories:
Join the BAD Group will take you through the process of becoming a Member or joining the BeardieAgility E-mail list.
BAD News will keep you up to date with the latest Agility News, such as changes in AKC, USDAA, and NADAC policy. As of 1 January, each organization is implementing change with regard to Jump Heights and titling requirements.
How We Got to Be So BAD is our history, which tells how we got started and decided on our name.
---
BAD Handlers is our membership list.
BAD Dogs gives a list of all our Beardies doing agility and links to their personal pages.BAD Galleries lists our Beardies by geographical recgions and shows pictures of our Beardies in action.
Agility Beardies at the Rainbow Bridge has pictures and tributes to our Agility Beardies who were so dear to us.
---
BAD Things We've Done tells us about the activities of our Agility Beardies in AKC, USDAA, NADAC, CPE and UKC.
Beardie Agility Firsts lets us know about which Beardies were first in AKC, USDAA, NADAC, UKC, and CPE titling.
BAD at Beardie Events tells us about the activities of our Agility Beardies the BCCA and Regional Specialties.
BCCA Nationals - To see details from ALL the trials, go to: BCCAntls.html
The 2007 Specialty Agility Trial was hosted by the National Capitol Bearded Collie Club in Frederick, Maryland on 2 October.
87 Beardies participated
Standard Classes
80 entered, 73 ran, and 25 qualified = 34%
Jumpers With Weaves Classes
81 entered, 78 ran, and 28 qualified = 36%
Both Highs in Trial to Sheila Franklin's Bracey
FAST Classes
50 entered, 47 ran, and 37 qualified = 79%
High in Trial to Jill Scarborough's Jack
Totals
211 entries, 198 runs, 90 qualifiers = 45%
The 2006 Specialty Agility Trials, Into The Woods, were hosted by the Northwest Bearded Collie Club of Puget Sound at The Resort at the Mountain, Mount Hood, Welches, Oregon on September 14th and 15th, 2006. This was the first specialty to hold TWO agility trials. Day one was the Northwest's Regional Specialty. Day two was the BCCA Specialty. - Judges Gill Crawford and Kera Holm
BCCA - Standard: 53 ran and 21 qualified = 40%
JWW: 56 ran and 19 qualified = 34%

Both Highs in Trial to Jack Buhite's Caper
NWBCCPS - Standard: 47 ran and 14 qualified = 30%
JWW: 51 ran and 15 qualified = 30%

Both Highs in Trial to Jeff Ipser's Zoom
The 2005 Specialty Agility Trial - Judge Greg Beck - Omaha, Nebraska - 69 participants.
The 2004 Specialty Agility Trial - Judge Joni Weed - Fort Collins, Colorado - 66 participants.
The 2003 Specialty Agility Trial - Judge Edith Allyn - Asheville, North Carolina - 51 participants.
The 2002 Specialty Agility Trial - Judge Kera Holm - Monterey, California - 59 participants.
The 2001 Specialty Agility Trial - Judge Kathy McCoubrey - Westminster, Maryland - 51 participants.
The 2000 Specialty Agility Trial - Judge Jean Munger - Oconomowoc, Wisconsin - 42 participants.
The 1999 Specialty Agility Trial - Judge Gillian Crawford - Olympia, Washington - 30 participants
The 1998 Specialty Agility Trial - Judge Donna Gomer - Bedford, Massachusetts - 32 participants
The 1997 Specialty Agility Trial - Judge Tamra Wiebe - Rohnert Park, California - 29 participants
The 1996 Specialty Agility Trial - Judge Beth Canner - Florida - 28 participants
BCCA All Breed
NCBCF
NWBCCPS
BAD Things to Come gives links to National and Regional Agility Calendars.
---
BAD Honors tells about our most outstanding Agility Beardies. We look forward to creating awards, with your help, some serious, some funny. We especially want to create a BAD award which recognizes those Beardies which are truly outstanding across the board. With agility successes in seven North American Organizations, it is sometimes hard to get the overall picture.
(Last updated in June 2007. Updates coming soon!)
BAD Awards tells about the Annual Awards given to our BAD Members.
---
Bad Attitudes and Tales are full of our Agility poems, songs, funny moments, and weekend successes.
BAD Advice gives training tips from Nancy Gyes and Stuart Mah, world class competitors, as well as many of your questions and tips. We look forward to having more articles from Professional Trainers as well as your many discoveries and helpful hints, as we train our Beardies.
BAD Goods includes BAD Wear, such as Gretchen Blacburn's BAD T shirt and BAD Sweatshirt, my two designs-Joie de Vivre and Weaving through the Aspens, Chet's Performance Beardie Shirt, and links to John Wilkin's Website. You can order Mazie's a"MAZ"ing Video, Agility Magnets, and Agility Equipment.
BAD Links takes you to all the BAD places you want to go! I look forward to having more links to your Club Agility pages!
---
I have updated the BCCA Section of the Website:
BCCA Agility Committee tells about the current members on our Committee.
BCCA Awards tells about the Awards given at the Annual BCCA Awards dinner for achievements in AKC Agility

Diehard Trophy for Overall Excellence in both Standard and JWW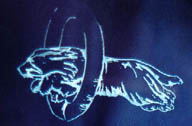 ---
Happy exploring! Be sure to send me more articles and pictures and to let me know how you find our website!
Libby Myers-Buhite
Founder of BAD
BCCA Agility Co-Chair
NCBCF Agility Chair

Off to a BAD Start
[BAD Handlers] | [BAD Dogs] | [BAD Events] | [BAD Links]
[BAD Greetings] | [BAD News] | BAD Beginnings]
[BAD Advice] | [BAD Attitudes] | [BAD Goods]
[BAD Member Breeder's Page]
Email Libby with an update