ADCH-Bronze NATCH
Wynsum Embrace The Moment
RN HT AX AXJ OF VX
GCH-Silver SCH-Silver JCH-Silver
S-EJC S-WV-E O-TN-E O-TG-O O-OVA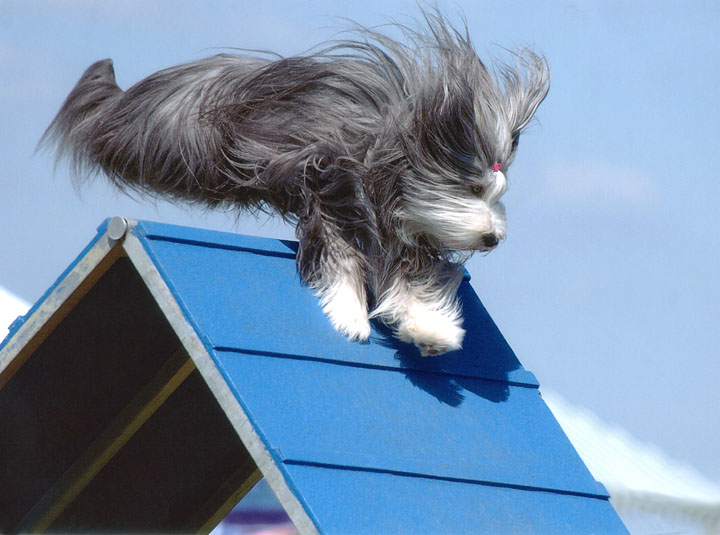 Highs in Trial for Standard and Jumpers
2007 National Specialty in Maryland
Versatility Excellent Beardie
May 31, 2002 - January 9, 2017
"And then there were two....
My heart is broken but Bracey is now running pain free again. She was my first dog raised from a wee puppy and my first beardie and boy did she teach me a lot! She wanted to be in charge of nobody except me and, as many of my friends would say, she was often in charge of me. She ranked at the top of the independent scale of beardie bitches and was never an easy dog, but that was all part of the lessons she taught me.
She was a very pretty girl who, with the help of several instructors, turned into a fabulous and fast agility dog despite her inept handler (whose family considers it an oxymoron that she is involved in anything titled agility), who could turn on a dime and change directions on the bar multiple times. Somehow she learned to read my awkward cues and shined in spite of me. She had no trouble getting her Steeplechase and Super Q's in the 22" USDAA class and earned a NADAC NATCH as well as winning the 20" Pre-Elite Class at the NADAC Championships in 2005. IIRC, she was the first ADCH/NATCH Beardie and just started working on her MACH when she had to retire. But all the letters are really alphabet soup compared to all the love she gave us...the time spent just hanging out and letting her be a dog. Chasing frisbees was a favorite for her and she loved her toys. I will always smile at her pure delight in small children even in her later years, and I NEVER thought I would say I miss the barking but the house is EERILY quiet tonight. Her three favorite activities in life were agility, barking and retrieving, although lure coursing rated right up there as well!
She mellowed just a wee bit in the last couple of years, just enough to be sweet but still let me know every single day that she WAS Bracey Blue, including today! Run free girlie, run free. You have earned the right. I will miss you forever and ever. Give that loveboy Cheaney (who she kept track of for me in his later years) a big ole' hug and kiss for me when you see him. Give all of your dogs an extra hug tonight!"
---
Bracey-DN007994/02-Bitch-Bridge
Breeder: Carol Carlsen
Ch Wynsum Braveheart of Mine (Dickens) x Ch Wynsum Whyrlwind (Tara)
Owners: Sheila Franklin and Carol Carlsen
Handler: Sheila Franklin of Columbia, MD
---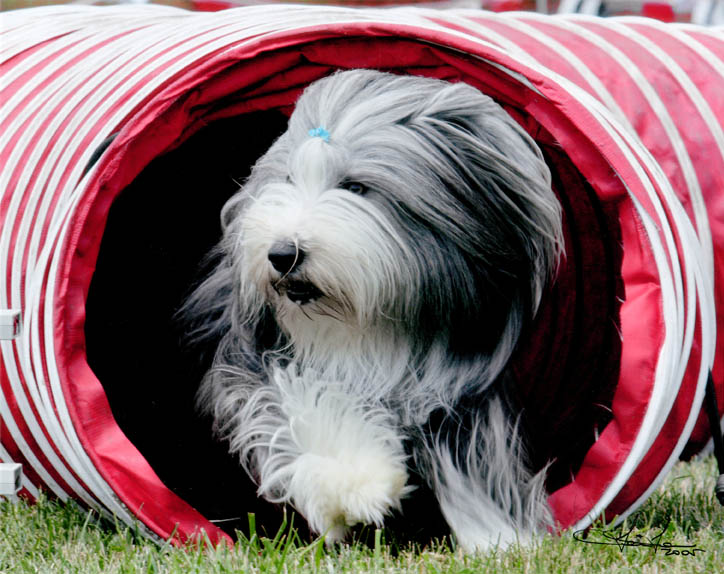 ---
AKC DN007994/02
Standard Titling

12/11/04  Novice A 20" Leg 1      100   1st/5    43.07'/73'     
12/12/04  Novice A 20" Leg 2       95   1st/3    39.30'/64'
11/12/05  Novice B 20" Leg 3      100   1st/9    41.43'/72'        NA   National Capitol HIT

11/13/05  Open 20" Leg 1          100   1st/11   42.62'/67'             National Capitol HIT  
10/02/07  Open 20" Leg 2          100   1st/7    41.88'/74'  4.935      BCCA HIT-1st/73
 9/27/08  Open 20" Leg 3           95   1st/6    54.00'/65'  3.24  OA

10/26/08  Excellent A 20" Leg 1   100   2nd/12   44.96'/66'  4.70
12/06/08  Excellent A 20" Leg 2   100   2nd/16   53.59'/62'  3.66
 4/25/09  Excellent A 20" Leg 3   100   1st/12   45.34'/66'  4.66  AX
Jumpers with Weaves

12/11/04  Novice A 20" Leg 1      100   1st/6    21.23'/39' 
12/12/04  Novice A 20" Leg 2      100   1st/6    18.86'/35' 
 2/27/05  Novice B 20" Leg 3      100   2nd/14   23.28'/38'        NAJ

11/13/05  Open 20" Leg 1           95   2nd/14   26.13'/38'
10/02/07  Open 20" Leg 2          100   1st/9    23.30'/37'  5.494       BCCA HIT-1st/78
12/08/07  Open 20" Leg 3          100   1st/14   22.97'/37'  5.620 OAJ

 4/26/09  Excellent A 20" Leg 1   100   1st/7    29.68'/44'  5.56
 8/02/09  Excellent A 20" Leg 2   100   1st/10   28.05'/38'  5.03	
 9/05/09  Excellent A 20" Leg 3   100   2nd/18   26.13'/38'  5.43  AXJ
FAST

10/02/07  Novice B 20" Leg 1       79   2nd/20   27.00'/32'
 9/28/08  Novice B 20" Leg 2       79   1st/4    32.78'/32'	
10/25/08  Novice B 20" Leg 3       63   2nd/6    30.02'/32'  73.7  NF

 1/02/09  Open 20" Leg 1           61            31.99'/32'				
 9/05/09  Open 20" Leg 2           78   1st/8    29.74'/32'
 9/06/09  Open 20" Leg 3           78   1st/7    30.39'/32'  72.3  OF
 9/11/10  Open 20" Leg 4           55            36.17'/32'

 9/12/10  Excellent A 20" Leg 1    70   1st      35.77'/32'
Time2Beat

12/30/11 Time2Beat 20"-Leg 1        8            30.64'/26.23'
12/31/11 Time2Beat 20"-Leg 2        8            30.90'/26.21'  16
Championship Legs
Standard Titling

 8/02/09  Excellent B 20" Leg 1   100            48.15'/65'  4.33  16
 9/11/10  Excellent B 20" Leg 2   100            41.86'/60'  169   18
 9/12/10  Excellent B 20" Leg 3   100            42.55'/64'  182   21  QQ
Jumpers with Weaves

 9/06/09  Excellent B 20" Leg 1   100            29.98'/41'  5.10  11
 9/12/10  Excellent B 20" Leg 2   100   2nd      32.49'/46'  174   13  QQ
12/11/11  Excellent B 20" Leg 3   100   3rd/49   28.07'/36'  136    7
12/30/11  Excellent B 20" Leg 4   100            27.22'/38'  142   10
Championship Points

 8/02/09  CPs-  16	
 9/06/09  CPs-  11
 9/11/10  CPs-  18
 9/12/10  CPs-  34  QQ
12/11/11  CPs-   7
12/30/11  CPs-  10

 Total    CPs-  96  QQs- 1
---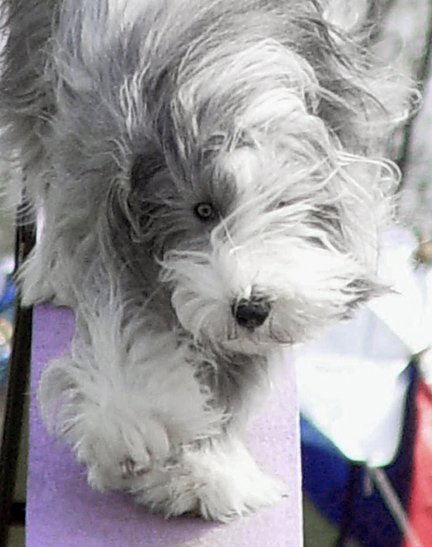 ---
NADAC 03-11025

3/27/04  Novice Regular 20"-Leg 1 -CR   1st/10   36.15'/58.18'
3/28/04  Novice Regular 20"-Leg 2 -CR   1st/10   39.90'/61.45' 
4/03/04  Novice Regular 20"-Leg 3 -CR   3rd/?    34.32'/49.45'  NAC
4/03/04  Novice Regular 20"-Leg 4 -CR   2nd/?    38.92'/58.18'
4/17/04  Novice Regular 20"-Leg 5 -CR   1st/7    35.66'/47.27'
4/17/04  Novice Regular 20"-Leg 6 -CR   1st/7    30.90'/47.27'
4/18/04  Novice Regular 20"-Leg 7 -CR   1st/6    31.41'/48.72'
4/24/04  Novice Regular 20"-Leg 8 -CR   1st/3    29.03'/45.46'
4/24/04  Novice Regular 20"-Leg 9 -CR   1st/3    28.93'/45.46'
4/25/04  Novice Regular 20"-Leg 10-CR   1st/3    26.69'/45.46'  O-NAC

5/22/04  Novice Regular 20"-Leg 11-CR   2nd/4    32/96'/52.36'
5/23/04  Novice Regular 20"-Leg 12-CR   1st/4    34.25'/50.91
5/23/04  Novice Regular 20"-Leg 13-CR   1st/5    33.41'/50.91
5/29/04  Novice Regular 20"-Leg 14-CR   2nd/7    35.66'/53.89'
6/05/04  Novice Regular 20"-Leg 15-CR   1st/7    36.38'/52.36'
6/05/04  Novice Regular 20"-Leg 16-CR   1st/7    33.25'/52.36'
6/06/04  Novice Regular 20"-Leg 17-CR   3rd/6    33.53'/50.55'
7/17/04  Novice Regular 20"-Leg 18-CR   2nd/10   34.92'/51.27'
7/18/04  Novice Regular 20"-Leg 19-CR   2nd/8    35.67'/53.45'
7/18/04  Novice Regular 20"-Leg 20-CR   2nd/8    34.43'/53.45'  S-NAC

8/21/04  Open Regular 20"-Leg  1  -CR   1st/3    36.17'/53.29
8/22/04  Open Regular 20"-Leg  2  -CR   1st/4    46.33'/52.98'
8/28/04  Open Regular 20"-Leg  3  -CR            40.67'/47.34'  OAC

8/29/04  Open Regular 20"-Leg  3.5--5            53.00'/49.22'
9/19/04  Open Regular 20"-Leg  4.0--5            
10/02/04 Open Regular 20"-Leg  5.0-CR   3rd/6    38.96'/49.54'
10/03/04 Open Regular 20"-Leg  6.0-CR   1st/5    39.93'/48.92'
10/23/04 Open Regular 20"-Leg  7.0-CR
11/06/04 Open Regular 20"-Leg  8.0-CR   1st/7    40.70'/46.77'
11/06/04 Open Regular 20"-Leg  9.0-CR   1st/7    42.33'/46.77'
11/07/04 Open Regular 20"-Leg 10.0-CR   2nd/7    37.19'/53.92'  O-OAC

11/14/04 Open Regular 20"-Leg 11-CR     1st/5    44.63'/46.77'
3/27/05  Open Regular 20"-Leg 12-CR     1st/3    39.92'/50.99' 
4/23/05  Open Regular 20"-Leg 13-CR     1st/6    42.61'/53.39'
4/23/05  Open Regular 20"-Leg 14-CR     2nd/6    43.17'/49.88'
4/24/05  Open Regular 20"-Leg 15-CR     1st/6    43.86'/54.14'
5/29/05  Open Regular 20"-Leg 16-CR     2nd/5    40.80'/54.69'
6/12/05  Open Regular 20"-Leg 17-CR     1st/7    37.92'/51.38'
7/24/05  Open Regular 20"-Leg 18-CR     1st/3    40.28'/52.21'
9/03/05  Open Regular 20"-Leg 19-CR     2nd/10   34.41'/44.00'
9/04/05  Open Regular 20"-Leg 20-CR     4th/10   43.10'/44.62'  S-OAC

9/17/05  Open Regular 20"-Leg 21-CR     1st/4    34.05'/47.38'
9/18/05  Open Regular 20"-Leg 22-CR     2nd/6    41.02'/49.85'
11/05/05 Open Regular 20"-Leg 23-CR     1st/?    33.38'/50.15'

10/30/05 Elite Regular 20"-10           2nd/6    37.48'/51.73'
10/30/05 Elite Regular 20"-10           1st/6    40.88'/51.73'
11/06/05 Elite Regular 20"--5           3rd/?    43.84'/39.73'
11/20/05 Elite Regular 20"-10           2nd/?    42.21'/46.40'  EAC

12/31/05 Elite Regular 20"-10           2nd/12   42.37'/49.33'  
12/31/05 Elite Regular 20"-10           1st/12   37.06'/49.33'      
 1/01/06 Elite Regular 20"-10           1st/13   38.19'/50.54'
 3/11/06 Elite Regular 20"-10           1st/4    35.19'/42.40'
 5/27/06 Elite Regular 20"-10           1st/?    35.58'/49.33' 101.95
 6/11/06 Elite Regular 20"-10           2nd/?    46.20'/47.27'  75.23
 3/10/07 Elite Regular 20"-10           1st/4    34.31'/44.80'  94.16 
 3/11/07 Elite Regular 20"-10           1st/4    37.98'/45.07'  85.57 
 5/27/07 Elite Regular 20"-10           1st/4    38.35'/43.20'  78.23 
 5/27/07 Elite Regular 20"-10           1st/4    31.60'/43.20'  94.94 
 6/09/07 Elite Regular 20"-10           1st/?    36.84'/50.40'  98.66
 6/10/07 Elite Regular 20"-10           2nd/?    39.60'/50.13'  91.30
 7/27/07 Elite Regular 20"-10           1st/4    31.30'/?      102.35
 7/28/07 Elite Regular 20"-10           2nd/3    37.62'/?       94.51
 7/28/07 Elite Regular 20"-10           2nd/3    44.45'/?       79.99
 9/30/07 Elite Regular 20"-10                                  102.98         
 9/30/07 Elite Regular 20"-10                                   82.51  O-EAC

 1/26/08 Elite Regular 20"-10           2nd/?    31.40'/46.40' 100.75
 5/24/08 Elite Regular 20"-10                                   97.12
 5/25/08 Elite Regular 20"-10                                   89.49  NATCH-Regular
 5/25/08 Elite Regular 20"-10                                   90.30
11/01/08 Elite Regular 20"-10                                   87.96
 1/25/09 Elite Regular 20"-10                                   77.50
 7/25/09 Elite Regular 20"-10                                   87.43

275/400 points needed for the Superior Elite Regular title
130/130 points needed for the Versatility NATCH

3/27/04  Novice Jumpers 20"-Leg 1       3rd/11   20.52'/29.17'
3/28/04  Novice Jumpers 20"-Leg 2       1st/9    20.84'/30.00'  NJC
4/04/04  Novice Jumpers 20"-Leg 3       2nd/?    28.06'/36.50'
4/24/04  Novice Jumpers 20"-Leg 4       1st/4    19.10'/29.25'
4/25/04  Novice Jumpers 20"-Leg 5       1st/4    19.57'/27.25'  O-NJC
5/22/04  Novice Jumpers 20"-Leg 6       1st/4    20.34'/25.51'
5/23/04  Novice Jumpers 20"-Leg 7       1st/6    24.07'/31.00'
5/29/04  Novice Jumpers 20"-Leg 8       2nd/9    17.88'/27.78'
5/30/04  Novice Jumpers 20"-Leg 9       1st/9    19.02'/26.84'
6/05/04  Novice Jumpers 20"-Leg 10      1st/10   16.47'/26.25'  S-NJC
6/06/04  Novice Jumpers 20"-Leg 11      4th/8    17.50'/25.70'

7/17/04  Open Jumpers 20"-Leg 1         1st/4    24.90'/31.56'
7/18/04  Open Jumpers 20"-Leg 2         2nd/5    26.83'/33.93'  OJC
8/29/04  Open Jumpers 20"-Leg 3                  27.66'/28.67'
10/02/04 Open Jumpers 20"-Leg 4         3rd/6    19.36'/25.33'
10/03/04 Open Jumpers 20"-Leg 5         1st/5    17.84'/23.56'  O-OJC
10/23/04 Open Jumpers 20"-Leg 6
10/24/04 Open Jumpers 20"-Leg 7
11/06/04 Open Jumpers 20"-Leg 8         1st/5    20.48'/26.13' 
11/13/04 Open Jumpers 20"-Leg 9         2nd/7    24.34'/28.89'
3/19/05  Open Jumpers 20"-Leg 10        1st/6    18.50'/25.30'  S-OJC

3/26/05  Elite Jumpers 20"-Leg 1        1st/8    25.20'/30.48'
3/27/05  Elite Jumpers 20"-Leg 2        1st/7    26.18'/30.65'  EJC
4/23/05  Elite Jumpers 20"-Leg 3        4th/11   22.03'/26.52'
4/24/05  Elite Jumpers 20"-Leg 4        2nd/11   19.73'/24.40'
5/15/05  Elite Jumpers 20"-Leg 5        1st/11   27.99'/31.20
6/12/05  Elite Jumpers 20"-Leg 6        1st/9    22.93'/27.20'  
7/03/05  Elite Jumpers 20"-Leg 7        1st/?    25.04'/31.11'
7/30/05  Elite Jumpers 20"-Leg 8        3rd/11   27.45'/29.20'
8/02/05  Elite Jumpers 20"-Leg 9                 adjustment
10/13/05 Elite Jumpers 20"-Leg 10                               O-EJC

10/15/05 Elite Jumpers 20"-Leg 11
10/30/05 Elite Jumpers 20"-Leg 12       1st/8   27.80'/30.00'
11/05/05 Elite Jumpers 20"-Leg 13       2nd/?   23.76'/29.00'         NATCH-Jumpers
11/06/05 Elite Jumpers 20"-Leg 14       2nd/?   23.90'/30.24'
11/19/05 Elite Jumpers 20"-Leg 15       1st/?   27.81'/30.80'
1/28/06  Elite Jumpers 20"-Leg 16       3rd/?   24.45'/27.80'  94.91
7/29/06  Elite Jumpers 20"-Leg 17       2nd/4   26.83'/28.00'  87.70
10/21/06 Elite Jumpers 20"-Leg 18       4th/?   24.33'/30.20' 104.31 
10/22/06 Elite Jumpers 20"-Leg 19       3rd/?   23.11'/28.40'  97.06
11/05/06 Elite Jumpers 20"-Leg 20       1st/?   21.84'/24.00'  92.34  S-EJC

11/11/06 Elite Jumpers 20"-Leg 21       3rd/?   24.26'/27.60'  95.60
12/03/06 Elite Jumpers 20"-Leg 22       3rd/?   25.51'/30.80' 101.46
 3/10/07 Elite Jumpers 20"-Leg 23       1st/3   22.91'/26.20'  92.23  NATCH-2-Jumpers
 3/11/07 Elite Jumpers 20"-Leg 24       1st/4   23.47'/26.00'  91.40
 5/26/07 Elite Jumpers 20"-Leg 25       2nd/?   24.97'/30.40'  95.11
 6/09/07 Elite Jumpers 20"-Leg 26       1st/?   24.22'/26.81'  92.21
 6/10/07 Elite Jumpers 20"-Leg 27       1st/?   23.23'/29.20' 104.75
 7/28/07 Elite Jumpers 20"-Leg 28       2nd/3   29.93'/?       88.92
10/14/07 Elite Jumpers 20"-Leg 29                              85.06
10/20/07 Elite Jumpers 20"-Leg 30                              96.03  EJC-300

11/03/07 Elite Jumpers 20"-Leg 31                              87.81
11/04/07 Elite Jumpers 20"-Leg 32                              83.99
 1/27/08 Elite Jumpers 20"-Leg 33       1st/?   19.21'/25.47' 100.78  NATCH-3-Jumpers
 5/24/08 Elite Jumpers 20"-Leg 34                              85.70
11/01/08 Elite Jumpers 20"-Leg 35                              86.04
 1/24/09 Elite Jumpers 20"-Leg 36                              93.56
 5/23/09 Elite Jumpers 20"-Leg 37                              75.52
 7/25/09 Elite Jumpers 20"-Leg 38                              89.30

200/200 points needed for the Superior Elite Jumpers title
130/130 points needed for the Versatility NATCH

4/03/04  Novice Gamblers 20"-Leg 1       
4/03/04  Novice Gamblers 20"-Leg 2                              NGC
4/17/04  Novice Gamblers 20"-Leg 3      1st/3    62 Pts
5/22/04  Novice Gamblers 20"-Leg 4      1st/4    47 Pts
5/23/04  Novice Gamblers 20"-Leg 5      1st/5    59 Pts         O-NGC
5/29/04  Novice Gamblers 20"-Leg 6      1st/7    37 Pts
6/05/04  Novice Gamblers 20"-Leg 7      1st/5    71 Pts
7/18/04  Novice Gamblers 20"-Leg 8      1st/7    57 Pts
8/28/04  Novice Gamblers 20"-Leg 9               58 Pts
8/29/04  Novice Gamblers 20"-Leg 10              63 Pts         S-NGC

9/19/04  Open Gamblers 20"-Leg 1
11/13/04 Open Gamblers 20"-Leg 2        1st/7    59 Pts         OGC
3/27/05  Open Gamblers 20"-Leg 3                              
6/12/05  Open Gamblers 20"-Leg 4
8/02/05  Open Gamblers 20"-Leg 5                 Adjustment leg
9/03/05  Open Gamblers 20"-Leg 6                                O-OGC
9/17/05  Open Gamblers 20"-Leg 7
9/18/05  Open Gamblers 20"-Leg 8
10/29/05 Open Gamblers 20"-Leg 9
11/05/05 Open Gamblers 20"-Leg 10                               S-OGC

12/31/05 Elite Chances 20"-Leg 1 (W)
 7/28/06 Elite Chances 20"-Leg 2 
11/05/06 Elite Chances 20"-Leg 3                                ECC
 1/28/07 Elite Chances 20"-Leg 4
 3/10/07 Elite Chances 20"-Leg 5
 3/11/07 Elite Chances 20"-Leg 6
 5/27/07 Elite Chances 20"-Leg 7
10/20/07 Elite Chances 20"-Leg 8
10/21/07 Elite Chances 20"-Leg 9
11/04/07 Elite Chances 20"-Leg 10                               O-ECC

 1/26/08 Elite Chances 20"-Leg 11
 1/27/08 Elite Chances 20"-Leg 12
 3/16/08 Elite Chances 20"-Leg 13                               NATCH Chances
 4/27/08 Elite Chances 20"-Leg 14
11/02/08 Elite Chances 20"-Leg 15
 5/24/09 Elite Chances 20"-Leg 16
 7/25/09 Elite Chances 20"-Leg 17

170/200 points needed for the Superior Elite Chances title
130/130 points needed for the Versatility NATCH

7/18/04  Novice Tunnelers 20"-Leg 1     2nd/9    22.59'/36.00' 
11/07/04 Novice Tunnelers 20"-Leg 2     1st/8    22.37'/37.75'
11/13/04 Novice Tunnelers 20"-Leg 3     1st/8    21.62'/35.50'  TN-N
6/12/05  Novice Tunnelers 20"-Leg 4     1st/8    17.59'/31.50'
7/03/05  Novice Tunnelers 20"-Leg 5     5th/?    26.79'/34.00'
9/18/05  Novice Tunnelers 20"-Leg 6     1st/5    26.79'/34.00'  O-TN-N
10/29/05 Novice Tunnelers 20"-Leg 7     1st/5    17.52'/29.25'
11/05/05 Novice Tunnelers 20"-Leg 8     1st/?    17.16'/31.00'
11/20/05 Novice Tunnelers 20"-Leg 9     2nd/?    17.99'/29.25'
12/31/05 Novice Tunnelers 20"-Leg 10    2nd/14   17.75'/38.00'  S-TN-N
1/01/06  Novice Tunnelers 20"-Leg 11    2nd/?    19.66'/32.00'

11/14/04 Open Tunnelers 20"-Leg 1       1st/6    27.16'/36.67'
2/05/05  Open Tunnelers 20"-Leg 2       1st/2    26.72'/31.20'
2/05/05  Open Tunnelers 20"-Leg 3       1st/2    24.67'/29.84'  TN-O
6/11/06  Open Tunnelers 20"-Leg 4       1st/?    22.20'/35.93'
6/11/06  Open Tunnelers 20"-Leg 5       1st/?    22.73'/35.93'
10/15/06 Open Tunnelers 20"-Leg 6                               O-TN-O
10/22/06 Open Tunnelers 20"-Leg 7       2nd/?    24.31'/36.44'
1/27/07  Open Tunnelers 20"-Leg 8
1/27/07  Open Tunnelers 20"-Leg 9
3/10/07  Open Tunnelers 20"-Leg 10                              S-TN-0
3/11/07  Open Tunnelers 20"-Leg 11      1st/1    21.94'/29.33'

2/06/05  Elite Tunnelers 20"-Leg 1      6th/10   29.79'/31.32'
2/06/05  Elite Tunnelers 20"-Leg 2      3rd/9    28.63'/30.52'
2/19/05  Elite Tunnelers 20"-Leg 3      5th/13   18.27'/24.41'  TN-E
2/20/05  Elite Tunnelers 20"-Leg 4      5th/12   23.22'/29.33'
3/05/05  Elite Tunnelers 20"-Leg 5      3rd/9    20.78'/28.00'
3/06/05  Elite Tunnelers 20"-Leg 6      3rd/9    18.13'/22.00'
3/06/05  Elite Tunnelers 20"-Leg 7      3rd/8    14.78'/18.60'
3/19/05  Elite Tunnelers 20"-Leg 8      2nd/9    21.64'/30.60'
3/20/05  Elite Tunnelers 20"-Leg 9      3rd/9    17.52'/24.00'
3/26/05  Elite Tunnelers 20"-Leg 10     2nd/?    24.30'/27.00'  O-TN-E

3/27/05  Elite Tunnelers 20"-Leg 11     2nd/?    24.88'/30.00'
4/29/07  Elite Tunnelers 20"-Leg 12     2nd/?    23.49'/29.80'  93.28
6/09/07  Elite Tunnelers 20"-Leg 13     2nd/?    26.91'/32.60'  91.78 Tunnelers Versatility NATCH
3/14/08  Elite Tunnelers 20"-Leg 14     3rd/?    19.28'/27.80' 101.54
11/01/08 Elite Tunnelers 20"-Leg 15                            102.31

150/200 points needed for the Superior Elite Tunnelers title
130/130 points needed for the Versatility NATCH

4/03/04  Novice Weavers 20"-Leg 1       2nd/?    33.72'/38.75'
6/05/04  Novice Weavers 20"-Leg 2       1st/10   32.28'/41.50'
2/05/05  Novice Weavers 20"-Leg 3       1st/8    32.56'/40.58'  WV-N
5/28/05  Novice Weavers 20"-Leg 4       2nd/?    34.86'/46.77'
5/29/05  Novice Weavers 20"-Leg 5       1st/4    36.21'/44.53'
6/12/05  Novice Weavers 20"-Leg 6       1st/11   38.02'/52.25'  O-WV-N
7/03/05  Novice Weavers 20"-Leg 7       1st/?    29.34'/42.25'
9/03/05  Novice Weavers 20"-Leg 8       3rd/9    35.78'/44.83'
9/04/05  Novice Weavers 20"-Leg 9       2nd/8    22.22'/34.00'
9/17/05  Novice Weavers 20"-Leg 10      1st/3    22.22'/34.00'  S-WV-N

2/06/05  Open Weavers 20"-Leg 1         1st/1J   28.20'/33.55'
2/19/05  Open Weavers 20"-Leg 2         1st/6    28.36'/36.51'
2/19/05  Open Weavers 20"-Leg 3         3rd/6    31.45'/41.98'  WV-O
10/30/05 Open Weavers 20"-Leg 4         2nd/3    39.48'/40.00' 
11/06/05 Open Weavers 20"-Leg 5         2nd/?    24.28'/33.72'
11/19/05 Open Weavers 20"-Leg 6         2nd/?    20.46'/28.33'  O-WV-O
1/01/06  Open Weavers 20"-Leg 7         1st/3    25.17'/31.00'
1/01/06  Open Weavers 20"-Leg 8         1st/2    33.55'/40.67'
5/27/06  Open Weavers 20"-Leg 9         2nd/?    29.78'/40.78'
7/28/06  Open Weavers 20"-Leg 10        1st/?    26.61'/33.37'  S-WV-O

3/05/05  Elite Weavers 20"-Leg 1        1st/8    27.99'/32.80'
3/05/05  Elite Weavers 20"-Leg 2        3rd/8    23.32'/27.40'
3/06/05  Elite Weavers 20"-Leg 3        4th/9    30.10'/31.80'  WV-E
3/06/05  Elite Weavers 20"-Leg 4        3rd/8    31.31'/34.00'
3/19/05  Elite Weavers 20"-Leg 5        1st/5    27.59'/33.60'
3/20/05  Elite Weavers 20"-Leg 6        5th/6    33.71'/35.10'
10/14/05 Elite Weavers 20"-Leg 7        7th/?                  
10/14/06 Elite Weavers 20"-Leg 8                                90.53
3/11/07  Elite Weavers 20"-Leg 9        2nd/4    33.67'/35.40'  87.32 
5/27/07  Elite Weavers 20"-Leg 10       2nd/4    27.44'/32.80'  97.67 O-WV-E

 6/09/07 Elite Weavers 20"-Leg 11       1st/?    29.39'/35.60' 100.71
 8/11/07 Elite Weavers 20"-Leg 12       1st/4    29.27'/35.40' 100.44
 8/12/07 Elite Weavers 20"-Leg 13       2nd/4    32.11'/37.20'  97.15
10/13/07 Elite Weavers 20"-Leg 14                               91.00
10/20/07 Elite Weavers 20"-Leg 15                               87.77
11/03/07 Elite Weavers 20"-Leg 16                               84.50
 1/26/08 Elite Weavers 20"-Leg 17                               90.22
 4/26/08 Elite Weavers 20"-Leg 18                               80.59
 5/24/08 Elite Weavers 20"-Leg 19                               86.12
11/01/08 Elite Weavers 20"-Leg 20                               94.95 S-WV-E

200/200 needed for the Superior Elite Weavers title
130/130 points needed for the Versatility NATCH

4/02/04  Novice Touch & Go 20"-Leg 1             44.94'/54.50'
11/13/04 Novice Touch & Go 20"-Leg 2    2nd/15   28.41'/41.25'
2/05/05  Novice Touch & Go 20"-Leg 3    1st/?    35.92'/45.75'  TG-N
7/03/05  Novice Touch & Go 20"-Leg 4    1st/?    34.78'/54.33'
9/03/05  Novice Touch & Go 20"-Leg 5    5th/10   45.95'/53.42'
10/29/05 Novice Touch & Go 20"-Leg 6    2nd/4    33.27'/46.00'  O-TG-N
10/30/05 Novice Touch & Go 20"-Leg 7    1st/4    37.34'/56.50'
5/28/06  Novice Touch & Go 20"-Leg 8    1st/?    30.56'/46.75'
10/14/06 Novice Touch & Go 20"-Leg 9 
11/05/06 Novice Touch & Go 20"-Leg 10   1st/?    37.50'/55.25'  S-TG-N & SNV 

3/06/05  Open Touch & Go 20"-Leg 1      1st/4    37.45'/47.89'
3/19/05  Open Touch & Go 20"-Leg 2      1st/6    33.86'/44.10'
3/26/05  Open Touch & Go 20"-Leg 3      1st/?    31.56'/38.67'  TG-O
11/11/06 Open Touch & Go 20"-Leg 4      1st/?    32.91'/39.67'
5/26/07  Open Touch & Go 20"-Leg 5      1st/?    39.76'/45.33'
1/27/08  Open Touch & Go 20"-Leg 6      1st/?    22.40'/36.00'  O-TG-O

000/100 points needed for the Outstanding Elite Touch & Go title
000/130 points needed for the Versatility NATCH

64th     NAC     4/03/04
64th     NJC     3/27/04
45th     NGC     4/03/04
11th     WV-N    2/05/05
21st     TN-N   11/13/04
10th     TG-N    2/05/05 - Novice Versatility

2nd      O-NAC   4/25/04
2nd      O-NJC   4/25/04
1st      O-NGC   5/23/04
2nd      O-WV-N  6/11/05
3rd      O-TN-N  9/18/05
3rd      O-TG-N 10/29/05 - 1st Outstanding Novice Versatility

1st      S-NAC   7/18/04
1st      S-NJC   6/05/04
1st      S-NGC   8/29/04 - 1st Triple Superior Novice
1st      S-WV-N  9/17/05
2nd      S-TN-N 12/31/05
1st      S-TG-N 11/05/06 - 1st Superior Novice Versatility

36th     OAC     8/28/04
39th     OJC     7/18/04
20th     OGC    11/13/04
5th      WV-O    2/19/05
13th     TN-O    2/05/05
2nd      TG-O    3/26/05 - Open Versatility

4th      O-OAC  11/07/04
3rd      O-OJC  10/03/04
3rd      O-OGC   9/03/05
1st      O-WV-O 11/19/05
4th      O-TN-O 10/15/06
2nd      O-TG-O  1/27/08 - 1st Outstanding Open Versatility

2nd      S-OAC   9/04/05
2nd      S-OJC   3/19/05
3rd      S-OGC  11/05/05 - 1st Triple Superior Open
1st      S-WV-O  7/28/06
3rd      S-TN-O  3/10/07

26th     EAC    11/20/05
17th     EJC     3/27/05
4th      WV-E    3/06/05
7th      TN-E    2/19/05
16th     ECC    11/05/06

5th      O-EAC   9/30/07
9th      O-EJC  10/13/05
5th      O-TN-E  3/26/05
3rd      O-WV-E  5/27/07
7th      O-ECC  11/04/07

5th      S-EJC  11/05/06
2nd      S-WV-E 11/01/08

4th      NATCH   5/25/08

1000 Point award  - 3/27/05

2500 Point award  - 2008

Winner of 20" Pre-Elite Class at the 2005 NADAC Nationals
---
---
USDAA U126240

 4/10/04  Starters Standard 22"-Leg 1              49.23'/65'
 5/08/04  Starters Standard 22"-Leg 2    4th/17    42.92'/60'
 5/09/04  Starters Standard 22"-Leg 3    2nd/17    60.60'/68'   SSA

 4/10/04  Starters Relay 22"-Leg 1       1st/17    38.37'/73'
 5/08/04  Starters Relay 22"-Leg 2       5th/?     42.99'/67'
 5/15/04  Starters Relay 22"-Leg 3       2nd/8     45.51'/73'   SR

 4/11/04  Starters Snooker 22"-Leg 1               44 points
 5/09/04  Starters Snooker 22"-Leg 2     8th/22    40 points
 5/16/04  Starters Snooker 22"-Leg 3     1st/17    46 points    SS

 5/09/04  Starters Jumpers 22"-Leg 1     4th/20    20.75'/30'
 5/16/04  Starters Jumpers 22"-Leg 2     2nd/21    17.80'/31' 
 6/20/04  Starters Jumpers 22"-Leg 3     3rd/16    22.35'/34'   SJ

 6/19/04  Starters Gamblers 22"-Leg 1    1st/15    53 points    AD
 6/25/04  Starters Gamblers 22"-Leg 2    3rd/28    39 points
 7/03/04  Starters Gamblers 22"-Leg 3    3rd/13    41 points    SG

 6/27/04  Advanced Standard 22"-Leg 1    6th/33    46.91'/56'
 9/10/04  Advanced Standard 22"-Leg 2    1st/19    53.84'/58'
 9/12/04  Advanced Standard 22"-Leg 3    1st/21    45.13'/52'   ASA, AAD

 6/19/04  Advanced Relay 22"-Leg 1       4th/5     52.91'/54'
 6/26/04  Advanced Relay 22"-Leg 2       2nd/7     58.47'/?
 7/03/04  Advanced Relay 22"-Leg 3       3rd/8     45.90'/65'   AR

 6/27/04  Advanced Snooker 22"-Leg 1     2nd/24    46 points
 7/04/04  Advanced Snooker 22"-Leg 2     5th/10    47 points
 9/12/04  Advanced Snooker 22"-Leg 3     2nd/15    39 points    AS

 6/25/04  Advanced Jumpers 22"-Leg 1     6th/29    30.07'/35'
10/10/04  Advanced Jumpers 22"-Leg 2     2nd/11    26.52'/34'
10/17/04  Advanced Jumpers 22"-Leg 3     5th/16    28.66'/35'   AJ

 9/10/04  Advanced Gamblers 22"-Leg 1    3rd/13    44 points
10/15/04  Advanced Gamblers 22"-Leg 2    7th/29    33 points
10/30/04  Advanced Gamblers 22"-Leg 3    5th/11    41 points    AG

10/09/04  Masters Standard 22"-Leg 1     8th/34    50.34'/57'
 6/25/05  Masters Standard 22"-Leg 2     6th/30    45.31'/54'
 6/26/05  Masters Standard 22"-Leg 3     2nd/30    48.70'/57'
 5/14/06  Masters Standard 22"-Leg 4    11th/36    49.70'/51'  
 6/23/06  Masters Standard 22"-Leg 5    11th/45    54.93'/55'   SAM
 9/24/06  Masters Standard 22"-Leg 6    14th/33    51.49'/53'
10/08/06  Masters Standard 22"-Leg 7    14th/36    54.04'/56'
12/10/06  Masters Standard 22"-Leg 8     9th/23    50.11'/54'
 5/20/07  Masters Standard 22"-Leg 9    12th/42    51.83'/54'
 6/28/09  Masters Standard 22"-Leg 10   11th/29    45.36'/55'   SACH
 8/16/09  Masters Standard 22"-Leg 11   11th/34    27.27'/34'
 9/20/09  Masters Standard 22"-Leg 12   15th/44    52.70'/59'
10/11/09  Masters Standard 22"-Leg 13   12th/38    48.19'/54'
10/16/09  Masters Standard 22"-Leg 14   16th/43    48.76'/60'
 3/20/10  Masters Standard 22"-Leg 15   13th/52    42.29'/55'   SACH-Bronze
 4/03/10  Masters Standard 22"-Leg 16   11th/39    59.00'/59' (How often does THAT happen?!)
 5/01/10  Masters Standard 22"-Leg 17    4th/18    52.74'/57'
 5/02/10  Masters Standard 22"-Leg 18    8th/17    49.10'/52'
 9/18/10  Masters Standard 22"-Leg 19    8th/26    46.29'/54'
10/03/10  Masters Standard 22"-Leg 20    7th/36    46.67'/53'

 6/26/05  Masters Jumpers 22"-Leg 1      4th/34    27.27'/34'
 5/14/06  Masters Jumpers 22"-Leg 2      6th/38    24.41'/32'
 5/21/06  Masters Jumpers 22"-Leg 3      3rd/39    26.03'/38'
 8/20/06  Masters Jumpers 22"-Leg 4     13th/88    24.21'/33'
 9/10/06  Masters Jumpers 22"-Leg 5      8th/62    30.58'/41'   JM
 9/24/06  Masters Jumpers 22"-Leg 6      2nd/35    26.85'/35'
 5/20/07  Masters Jumpers 22"-Leg 8      4th/44    25.99'/35'
 6/15/07  Masters Jumpers 22"-Leg 9     11th/45    25.49'/35'
 6/30/07  Masters Jumpers 22"-Leg 10       ?/77    27.74'/33'   JCH
 8/19/07  Masters Jumpers 22"-Leg 11    13th/57    28.43'/33'
 3/29/08  Masters Jumpers 22"-Leg 12               26.83'
 4/13/08  Masters Jumpers 22"-Leg 13    19th/36    30.40'/37'
10/17/08  Masters Jumpers 22"-Leg 14    19th/50    29.09'/37'
 4/19/09  Masters Jumpers 22"-Leg 15    10th/19    32.81'/34'   JCH-Bronze
 5/01/08  Masters Jumpers 22"-Leg 16     5th/26    28.00'/37'
 8/28/09  Masters Jumpers 22"-Leg 17     8th/19    26.05'/32'
10/10/09  Masters Jumpers 22"-Leg 18    11th/42    24.49'/34'
10/11/09  Masters Jumpers 22"-Leg 19    17th/41    26.26'/34'
 4/11/10  Masters Jumpers 22"-Leg 20    10th/26    30.50'/39'
 4/18/10  Masters Jumpers 22"-Leg 21     2nd/31    28.48'/37'
 5/02/10  Masters Jumpers 22"-Leg 22     3rd/18    28.33'/37'
 5/16/10  Masters Jumpers 22"-Leg 23     9th/33    29.15'/39'
 8/27/10  Masters Jumpers 22"-Leg 24    33rd/93    26.34'/35'
 9/19/10  Masters Jumpers 22"-Leg 25     6th/21    28.78'/36'   JCH Silver

10/31/04  Masters Snooker 22"-Leg 1     10th/32    38 points
 9/11/05  Masters Snooker 22"-Leg 2     14th/40    37 points 
 2/20/06  Masters Snooker 22"-Leg 3      7th/31    44 points 
 5/13/06  Masters Snooker 22"-Leg 4     11th/37    39 points
 6/25/06  Masters Snooker 22"-Leg 5  Q+  6th/43    50 points
 9/10/06  Masters Snooker 22"-Leg 6  Q+  9th/66    48 points
 9/24/06  Masters Snooker 22"-Leg 7     19th/34    48 points
12/10/06  Masters Snooker 22"-Leg 8      9th/31    48 points
 5/20/07  Masters Snooker 22"-Leg 9      8th/44    50 points
 6/30/07  Masters Snooker 22"-Leg 10     23d/51    ? points
 8/19/07  Masters Snooker 22"-Leg 11 Q+  7th/64    54 points    SM, SCH, ADCH
 5/03/08  Masters Snooker 22"-Leg 12               50 points
 9/06/08  Masters Snooker 22"-Leg 13    15th/49    45 points 
10/05/08  Masters Snooker 22"-Leg 14    27th/41    38 points (talk about just squeaking by!!!)
10/12/08  Masters Snooker 22"-Leg 15    15th/46    46 points    SCH-Bronze
10/17/08  Masters Snooker 22"-Leg 16    11th/52    42 points
11/16/08  Masters Snooker 22"-Leg 17    20th/40    39 points
 5/01/09  Masters Snooker 22"-Leg 18    11th/26    44 points
 5/02/09  Masters Snooker 22"-Leg 19     6th/20    50 points
 8/28/09  Masters Snooker 22"-Leg 20     2nd/23    52 points
 9/20/09  Masters Snooker 22"-Leg 21    19th/48    43 points
 1/16/10  Masters Snooker 22"-Leg 22     4th/32    49 points
 3/20/10  Masters Snooker 22"-Leg 23    10th/49    46 points
 4/10/10  Masters Snooker 22"-Leg 24     7th/21    50 points
 4/11/10  Masters Snooker 22"-Leg 25    14th/20    40 points    SCH-Silver
 5/16/10  Masters Snooker 22"-Leg 26     9th/42    46 points

 9/10/05  Masters Relay 22"-Leg 1        9th/27    48.51'/56'
 5/13/06  Masters Relay 22"-Leg 2       13th/23    55.48'/57'
 9/09/06  Masters Relay 22"-Leg 3       15th/42    58.00'/58'
 4/07/07  Masters Relay 22"-Leg 4        5th/12    54.00'/54'
 5/19/07  Masters Relay 22"-Leg 5        8th/23    49.08'/59'   RM
 6/16/07  Masters Relay 22"-Leg 6       11th/32    52.55'/56'
 9/08/07  Masters Relay 22"-Leg 7       11th/32    53.06'/61'
10/06/07  Masters Relay 22"-Leg 8       11th/44    54.33'/61'
 4/12/08  Masters Relay 22"-Leg 9       12th       55.95'
 5/17/08  Masters Relay 22"-Leg 10       3rd       41.20'       RCH
11/15/08  Masters Relay 22"-Leg 11      14th/26    42.46'/52'
 6/27/09  Masters Relay 22"-Leg 12      10th/22    52.04'/62'
 8/28/09  Masters Relay 22"-Leg 13       6th       42.11'
 1/16/10  Masters Relay 22"-Leg 14       2nd/14    44.52'
 3/21/10  Masters Relay 22"-Leg 15       9th/32    53.52'/56'   RCH-Bronze
11/13/10  Masters Relay 22"-Leg 16       7th/14    58.84'/62'

 5/20/06  Masters Gamblers 22"-Leg 1    24th/48    32 points    MAD
 9/08/06  Masters Gamblers 22"-Leg 2    28th/65    52 points
12/10/06  Masters Gamblers 22"-Leg 3     9th/32    50 points
 4/22/07  Masters Gamblers 22"-Leg 4    10th/25    45 points
 6/30/07  Masters Gamblers 22"-Leg 5     7th/85    35 points    GM
 8/18/07  Masters Gamblers 22"-Leg 6    37th/66    43 points
 9/08/07  Masters Gamblers 22"-Leg 7    19th/64    57 points
 9/22/07  Masters Gamblers 22"-Leg 8    16th/34    39 points
10/06/07  Masters Gamblers 22"-Leg 9     8th/38    44 points
11/17/07  Masters Gamblers 22"-Leg 10    2nd/32    60 points    GCH
 2/17/08  Masters Gamblers 22"-Leg 11   17th/47    48 points
 4/12/08  Masters Gamblers 22"-Leg 12    6th       47 points
 4/19/08  Masters Gamblers 22"-Leg 13              65 points
 5/03/08  Masters Gamblers 22"-Leg 14              42 points
 6/29/08  Masters Gamblers 22"-Leg 15              44 points    GCH-Bronze
 9/06/08  Masters Gamblers 22"-Leg 16    6th/50    48 points
 9/20/08  Masters Gamblers 22"-Leg 17    9th/42    52 points
 4/05/09  Masters Gamblers 22"-Leg 18    6th/26    39 points
 4/12/09  Masters Gamblers 22"-Leg 19   10th/23    34 points
 4/18/09  Masters Gamblers 22"-Leg 20   10th/21    40 points
 5/16/09  Masters Gamblers 22"-Leg 21   11th/38    72 points
 5/17/09  Masters Gamblers 22"-Leg 22    9th/32    80 points
 6/13/09  Masters Gamblers 22"-Leg 23   18th/88    49 points
 8/28/09  Masters Gamblers 22"-Leg 24   11th/20    55 points
10/03/09  Masters Gamblers 22"-Leg 25   16th/41    47 points    GCH-Silver
 1/17/10  Masters Gamblers 22"-Leg 26   12th/35    41 points
 3/20/10  Masters Gamblers 22"-Leg 27   21st/62    48 points
 4/17/10  Masters Gamblers 22"-Leg 28   19th/40    38 points

 2/21/05  Grand Prix 22"-Leg 1  CR       8th/44    37.79'/47'
 5/21/05  Grand Prix 22"-Leg 2  -5      15th/56    38.16'/50'
 5/20/06  Grand Prix 22"-Leg 3  -5      11th/55    37.04'/53'
10/07/06  Grand Prix 22"-Leg 4  -5      16th/39    38.93'/49'
 5/20/07  Grand Prix 22"-Leg 5          16th/50    35.91'/46'
 8/29/09  Grand Prix 22"-Leg 6           8th/38    38.21'/48'


 8/20/06  Steeplechase 22" Rnd 1-Leg 1  16th/56
 6/16/07  Steeplechase 22" Rnd 1-Leg 2  15th/58
 6/17/07  Steeplechase 22" Rnd 2         6th/16
11/17/07  Steeplechase 22"      -Leg 3  12th/34                 TM
 6/14/08  Steeplechase 22"      -Leg 4             34.80'
 3/30/08  Steeplechase 22"      -Leg 5   5th/45    31.80'
 5/03/09  Steeplechase 22"      -Leg 6   4th/21    33.00'/72'   TM-Bronze
 8/16/09  Steeplechase 22"      -Leg 7   4th/34    32.12'
 9/20/09  Steeplechase 22"      -Leg 8   6th/38    43.13'


DAM Team Tournament (5 classes in each tournament)
 6/18/06  DAM Team Tournament-1  
 7/02/07  DAM Team Tournament-2          4th/72

Team Name: Black, White and Blue Teammates: Bridget McKnight/Kestrel and Ali Roukas-Canova/Kid
10/19/08 DAM Team Tournament-3 15th/41 5/03/09 DAM Team Tournament-4 3rd/13 8/30/09 DAM Team Tournament-5 7th/19


Lifetime Q s from DAM Team Individual Classes

 8/29/09  Team Jumpers (Lifetime Q)      9th/29    33.06/NA
Performance

10/03/10  Performance 3 Jumpers-Leg 1    3rd/4     29.61'/37'
 8/14/11  Performance 3 Jumpers-Leg 2    7th/19    28.38'/35'

11/14/10  Performance 3 Gamblers-Leg 1   2nd/13    62 Points
08/13/11  Performance 3 Gamblers-Leg 2   8th/18    59 Points  
08/14/11  Performance 3 Gamblers-Leg 3   3rd/13    47 Points

 9/19/09  Performance 3 Snooker-Leg 1    1st/7     48 Points - Super Q
10/03/10  Performance 3 Snooker-Leg 2    4th/9     42 Points
 8/14/11  Performance 3 Snooker-Leg 3    5th/13    43 Points

Performance Grand Prix
 3/06/10  Performance Grand Prix-Leg 1   1st/8     33.32'/53'
 3/21/10  Performance Grand Prix-Leg 2   2nd/19    39.44'/53'
 4/17/10  Performance Grand Prix-Leg 3   1st/7     40.70'/51'
 9/18/10  Performance Grand Prix-Leg 4   2nd/19    40.45'/50'
10/02/10  Performance Grand Prix-Leg 5   4th/11    37.40'/48'

Performance Speed Jumping
 1/17/10  Performance Speed Jumping- 1   3rd/13    35.27'
 4/11/10  Performance Speed Jumping- 2   4th/10    38.95'
 5/16/10  Performance Speed Jumping- 3   2nd/12    34.14'
10/03/10  Performance Speed Jumping- 4   4th/?     29.61'

Performance Versatility Pairs
 4/04/10  Perf. Versatility Pairs-Leg 1  22nd/45

Lifetime Q s PVP Individual Classes
 1/17/10  Perf. Versatility Snooker (Lifetime Q)   40 points
 1/16/10  Perf. Versatility Gamblers (Lifetime Q)  59 points

11/18/07  CH    Y                                  44.11'
 3/30/08  CH    Y                                  99.99'

 6/13/08  RCH1  Y                                  34.80'
 6/14/08  RCH1  Y                                  34.80' 
 6/15/08  RCH2  ?                                  37.86'

2nd       SSA-new rules-5/09/04 
2nd       AD- new rules-6/19/04
1st       SR- new rules-5/15/04
1st       SS- new rules-5/16/04
1st       SJ- new rules-6/20/04 
1st       SG- new rules-7/03/04

1st/15th  ASA-new rules-9/12/04
1st/15th  AAD-new/old rules-9/12/04
3rd/12th  AR- new/old rules-7/03/04
3rd/12th  AS- new/old rules-9/12/04
2nd/11th  AJ- new/old rules-10/17/04
1st/5th   AG- new/old rules-10/30/04

6th       MAD- 5/20/06
4th       SAM- 6/23/06
10th      JM-  9/10/06
9th       RM-  5/19/07  
4th       GM-  6/30/07  
5th       SM-  8/19/07

2nd       JCH- 6/30/07
2nd       SCH- 8/19/07  
4th       ADCH-8/19/07-1st under new rules
2nd       GCH-11/17/07
2nd       TM- 11/18/07
2nd       RCH- 5/17/08
3rd       SACH-6/28/09

1st       GCH-Bronze- 6/29/08
2nd       SCH-Bronze-10/12/08
2nd       JCH-Bronze- 4/19/09
1st       TM- Bronze- 5/03/09
2nd       RCH-Bronze- 3/21/10
2nd       SACH-Bronze-3/21/10
1st       ADCH-Bronze-3/21/10

1st       GCH Silver-10/03/09
2nd       SCH Silver- 4/11/10
2nd       JCH Silver- 9/19/10

1st       Bronze Lifetime Achievement Award
          (15 legs in each of the classes, 15 tournament Q s plus an additional 60 Master s/Tournament legs of choice)
---
Bracey's Links
BCCA
BAD
Organizations

BADBEARDs-Bearded Eastern Agile Running Dogs
---

Off to a BAD Start
BAD Handlers] | [BAD Dogs] | [BAD Events] | [BAD Links]
[BAD Greetings] | [BAD News] | BAD Beginnings]
[BAD Advice] | [BAD Attitudes] | [BAD Goods]
Email Libby with an update