Bearded Eastern Agile Running Dogs
The "BAD BEARDs"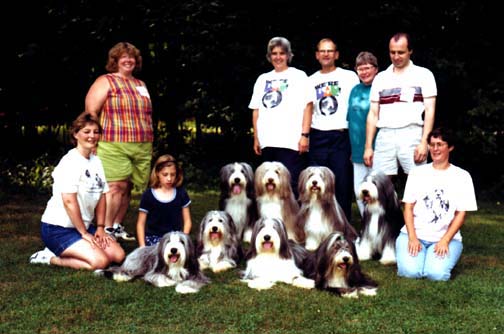 Chenango Forks, NY -- 23 August 1998
Dottie Hamblin, Joanne Williamson, Jerry Bergen, Lu Bergen, Neil Bryden
Ruth Bryden, Sarah Helgersen (Dottie's daughter), Sandy Weiss
Beardies Sitting -- Corey, Rob, and Sean (Williamson), Talisker (Bryden)
Beardies Lying -- Jura (Bryden), Nellie (Hamblin), Chip (Weiss), Breezy (Bergen)
---
The picture of 8 very relaxed Beardies lounging together surrounded by their owners would make most Beardie knowledgeable persons think it was trick photography. Getting 8 Beardies or even just 1 to sit still long enough for a posed picture is guaranteed frustration and futility. However, the picture taking experience was a pleasurable one as was the entire day.

It was Sunday, August 23, 1998, in Chenango Forks near Binghamton, NY. Ten Beardies were expected to be entered at the Susque-Nango KC agility trial. Since it was going to be the largest gathering of Beardies at a trial that I had experienced, I brought along my big, clunky 40 year old Koni-Omegaflex M twin lens reflex camera to record all the Beardies and their folks that Lu and I had come to know and whose friendship we enjoyed. However, two of the expected Beardie people, Alice Buschman with Charlie and Toni Tuck with Patty, were unable to attend leaving just the eight that were pictured. In spite of the heat most of us had a good day in the ring that included Breezy getting her 1st MXJ leg after earning the AXJ the day before.
All the Beardie folks agreed to gather after their last runs for the group picture. The trial was held in a beautiful park with a large expanse of grass surrounded by woods. For the picture-taking an area away from the rings near the edge of the woods was chosen for its quietness and the uncluttered natural background provided by the trees. While I mounted my heavy camera on the tripod, everyone else was in front of the camera either posing their Beardies or doing last minute grooming. The first 6 pictures of my 10 exposure roll of film were of the 8 Beardies alone. As can be expected the owners were all positioned behind the camera acting crazy trying to get the attention of their Beardies anyway they could. The Beardies all remained stationary except for their facial expressions which alternated between amusement with their owners' antics to embarrassment because of it. For the last 4 exposures I attempted to attach an exposure release timer to the camera so that I could be included in the picture, but it malfunctioned. A lady passing by with a dog kindly consented to pushing the shutter button. All the Beardies remained calm in spite of the presence of the stranger's dog. It was this dog that gets most of the credit for the successful picture, because he became the Beardies' focus of attention. The rest of thecredit goes to the fact that it was nearing the end of a hot, busy day for the Beardies, and they were all very content to just enjoy the shade from the trees.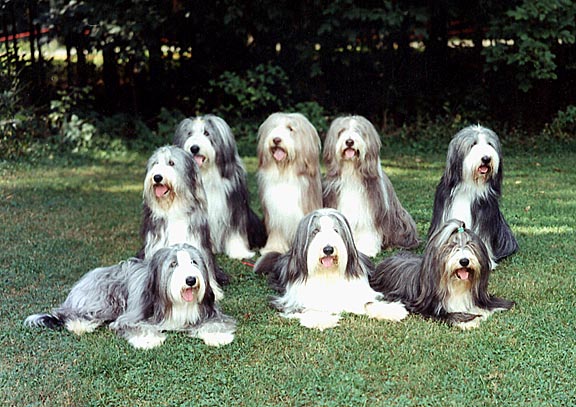 Beardies Sitting : Nellie (Hamblin), Corey, Rob, and Sean (Williamson), Talisker (Bryden)
Beardies Lying: Jura (Bryden), Chip (Weiss), Breezy (Bergen)

Though only 8 Beardies and their owners are pictured, all the other BAD BEARDs are represented by the picture's portrayal of camaraderie and friendship.
Jerry (Lu and Breezy, too)
White River Jct., VT, USA
---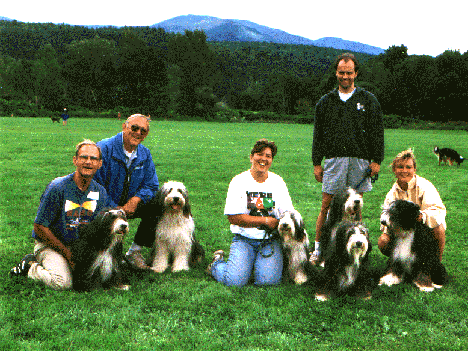 Stowe NADAC -- August 2000
Jerry Bergen and Breezy, VT
Linc and Doogy, RI
Sonja Moore and Snuffy, VT
Neil Bryden and Talisker and Jura, NJ
Ruth Bryden and Glayva, NJ
---

19 August 2001
Stowe, Vermont
Beardies sitting L to R: Breezy (Bergen), Belle, Sean, Beau, and Rob (Williamson), Glayva (Bryden)
Beardies lying L to R: Wally and Snuffy (Blanchard-Moore), Corey -in front (Williamson), Jura and Talisker (Bryden)
---

The Northeast Beardies meet yet again!
Rob, Beau, and Sean - Joanne Williamson
Jura, Glayva, Talisker - Ruth and Neil Bryden
Wally and Snuffy - Sonja and Tim Moore
Breezy - Jerry and Lu Bergen
Congratulations to Breezy on her Outstanding V-NATCH!
---

Rob, Belle, Flash and Beau - Joanne Williamson
Talisker, Glayva and Jura - Ruth and Neil Bryden
Wally and Snuffy - Sonja Blanchard-Moore
Farley - Nancy May
Breezy - Lu and Jerry Bergen
---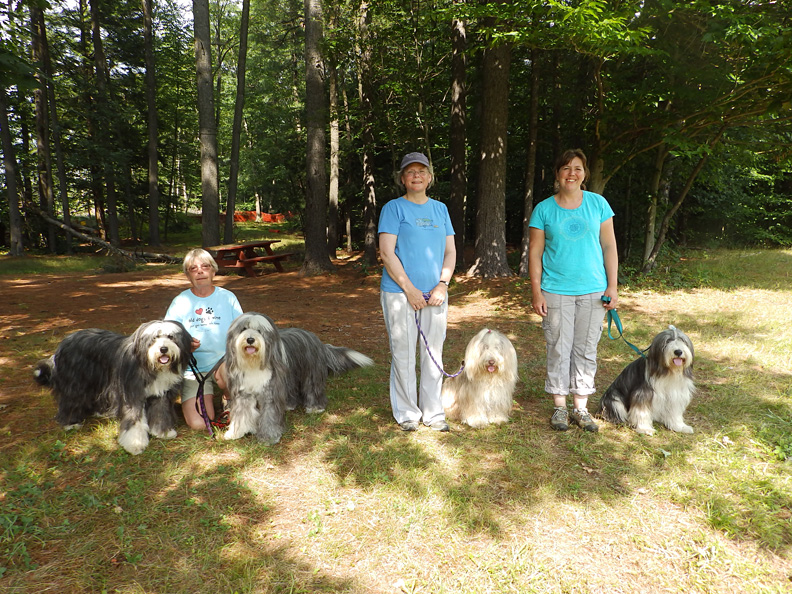 2014
The New England group recently got a little photo at the NADAC trial in Dummerston Vermont
The people and beardies are from left to right: Nancy May with Farley and Granite, Sharon Domier with Bliss and Sonja Blanchard with Quincy
It was a great time!
---
Click on individual Beardies to see Stats Pages.
Click on the BADBEARDs links at the bottom of the page to see the "Galleries"
---
Most of these BAD Beardies are in the BAD BEARDs Gallery:
Lu and Jerry Bergen of White River Jct VT - Breezy - Versatility Excellent
Breezy - Denia Award for 1997
NADAC-NATCH 9/17/00, V-NATCH 8/18/02, Triple Superior-V 5/31/03, and O-V-NATCH 8/16/03
USDAA-AJD 10/07/00, APD 6/16/01, AKD 6/23/01, AJD-Bronze 6/24/01
BREEZY-CH NATCH O-V-NATCH Baliwyn's Precious Friend CDX TD MX MXJ APD AJD-Bronze AKD VS VJ S-EAC HIC CGC VX
BRAE-Bronze GCH Bramley's Green Mountain Boy CGC

Sonja Blanchard of Woodstock VT
Snuffy, Wally, Quincy, and Taylor - Versatility Excellent / Quincy - Master Versatility
SNUFFY-Snuff And Stuff CD RN AX AXJ NJP AD JB EAC S-EJC EGC TN-O TG-N CL4 HIC CGC VX
WALLY-Britannia William Wallace RN HT AX AXJ NAP PDI PJ2 EAC O-EJC OCC TN-E TG-O CL3 CL4-RFH CGC VX
QUINCY-DC Lil'Clove True Grit VCD1 [CD TD] BN RAE TDX PT HSAds HSBd HIAds HIBd HXAdM MX MXJ XF CGC CL2 EAC OJC NCC TN-O TGN CGC ROMA MV
TAYLOR-Balderdash Taylored In Vermont CD BN RE PT HSAds HIAd OA OAJ NF CGC VX
HUCK-Balderdash Highlands Huck

Ruth and Neil Bryden of Rivervale NJ - Glayva and Caol Ila - Versatility Excellent
Caol Ila-MACH-22 July 2017
Glayva-C-ATCH-19 June 2011
TALISKER-Briarpatch Double Scotch RN OA AXJ O-EAC S-EJC O-EGC S-TN-E WV-E CGC
JURA-Bonnie Bella Scotch Mist CD RN NA NAJ NAC EJC EGC S-TN-E O-WV-E CL2-FHS CGC
GLAYVA-C-ATCH Aceilidh's Nua Bliam Coilean CD RA PT NA NAJ NF PD1 PS1 PK1 PG1 PR1 NAC NCC NJC S-TN-E WV-N TG-N NVA ChSN ChFH CGC VX
CAOL ILA-MACH Lil'Clove Caol Ila BN RN HT PT MXB MJS MXF AAD ASA JM SM CL4 VX
CAO RUNN (RU)-Lil' Clove Twist N Shout HT OA OAJ NF ACT1 DJ VA

Lucy Campbell-Gracie and Anna Gracie of Phoenix, MD (Briarpatch)
Tommy, Iggy, Christopher, Ollie and Charlie- Versatility Excellent
JODY-AM/CAN CH Amberlea's Briarpatch Chorline ROMA
WINNIE-CH Briarpatch Give Your Heart Away
TONY-CH Briarpatch Jocala Chasing The Dream CGC
CECELIA-CH Briarpatch Jocala Inspiration RN HT OAP OJP
OLLIE-MBISS GCH CH Briarpatch Just One Look CD BN RE HSAs OA OAJ NAP NJP NF CGC VX
MANDY-GCHB CH Briarpatch Kit 'N Kaboodle RN HSAs
IGGY-BISS GCH CH Briarpatch Look At That CD RE HT AX AXJ MXP MJP VX ROMA
CHARLEY-GCH CH Briarpatch Look What's Next CD BN RE PT HSAs NA NAJ NF CGC VX
HENRY-GCHB CH Briarpatch Looking Back RN PT
MAX-CH Briarpatch Portraitist CD HT OA OAJ VA ROMAX
MARIELLA-CH Briarpatch So Good Looking BN RN HT
CHRISTOPHER-BIS MBISS GCH CH Briarpatch Top That CD RE PT OA OAJ OF CGC VX
SARA-LOUISE-CH Briarpatch Wayward Lass ROMAX
TOMMY-MBISS CH Briarpatch Who Was That CD RA OA AXJ OAP OJP VX ROMX ROMAX
ORLY-CH Classical's Guess Who CDX ROMX ROMAX

Claire Cifarelli of Staten Island, NY - Patch and B-Buster - Versatility Excellent
PATCH-MACH- 15 June 2007 / MACH2- 12 July 2009 / MACH3- 2 January 2011
ROXIE-MACH- 28 February 2010 / MACH2- 6 May 2012 / MACH3- 3 August 2014
B-BUSTER-MACH - 29 November 2014/MACH2 - 29 May 2016
PATCH-MACH3 Raintree Ha'Penny Hades CDX RE AXP AJP OF PD2 PS2 PJ2 PK2 PG2 PR1 OAC EJC NGC TN-O TG-N WV-N VX
ROXIE-MACH3 Roxie MXC MJC OF AD SSA SJ SG SS SR TN-O TG-N
UNO-CH Ragtyme Still The One AX AXJ
DOBBY-Lil'Clove Loyal & Devoted Dobby PT NA NAJ NF
TONKS-Lil'Clove Nymphadora Tonks PT NA NAJ NF
B-BUSTER-MACH3 Lil'Clove Poppet's First Moppet BN RA HSAs MXC MJC OF VX

Lincoln and Ann Cook of Cumberland RI
DOOGY-Moor's End Moving Violation UD OA OAJ

Thomas and Kathleen Defino of Murrysville, PA - Nikki - Versatility Excellent
NIKKI-C-ATCH 2.12.17
NIKKI-C-ATCH Artisan Crystal Starlight BN RA PT OA OAJ AXP AJP OF XFP SPJ CL3 CL4-H RATN CGC VX
LILLI BELLE-Liberty's Cadbury Bunny RN PT NAJ OF CL2 RATO CGC VA

Sharon Domier of Orange, MA - Bliss - Versatility Excellent
BLISS-CH Fivefields Miss Bliss BN RE HT NAP NJP CSL2 CSL3-F IAC IJC WV-I CSL3-FHR TN-N THD CGCA VX
SAPPHIRE-Larkslane BlissHollow Sapphire BN RA FDC CGC TKI VA

Katherine Dupee of Teaticket MA
SAILOR-Glen Saucon's Cape Cod Sailor OA NAJ
DAISY-Balderdash Cape Cod Daisy AX AXJ

Sheila Franklin of Columbia, MD - Bracey - Versatility Excellent
Top BAD Beardie - 2005
ADCH-8/19/07
ADCH-Bronze-3/21/10
NATCH-5/25/08
BRACEY-ADCH-Bronze NATCH Wynsum Embrace The Moment RN HT AX AXJ OF GCH-Silver SCH-Silver JCH-Silver S-EJC S-WV-E O-TN-E O-TG-O O-OVA VX
JOBY-Chantilly's All The Wright Moves OA NAJ OF AD SSA AJ GM AS AR
BENSON-Lil'Clove Benny and the Jets NA NAJ NF AD SSA SR SS SG HIC

Heather Gahres and Jeremy Haag of Lebanon PA - Elton and Kit - Versatility Excellent
Kit-ADCH 12/11/16
DUCHESS-CH Brampton's Daimh Kiltie ROMA
ABBEY-CH Brampton's Abbey of St Mary
ELTON-Brampton's Pinball Wizard BN RE PT OA OAJ XF SPG SPK SPR APJ VJD VKD NJC TG-N S-TN-O CL2 CGC R1 VX
MONTY-Brampton's Flying Circus RN PT NA NAJ NF NJC TN-N VA
KIT-ADCH Lil Clove Midnight Lace RE PT AX AXJ OF JCH-Bronze SCH-Bronze PKM PTM PJCH PTM-Bronze PKCH CL1-RFH VX
BOUNCE (YETI)-Estrella's Off the Wall RN HT NF AD SSA AJ AG AS SR

Maryann Groves of Alfred ME (Barnhollow) - Brechin and Brylie - Versatility Excellent
BRECHIN-CH Jubo-Lees Once Ina Lyfethyme RN TD PT OA AXJ NAC OJC NGC HIC CGC ROMA VX
BRYLIE-Barnhollow Brylie TD PT OA AXJ NJP HIC VX
CAMILLE-Barnhollow's Worth the Wait PT NA NAJ HIC
LIDA-Shepherd Calls Brilliant Light RN OA AXJ OF SJ CGC VA
HADRIAN-Barnhollow's Nonesuch Hivelyn

Marilyn Grumet of New York, NY
MARGOT- Highlands All About Eve RN OA AXJ CGC
JESTER-Britannia First Contact

Dottie Hamblin of Manlius, NY
NELLIE-Walkoway's Happy Talk UD Can CD OA OAJ NJC
LAYLA-CH Ragtyme If Thats What It Takes RE BN NA NAJ CL2-FH CA

Tracy and Matt Hill of Ellicott City, MD
GUSTO-Gusto CD RA HT NA NAJ NF NAP NJP S-NAC O-NCC EJS TN-E O-TNS-E S-TG-O S-WV-N HP-N O-NVA
ATOM-CH Odyssey Running Full Bohr RN CAA

Megg Hoffman of Kent CT (Cattail Hollow)
TUCKER-CH Ha'Penny Wellfleet Tucker
PATCHES-CH Raintree Ha'Penny Patches TDI CGC
CHEERS-CH Cattail Hollow All Cheers CDX PD1 PS1 PJ2 PK1 PG1 PR2 TDI CGC

Terry Johnson of Haymarket VA
JAZZ-Oakengates Blue By You HT NAP
INDY-Tweeddale's Dream Catcher BN RE MX MXJ MJS MJP OF PD SPS APG APJ APK APR U-AGI CGC
CASSIE-Oakengates Aren't I Clever AX AXJ NJP
STREAKER-Oakengates Winning Streak BN RE MX MXB MXJ MJC XF PJCH APG APK APR
HIGGINS-Lil'Clove Key Largo BN RA OA AXJ OF PD SPS SPR SPK
SPRING-Tweedale's Star Spangled Banner RA PT
SUMMER-CH Tweeddale's This Magic Moment BN RN HT NA NAJ

Beth Kortze of Mineral PA (Odyssey) - Vickie and Calum- Versatility Excellent
Sprite-MACH - 5 November 2011
SPRITE-MACH Moonstone Kindred Spirit RN NF NAC NJC O-TN-N WV-N HCT CGC
CELIA-CH Britannia Never Look Back RA NA NAJ NF CGC
VICKIE-CH Britannia Runaway Angel RE AX AXJ NF VX
CALUM-CH Odyssey One Step Beyond RE AX OAJ OAP OJP NF VX

Diane and Dina Lipman of Amherst NY - Abby and Paige- Versatility Excellent
Paige-MACH- 8.14.10 / MACH2- 3.25.12
Kailey-MACH- 11.04.11 / MACH2- 1.19.13 / MACH3- 11.09.13 / MACH4- 9.29.14
ABBY-Wigglesworth Kosmic Leap CDX RN HT AX AXJ VX
ALLIE-Wigglesworth Little Miss Sunshine MX MXJ MJB NF
KAILEY-CH MACH5 Wigglesworth No Way Out MXG2 MJC2 MXF TQX T2B
ZEE-CH Wigglesworth Stay Out Of My Way AX AXJ
PAIGE-CH MACH2 Wigglesworth Walk This Way CD RA MXC MJB2 MXF MFB T2B VX ROMAX

Eleanor Logue of Baltimore MD
CHELSIE-Chelsie MX AXJ NJP AD OAC NJC NGC

Nancy May of Deerfield NH - CPE Judge
FARLEY- Top BAD Beardie - 2007, 2008, 2009, 2010, 2011, 2012, and 2013
C-ATCH - March 19, 2006 /CS-ATCH - 27 April 2014
C-ATE - March 8, 2008 /C-ATE2 - July 18, 2009/C-ATE3 - Sept 5, 2010/CATE4 - April 22, 2012/CATE5 - March 1, 2014/CS-ATE - August 25, 2015/CS-ATE2 - October 8, 2016
LC-PLT - July 18, 2009 / C-15 - January 17, 2010 / C-20 - April 23, 2011 /C-25 - October 14, 2012
PDCH - February 18, 2012
NATCH - August 23 2013/ NATCH2 - June 1, 2014/ NATCH3 - September 6, 2014/ Versatility NATCH - September 20, 2014
GRANITE - CT-ATE - Sept 26, 2015
FARLEY- PDCH C-ATE5 CS-ATE2 C-ATCH CS-ATCH NATCH3 Vers-NATCH Kamelott's Wild Thing Farley NAP NJP C-35 ChST ChJU ChSN ChFH ChCL PSCH PKCH-Gold PGCH PRCH PTM-Bronze VSD VJD VGD VKD VVD S-EAC-1200 EJC-700 ECC-300 TNE-600 TGE-400 O-WVE HPN CGC
GRANITE-CT-ATE Kamelott's Great Stone Face NJP APJ APK S-EJC TNE-500 S-WV-N S-ICC CL2 CL4-FSH ChSN ChFH ChJU ChCL ChWC ExSN ExFH ExJU

Polley Ann McClure of Spencer NY
IVY-Black Friar Ivy Roon MX MXJ CGC
BURD-Calleigh Burdoch o' Pinnacles NAJ CGC

Karen Norteman of Alfred ME (Starisles)
CADENCE-Beau Chien High Cadence CD PT CGC-went to the Bridge in 1997
CHARLIE-WayToMe Midsummer Knight HIC
SEAMUS-Sheiling Angelic Ties RN HIC
DINAH-Breaksea November Storm
CH Burlesque Doing It Her Way

Elaine O'Carroll of Riva MD
Rory Versatility Excellent - Conor - Master Versatility 7 November 2010
Conor - MACH - 23 October 2010
RORY-Am/Can CH Colledge Spirit of Sheiling UD RE PT MXB MJB NAP OJP NAC OJC NTC VX Can CH CDX HT AG.N VA
CONOR-Am/Can CH MACH Sheiling Awesome Angel UDX5 OM6 RE PT MXS MJG AXP AJP NJC NCC CGC MV

Linda Porter of Hagerstown MD (Tweeddale) - Ace - Versatility Excellent
Bailey - Denia Award 2004 - MACH 5/29/06 - MACH2 12/07/07
Bailey - AKC Invitationals 2006,2007
Mika - Denia Award 2007 - Top BCCA Beardie 2015
Mika - MACH 9/04/09 - MACH2 5/02/10 - MACH3 12/31/10 - MACH4 10/03/11 - MACH5 9/15/12 - MACH6 11/17/13 - MACH7 11/15/14 - MACH8 3/14/15 - MACH9 5/25/15
Mika - ADCH 10/01/11
Mika - AKC/Eukanuba Invitationals 2008, 2009, 2010, 2011, 2012
BAILEY-CH MACH2 Oakengates Irish Cream MXC MJS2 AXP MJP OF AAD ASA AJ AS SR SG O-NAC O-OJC O-NCC TN-E S-WV-N O-TG-N NVA ROMA
TOBY-CH Tweeddale's Day Dream Believer OA NAJ TN-O CGC
MIKA-MACH9 ADCH Fox Lane's Mika At Tweeddale MXC3 MJC3 MXF TQX T2B SACH-Bronze JCH RCH SCH TM-Bronze NAC
TORI-Tweeddale's Black Magic Woman MX MXJ XF SG SR CGC, S.T.A.R PUPPY
ACE-CH Moonstone Get Out Of My Way BN RA PT FDC OA AXJ OF VX
PELA-Just Miracle Peony Z Domu Etny RA HT
RAYA (border collie)-Wren's Wise Guardian, S.T.A.R PUPPY

Nancy Reich of Albany NY - Rune, Murk, and Pic - Versatility Excellent
RUNE-Cynamen Artisan Winter Light RE HT AX AXJ OF CL3 CL4-RH HIC CGC VX ROMA
CATHER-Ch Artisan Steppenwolf RN HT JHD CGC
MURK-Spicewood Cynamen Early Light RE HSAds HSBd HIAd HIBd HXAd OA OAJ NF VX
PIC-Spicewood Cynamen Night Pic RE PT HSAds HSBd HIAds HIBd HXAd NA NF VX

Michele Ritter of Saylorsburg PA (Britannia)- Zooey/Biff - Masters Versatility
ZOOEY-BIS BISS Am Can CH Britannia How Sweet It Is CD PT AX AXJ TDI HIC CGC MV
BIFF-BIS/MBISS Am/Can CH Britannia Back to the Future VCD1 RE PT AX MXJ CGC ROMAX MV
BUBBLES-CH Britannia Bubblicious PT ROMAX
SARAH-BIS CH Britannia Sweet Lady CD HIC ROMX ROMIX ROMO ROMAX VA
SPOT-BIS BISS Am Can CH Britannia Ticket To Ride HIC CGC ROMX ROMIX ROMAX
NIXON-CH Britannia Total Eclipse PT ROMAX
CH Britannia Next Generation CD BN RN CGC
PETE-CH Britannia For Pete's Sake HT

Patsy Sullivan, M.D. of Abington PA (Dunnottar) - Carson - Versatility Excellent
CARSON-CH Dunnottar Stonehaven's Silver RN AX AXJ AXP AJP VX
MACKENZIE-Aberdeen's Dancing Queen MX MXB MXJ MJB OF T2B

Toni Tuck of Manlius NY - Patty - Versatility Excellent
PATTY-CH Britannia Peppermint Patty Can CDX UDT HT MX AXJ OAC-V OJC-V NGC AG.N CGC VX
ELLA-CH Britannia Sings the Blues TD NA NAJ NAP NJP NAC
MACH Emmi Cavalier

Marilou Watson of Grand Isle VT
BAILEY-Jubo-Lee's Taste of Honey
DIGGER-Jubo-Lee's Man In Black NAJ

Sandy Weiss of Sellersville PA. Chip and Bond- Master Versatility. Diva and Marty - Versatility Excellent.
CHIP-CH HC WTCH Britannia Chip Thrills UDX ASCA-UD HRDIIIs MX MXJ TDI CGC ROM ROMAX MV
DIVA-CH Ashberry Portrait of a Lady CDX HSAs AX OAJ OAP OJP VX
BOND-DC Britannia License to Thrill CDX ASCA CD RE HXAsd HIBd HTD-I HRD-I OTDs OTDd OA OAJ AXP AJP CGC MV
MARTY-CH Bendale Singing The Blues UD GO RE HSAdsc HIAs HXAs STDs AX AXJ NF TG-N TN-N WV-N CGC VX

Brenda Weyant of Hollidaysburg, PA
KARLA-Avondale Starlight By Vega AXP OJP NFP AD SPS APJ APK APG EAC EJC CL4

Joanne Williamson of Charlton MA (Balgrae) - AKC Rally Judge
Sean, Corey, Rob, Beau, Belle, Flash, Jack and Dazzle - Versatility Excellent/Flash and Jack - Master Versatility
Sean - Denia Award for 1998
Sean - Diehard Trophy for 1999 and 2000
Sean - Jumpers With Weaves Trophy for 1999 and 2000
Sean - Top BAD Beardie for 2001
Sean - First Beardie MACH - 16 June 2001
Flash - MACH - 22 March 2009 / PACH - 16 March 2013 / PACH2 - 23 February 2014
Flash - Master Versatility - 23 April 2010
Jack - Master Versatility - November 2014
COREY-BIS Am Can Bda CH Parcana Lord Corwin CDX OA NAJ HIC ROMA VX
SEAN-CH MACH Balgrae's Sean Mackay CD HS JHDs STDs MXG MJG NAC NJC VX
LILY-CH Britannia Sweet Black Angel NA HIC HCTs
ROB-CH Balgrae's Rob Ruadh CD RAE HT JHDs MX MXJ AD EAC EJC EGC TN-N TG-N WV-N NVA VX
BELLE-CH Britannia Belle of the Ball RN PT OA OAJ NF NJC TN-O VX
BEAU-Britannia Beau Brummel RE PT MX MXB MXJ MJS OAP AJP XF EAC EJC EGC TN-E WV-O TG-O OVA VX
FLASH-CH MACH PACH2 Britannia Flashback CD RAE HSAds HSBd HIAds HXAs HXAdM MXS MJG MXP6 MXPS MJP8 MJPG PAX2 MXF MFP5 MFPS TQXP T2BP MV
JACK-DC Pentangle's Captain Jack BN RAE HSAds HSBd HIAds HIBd HXAdM HXBdM MX MXJ MXF T2B MV
DAZZLE-CH Balderdash Bedazzled At Balgrae CD PCD BN RAE HSAds HSBds HIAds HIBd AXP AJP XFP TKN CGC VX
RIPPLE-Britannia Ripple In Time HT (Tart/Corey pup)
VIKA-Britannia Turn Back Time (Tart/Corey pup)

Trudy Wisner of Staten Island NY (Lil'Clove) - Billy, Poppet, Dottie, and Rugby - Versatility Excellent
Billy - MACH - 13 April 2013
Poppet - MACH - 9 November 2014
BILLY-CH U-CH U-CDX ARCHEX MACH Merewoods NY State Of Mind CDX RE HSAs JHD MXB MJB MJP NF AAD ASA AJ SG AS SR TN-N TT RL1X,2X,3X CGCA ROMAX VX
OREO-CH U-CH Malakar Oreo Speedwagon RE RL2 CGC ROMR ROMAX
POPPET-CH/U-CH MACH Lil'Clove Hello Poppet CD RE HSAs MXS MJS MXP3 MXPB MJP3 MJPB NF AD SSA AS SJ CGCA VX ROMAX
JACK-U-CH Lil'Clove Cap'n Jack Sparrow RN HT OA AXJ NF HCT CGC
DOTTIE-CH Lil'Clove A League Of Her Own RN PT MX MXJ MJB NF VX ROMA
DUGAN-Lil'Clove A League Of His Own PT NA AXJ
RUGBY-Lil'Cloves Ruff n' Tumble CD BN RA HSAds OA OAJ XF CGCA VX
DIXIE-Dixie TT CGC

Lori Wolbach of Pompton Lakes, NJ
ANNIE-Ha'Penny Deja Anastasia The Royal Princess CTL2 L1T-PLT CGC THD Delta Pet Partner
The Whirling North Winds

Photo by Sonja Moore

1st Place, The Whirling North Winds, NO faults, 54:46

Sonja Moore and Wally

Polley Ann McClure and Ivy

Maryann Groves and Brechin

Timothy Moore and Snuffy

The Kilted Celts

Photo by Barbara Stone

3rd place, The Kilted Celts, 5 faults, 53:99=58:99

Ruth Bryden and Talisker

Neil Bryden and Jura

Sandy Weiss and Chip

Joanne Williamson and Rob

Last updated 22 September 2017
---

BADBEARDs-Bearded Eastern Agile Running Dogs
BADBEARDS-Maine, Vermont, Massachusetts, New Hampshire, Rhode Island, and Connecticut-Brechin, Brylie, Breezy, Cadence, Charlie, Doogie, Farley, Snuffy and Wally
BADBEARDS-New York and New Jersey-Billy, Bruiser, Ivy, Glayva, Jura, Nellie, Patty, and Talisker
BADBEARDS-Massachusetts-Beau, Belle, Corey, Flash, Lily, Rob, and Sean
BADBEARDS-Pennsylvania-Biff, Chip, Diva, Grracie, Haley, Sugar, and Zooey
BADBEARDS-Maryland and Virginia-Bailey, Celia, Chelsie, Chloe, Gatsby, Heart, Indy, Jazz, Jester, Kip, O'Shea, Rory, and Sprite
Northeast/Central Coast BAD Member Breeders
---

BADFADs-Finnish Agility Dogs

BAD-Canadians

BAD-Midwest Beardies

BAD-Southeast Beardies

BAD-Southwest and Mountain Beardies

BADWAGS-Western Agility Gatherings
---
.

Off to a BAD Start
[BAD Handlers] | [BAD Dogs] | [BAD Events] | [BAD Links]
[BAD Greetings] | [BAD News] | BAD Beginnings]
[BAD Advice] | [BAD Attitudes] | [BAD Goods]
[BAD Member Breeder's Page]