Ch/MACH2 O'Duinnin HMT A Bud For Boo

MXC MJS2 ROMAX

---

Budweiser Dog-8/9/97
Breeders: Karen Barratt and Eileen Dinneen
Ch Hermosa MTN Colquhoun McDuff (Colquhoun)x Ch O'Duinnin Picabo Streak, MX, MXJ, AD, OAC, OJC, NGC, HIC, ROMAX (Boo!)
Owner/Handler: Karen Barratt of Galveston, TX


---
AKC DL703758-01
Standard Titling
1/19/02   Novice B 20"-Leg 1     100      3rd/6      52.84'/73'  
1/20/02   Novice B 20"-Leg 2      95      3rd/3      54.39'/73'
1/27/02   Novice B 20"-Leg 3     100      1st/5      50.31'/76'         NA

2/17/02   Open 20"-Leg 1          93      1st/10     65.32'/64' 
3/08/02   Open 20"-Leg 2          95      4th/14     51.54'/63' 
3/09/02   Open 20"-Leg 3         100      1st/13     54.21'/70'         OA

5/05/02   Excellent A 20"-Leg 1   94      2nd/12     66.83'/64' 
9/29/02   Excellent A 20" Leg 2  100      3rd/15     58.86'/61'     
10/12/02  Excellent A 20" Leg 3  100      2nd/15     55.88'/66'         AX
Jumpers with Weaves
12/1/01   Novice B 20"-Leg 1      95                 32.41'/37'   
12/2/01   Novice B 20"-Leg 2     100      1st/9      31.05'/39'
1/19/02   Novice B 20"-Leg 3      95      3rd/11     33.50'/36'         NAJ

1/20/02   Open 20"-Leg 1         100      1st/10     39.43'/41' 
1/27/02   Open 20"-Leg 2         100      4th/16     35.78'/40'          
2/03/02   Open 20"-Leg 3         100      3rd/18     28.56'/33'         OAJ

3/09/02   Excellent A 20"-Leg 1  100      2nd/12     37.91'/44'
3/10/02   Excellent A 20"-Leg 2  100      2nd/8      37.32'/41' 
4/11/02   Excellent A 20"-Leg 3  100      1st/14     44.18'/44'         AXJ
Championship Legs
Standard Titling
10/13/02  Excellent B 20" Leg  1 100                 61.33'/68'  2Q
11/30/02  Excellent B 20" Leg  2 100                 63.95'/67'  2Q
12/08/02  Excellent B 20" Leg  3 100                 60.80'/67'  2Q
01/17/03  Excellent B 20" Leg  4 100                 63.73'/68'
01/19/03  Excellent B 20" Leg  5 100                 63.99'/68'  2Q 
01/26/03  Excellent B 20" Leg  6 100                 57.14'/66'
03/01/03  Excellent B 20" Leg  7 100                 58.44'/64'
03/22/03  Excellent B 20" Leg  8 100                 59.36'/64'
03/23/03  Excellent B 20" Leg  9 100                 57.14'/63'  2Q
04/13/03  Excellent B 20" Leg 10 100                 63.91'/68'         MX

05/25/03  Excellent B 20" Leg 11 100                 59.34'/67'  2Q
06/14/03  Excellent B 20" Leg 12 100                 58.44'/65'  2Q
07/20/03  Excellent B 20" Leg 13 100                 57.34'/63'  2Q
10/19/03  Excellent B 20" Leg 14 100                 60.89'/68'  2Q
10/25/03  Excellent B 20" Leg 15 100                 55.23'/67'  2Q
11/14/03  Excellent B 20" Leg 16 100                 51.17'/60'  2Q
11/15/03  Excellent B 20" Leg 17 100                 54.88'/67'
11/22/03  Excellent B 20" Leg 18 100                 55.39'/67'
11/23/03  Excellent B 20" Leg 19 100                 52.16'/60'  2Q

 1/08/04  Excellent B 20" Leg 20 100                 56.59'/60'  2Q
 1/24/04  Excellent B 20" Leg 21 100                 57.78'/68'  2Q
 2/07/04  Excellent B 20" Leg 22 100                 57.26'/67'
 2/13/04  Excellent B 20" Leg 23 100                 54.04'/63'  2Q
 3/05/04  Excellent B 20" Leg 24 100                 53.94'/65'  2Q
 3/07/04  Excellent B 20" Leg 25 100                 54.16'/63'         MXB
 3/26/04  Excellent B 20" Leg 26 100                 50.10'/61'
 3/27/04  Excellent B 20" Leg 27 100                 55.89'/62'  2Q
 3/28/04  Excellent B 20" Leg 28 100                 57.77'/68'  2Q
 4/09/04  Excellent B 20" Leg 29 100                 58.06'/64'  2Q
 4/10/04  Excellent B 20" Leg 30 100                 54.28'/66'  2Q
 
 4/23/04  Excellent B 20" Leg 31 100                 56.02'/67'  2Q	
 4/24/04  Excellent B 20" Leg 32 100                 55.78'/66'  2Q	
 4/25/04  Excellent B 20" Leg 33 100                 57.92'/68'  2Q	
 5/06/04  Excellent B 20" Leg 34 100                 59.33'/68'  2Q	
 5/07/04  Excellent B 20" Leg 35 100                 52.62'/60'  2Q	
 5/30/04  Excellent B 20" Leg 36 100                 56.15'/63'  2Q	
 5/31/04  Excellent B 20" Leg 37 100                 57.40'/66'  2Q
 6/24/04  Excellent B 20" Leg 38 100                 63.21'/64'  2Q
 6/26/04  Excellent B 20" Leg 39 100                 60.06'/65'  2Q
 6/27/04  Excellent B 20" Leg 40 100                 56.02'/64'

 7/08/04  Excellent B 20" Leg 41 100                 60.13'/66'  2Q
 7/09/04  Excellent B 20" Leg 42 100                 62.53'/65'  2Q
 7/10/04  Excellent B 20" Leg 43 100                 56.01'/63'	
 7/15/04  Excellent B 20" Leg 44 100                 55.06'/63'  2Q
 7/16/04  Excellent B 20" Leg 45 100                 59.62'/63'  2Q
 7/18/04  Excellent B 20" Leg 46 100                 57.24'/65'
 8/20/04  Excellent B 20" Leg 47 100                 60.30'/65'  2Q
 8/21/04  Excellent B 20" Leg 48 100                 55.30'/64'  2Q
 8/22/04  Excellent B 20" Leg 49 100                 60.25'/62'  2Q
 9/04/04  Excellent B 20" Leg 50 100                 57.68'/64'  2Q     MXS

 9/05/04  Excellent B 20" Leg 51 100                 59.47'/68'  2Q
 9/06/04  Excellent B 20" Leg 52 100                 59.73'/67'  2Q
 9/18/04  Excellent B 20" Leg 53 100                 50.69'/61'  2Q
 9/26/04  Excellent B 20" Leg 54 100                 59.28'/68'  2Q	
12/03/04  Excellent B 20" Leg 55 100                 59.70'/67'
12/05/04  Excellent B 20" Leg 56 100                 61.42'/68'
 1/21/05  Excellent B 20" Leg 57 100                 56.95'/65'
 1/23/05  Excellent B 20" Leg 58 100                 57.50'/63'
 1/29/05  Excellent B 20" Leg 59 100                 57.67'/68'  2Q
 2/06/05  Excellent B 20" Leg 60 100                 57.93'/68'
	
 2/19/05  Excellent B 20" Leg 61 100                 58.72'/63'  2Q
 2/20/05  Excellent B 20" Leg 62 100                 52.69'/60'  2Q
 3/17/05  Excellent B 20" Leg 63 100                 56.61'/65'
 3/18/05  Excellent B 20" Leg 64 100                 55.91'/65'  2Q
 4/02/05  Excellent B 20" Leg 65 100                 51.75'/68'
 5/29/05  Excellent B 20" Leg 66 100                 58.89'/65'
 5/30/05  Excellent B 20" Leg 67 100                 55.72'/64'  2Q
 6/23/05  Excellent B 20" Leg 68 100                 54.80'/66'
 6/26/05  Excellent B 20" Leg 69 100                 59.39'/68'  2Q
 7/15/05  Excellent B 20" Leg 70 100                 54.58'/66'  2Q

 7/16/05  Excellent B 20" Leg 71 100                 56.37'/65'  2Q	
 7/17/05  Excellent B 20" Leg 72 100                 52.55'/64'	
 7/24/05  Excellent B 20" Leg 73 100                 58.14'/66'  2Q	
 8/21/05  Excellent B 20" Leg 74 100                 55.19'/62'  2Q	
 8/27/05  Excellent B 20" Leg 75 100                 55.81'/67'         MXG	
 9/28/05  Excellent B 20" Leg 76 100      4th/23     53.77'/65'
10/22/05  Excellent B 20" Leg 77 100                 62.73'/68'  2Q
10/30/05  Excellent B 20" Leg 78 100                 59.87'/64'  2Q
11/18/05  Excellent B 20" Leg 79 100                 57.93'/66'
11/19/05  Excellent B 20" Leg 80 100                 59.35'/61'

12/17/05  Excellent B 20" Leg 81 100                 59.02'/62'  2Q
12/18/05  Excellent B 20" Leg 82 100                 53.82'/64'  2Q 
 1/20/06  Excellent B 20" Leg 83 100                 53.62'/61'
 1/21/06  Excellent B 20" Leg 84 100                 59.46'/67'  2Q
 1/28/06  Excellent B 20" Leg 85 100                 57.34'/62'  2Q
 2/11/06  Excellent B 20" Leg 86 100                 53.91'/60'  2Q
 2/12/06  Excellent B 20" Leg 87 100                 54.02'/63'
 4/07/06  Excellent B 20" Leg 87 100                 53.95'/63'  2Q
 4/09/06  Excellent B 20" Leg 88 100                 59.65'/66'  2Q
 4/14/06  Excellent B 20" Leg 89 100                 60.02'/68'
 4/23/06  Excellent B 20" Leg 90 100                 61.30'/68'  2Q

 5/07/06  Excellent B 20" Leg 91  100                56.64'/64'  2Q
 5/29/06  Excellent B 20" Leg 92  100                62.80'/63'  2Q
 6/22/06  Excellent B 20" Leg 93  100                52.70'/64'  2Q
 6/23/06  Excellent B 20" Leg 94  100                53.22'/64'  2Q	
 6/24/06  Excellent B 20" Leg 95  100                58.39'/67'  2Q	
 6/25/06  Excellent B 20" Leg 96  100                61.47'/68'  2Q
 7/23/06  Excellent B 20" Leg 97  100                58.01'/66'  2Q
 7/27/06  Excellent B 20" Leg 98  100                52.86'/62'
 7/30/06  Excellent B 20" Leg 99  100                55.98'/61'  2Q
 9/22/06  Excellent B 20" Leg 100 100                49.12'/63'         MXC

 9/24/06  Excellent B 20" Leg 101 100                55.26'/64'
10/28/06  Excellent B 20" Leg 102 100                50.94'/61'  2Q   MACH 2
	
Jumpers with Weaves
4/13/02   Excellent B 20"-Leg 1  100                 42.02'/42'    
4/14/02   Excellent B 20"-Leg 2  100                 38.93'/43'
7/13/02   Excellent B 20" Leg 3  100                 33.62'/36'  
9/14/02   Excellent B 20" Leg 4  100                 41.06'/47'
9/15/02   Excellent B 20" Leg 5  100                 38.74'/47' 
9/29/02   Excellent B 20" Leg 6  100                 37.67'/44'
9/30/02   Excellent B 20" Leg 7  100      4th/11     40.59'/41' 
10/12/02  Excellent B 20" Leg 8  100      4th/31     46.11'/48' 
10/13/02  Excellent B 20" Leg 9  100                 41.86'/47'  2Q 
10/20/02  Excellent B 20" Leg 10 100                 36.77'/45'         MXJ

11/16/02  Excellent B 20" Leg 11 100                 41.31'/43'
11/30/02  Excellent B 20" Leg 12 100                 42.98'/45'  2Q
12/01/02  Excellent B 20" Leg 13 100                 38.47'/44'
12/07/02  Excellent B 20" Leg 14 100                 41.57'/48'
12/08/02  Excellent B 20" Leg 15 100                 39.87'/43'  2Q
01/18/03  Excellent B 20" Leg 16 100                 36.13'/42'
01/19/03  Excellent B 20" Leg 17 100                 39.33'/43'  2Q
01/25/03  Excellent B 20" Leg 18 100                 40.67'/42'
03/07/03  Excellent B 20" Leg 19 100                 38.43'/44'
03/08/03  Excellent B 20" Leg 20 100                 34.43'/41'

03/09/03  Excellent B 20" Leg 21 100                 37.06'/45'
03/23/03  Excellent B 20" Leg 22 100                 41.36'/44'  2Q
04/06/03  Excellent B 20" Leg 23 100                 36.11'/43'
04/12/03  Excellent B 20" Leg 24 100                 42.34'/43'
05/17/03  Excellent B 20" Leg 25 100                 37.11'/41'         MJB
05/25/03  Excellent B 20" Leg 26 100                 38.60'/43'  2Q
05/26/03  Excellent B 20" Leg 27 100                 39.55'/45'
06/14/03  Excellent B 20" Leg 28 100                 40.60'/41'  2Q
06/15/03  Excellent B 20" Leg 29 100                 37.29'/45'
07/20/03  Excellent B 20" Leg 30 100                 30.95'/34'  2Q
   
08/09/03  Excellent B 20" Leg 31 100                 36.90'/38'
09/20/03  Excellent B 20" Leg 32 100                 37.65'/46'
09/21/03  Excellent B 20" Leg 33 100                 35.87'/38' 
10/18/03  Excellent B 20" Leg 34 100                 38.54'/44'
10/19/03  Excellent B 20" Leg 35 100                 32.98'/37'  2Q
10/25/03  Excellent B 20" Leg 36 100                 35.92'/42'  2Q
10/26/03  Excellent B 20" Leg 37 100                 33.82'/40'
11/02/03  Excellent B 20" Leg 38 100                 33.37'/39'
11/14/03  Excellent B 20" Leg 39 100                 36.93'/45'  2Q
11/16/03  Excellent B 20" Leg 40 100                 34.24'/38'
  
11/23/03  Excellent B 20" Leg 41 100                 37.63'/43'  2Q
 1/08/04  Excellent B 20" Leg 42 100                 31.91'/37'  2Q         
 1/11/04  Excellent B 20" Leg 43 100                 35.95'/41' 
 1/16/04  Excellent B 20" Leg 44 100                 34.00'/41'
 1/17/04  Excellent B 20" Leg 45 100                 35.29'/41'
 1/18/04  Excellent B 20" Leg 46 100                 37.40'/41'
 1/24/04  Excellent B 20" Leg 47 100                 31.63'/39'  2Q
 2/08/04  Excellent B 20" Leg 48 100                 39.68'/45'
 2/13/04  Excellent B 20" Leg 49 100                 37.77'/45'  2Q
 2/15/04  Excellent B 20" Leg 50 100                 38.43'/41'         MJS

 3/04/04  Excellent B 20" Leg 51 100                 35.48'/42'
 3/05/04  Excellent B 20" Leg 52 100                 34.86'/41'  2Q
 3/27/04  Excellent B 20" Leg 53 100                 37.45'/43'  2Q
 3/28/04  Excellent B 20" Leg 54 100                 34.26'/38'  2Q
 4/08/04  Excellent B 20" Leg 55 100                 31.80'/40'
 4/09/04  Excellent B 20" Leg 56 100                 35.05'/38'  2Q
 4/10/04  Excellent B 20" Leg 57 100                 36.61'/40'  2Q
 4/11/04  Excellent B 20" Leg 58 100                 35.98'/41'
 4/23/04  Excellent B 20" Leg 59 100                 37.03'/46'  2Q	
 4/24/04  Excellent B 20" Leg 60 100                 33.15'/39'  2Q	

 4/25/04  Excellent B 20" Leg 61 100                 36.47'/41'  2Q	
 5/01/04  Excellent B 20" Leg 62 100                 35.84'/41'	
 5/02/04  Excellent B 20" Leg 63 100                 36.00'/42'	
 5/06/04  Excellent B 20" Leg 64 100                 39.03'/44   2Q	
 5/07/04  Excellent B 20" Leg 65 100                 39.77'/47'  2Q	
 5/15/04  Excellent B 20" Leg 66 100                 37.21'/42'	
 5/16/04  Excellent B 20" Leg 67 100                 32.99'/40'
 5/29/04  Excellent B 20" Leg 68 100                 33.51'/40'
 5/30/04  Excellent B 20" Leg 69 100                 36.50'/40'  2Q	
 5/31/04  Excellent B 20" Leg 70 100                 34.54'/39'  2Q	

 6/24/04  Excellent B 20" Leg 71 100                 34.72'/39'  2Q	
 6/25/04  Excellent B 20" Leg 72 100                 36.22'/42'
 6/26/04  Excellent B 20" Leg 73 100                 36.22'/41'  2Q
 7/08/04  Excellent B 20"-Leg 74 100                 37.98'/46'  2Q	
 7/09/04  Excellent B 20"-Leg 75 100                 34.46'/42'  2Q     MJG	
 7/11/04  Excellent B 20"-Leg 76 100                 34.62'/42'	
 7/15/04  Excellent B 20"-Leg 77 100                 36.15'/41'  2Q		
 7/16/04  Excellent B 20"-Leg 78 100                 36.97'/40'  2Q	
 7/17/04  Excellent B 20"-Leg 79 100                 39.24'/42'
 8/20/04  Excellent B 20"-Leg 80 100                 30.93'/39'  2Q	
	
 8/21/04  Excellent B 20"-Leg 81 100                 36.26'/38'  2Q		
 8/22/04  Excellent B 20"-Leg 82 100                 35.77'/41'  2Q	
 9/04/04  Excellent B 20" Leg 83 100                 38.24'/43'  2Q	
 9/05/04  Excellent B 20" Leg 84 100                 36.27'/42'  2Q	
 9/06/04  Excellent B 20" Leg 85 100                 34.10'/41'  2Q	
 9/18/04  Excellent B 20" Leg 86 100                 31.10'/35'  2Q	
 9/19/04  Excellent B 20" Leg 87 100                 35.87'/41'      MACH
 9/26/04  Excellent B 20" Leg 88 100                 37.99'/41'  2Q
 9/29/04  Excellent B 20"-Leg 89 100                 37.15'/42'
10/22/04  Excellent B 20" Leg 90 100                 33.24'/42'

10/24/04  Excellent B 20" Leg 91 100                 33.65'/42'
11/12/04  Excellent B 20" Leg 92 100                 39.51'/39'
11/13/04  Excellent B 20" Leg 93 100                 39.35'/41'
12/04/04  Excellent B 20" Leg 94 100                 33.82'/42'
 1/29/05  Excellent B 20" Leg 95 100                 33.12'/40'  2Q
 1/30/05  Excellent B 20" Leg 96 100                 30.81'/37'
 2/04/05  Excellent B 20" Leg 97 100                 37.46'/45'
 2/05/05  Excellent B 20" Leg 98 100                 38.94'/46'
 2/19/05  Excellent B 20" Leg 99 100                 34.49'/38'  2Q
 2/20/05  Excellent B 20" Leg 100 100                35.43'/39'  2Q     MJC

 3/18/05  Excellent B 20" Leg 101 100                34.98'/39'  2Q	
 3/19/05  Excellent B 20" Leg 102 100                38.30'/45'	
 3/20/05  Excellent B 20" Leg 103 100                32.89'/40'
 4/22/05  Excellent B 20" Leg 104 100                34.63'/45'
 4/23/05  Excellent B 20" Leg 105 100                39.02'/47'	
 5/30/05  Excellent B 20" Leg 106 100                34.97'/41'  2Q
 6/24/05  Excellent B 20" Leg 107 100                33.19'/42'
 6/25/05  Excellent B 20" Leg 108 100                38.56'/47'
 6/26/05  Excellent B 20" Leg 109 100                32.45'/40'  2Q
 7/15/05  Excellent B 20" Leg 110 100                32.09'/36'  2Q
	
 7/16/05  Excellent B 20" Leg 111 100                35.32'/42'  2Q	
 7/21/05  Excellent B 20" Leg 112 100                39.21'/40'	
 7/23/05  Excellent B 20" Leg 113 100                37.25'/44'	
 7/24/05  Excellent B 20" Leg 114 100                36.68'/43'  2Q	
 8/19/05  Excellent B 20" Leg 115 100                37.38'/43'	
 8/20/05  Excellent B 20" Leg 116 100                34.23'/39'	
 8/21/05  Excellent B 20" Leg 117 100                36.63'/43'  2Q	
 8/26/05  Excellent B 20" Leg 118 100                34.10'/40'	
 8/28/05  Excellent B 20" Leg 119 100                31.64'/42'	
 9/28/05  Excellent B 20"-Leg 120 100     4th/24     36.69'/46'  2Q

10/21/05  Excellent B 20" Leg 121 100                32.69'/37'
10/22/05  Excellent B 20" Leg 122 100                35.81'/45'  2Q
10/23/05  Excellent B 20" Leg 123 100                36.04'/38'
10/30/05  Excellent B 20" Leg 124 100                34.22'/42'  2Q
12/17/05  Excellent B 20" Leg 125 100                29.99'/38'  2Q     MJB2
12/18/05  Excellent B 20" Leg 126 100                30.48'/36'  2Q
 1/21/06  Excellent B 20" Leg 127 100                32.38'/41'  2Q
 1/28/06  Excellent B 20" Leg 128 100                39.20'/44'  2Q
 1/29/06  Excellent B 20" Leg 129 100                31.86'/36'
 2/11/06  Excellent B 20" Leg 130 100                31.15'/41'  2Q

 3/31/06  Excellent B 20" Leg 130 100                32.58'/37'
 4/02/06  Excellent B 20" Leg 131 100                34.82'/41'  
 4/07/06  Excellent B 20" Leg 132 100                33.66'/40'  2Q
 4/08/06  Excellent B 20" Leg 133 100                31.96'/37'
 4/09/06  Excellent B 20" Leg 134 100                34.31'/38'  2Q
 4/15/06  Excellent B 20" Leg 135 100                34.45'/44'
 4/21/06  Excellent B 20" Leg 136 100                35.69'/44'
 4/22/06  Excellent B 20" Leg 137 100                34.71'/42'
 4/23/06  Excellent B 20" Leg 138 100                38.64'/44'  2Q
 5/06/06  Excellent B 20" Leg 139 100                36.95'/43'
 5/07/06  Excellent B 20" Leg 140 100                38.22'/42'  2Q

 5/29/06  Excellent B 20" Leg 141 100                34.66'/42'  2Q
 6/22/06  Excellent B 20" Leg 142 100                32.11'/41'  2Q	
 6/23/06  Excellent B 20" Leg 143 100                30.48'/38'  2Q
 6/24/06  Excellent B 20" Leg 144 100                38.36'/44'  2Q	
 6/25/06  Excellent B 20" Leg 145 100                35.40'/42'  2Q
 7/21/06  Excellent B 20" Leg 146 100                32.89/'40'
 7/23/06  Excellent B 20" Leg 147 100                39.62'/43'  2Q	
 7/29/06  Excellent B 20" Leg 148 100                35.40'/42'
 7/30/06  Excellent B 20" Leg 149 100                32.77'/38'  2Q
 8/27/06  Excellent B 20" Leg 150 100                30.39'/38'         MJS2

10/28/06  Excellent B 20" Leg 151 100                41.16'/43'  2Q
10/29/06  Excellent B 20" Leg 152 100                33.69'/41'    

 4/14/02  CPs-  4
 7/13/02  CPs-  2
 9/14/02  CPs-  5
 9/15/02  CPs-  8  
 9/29/02  CPs-  6    
10/12/02  CPs-  1
10/13/02  CPs- 11   2Q 
10/20/02  CPs-  8
11/16/02  CPs-  1  
11/30/02  CPs-  5   2Q
12/01/02  CPs-  5 
12/07/02  CPs-  6 
12/08/02  CPs-  9   2Q

 1/17/03  CPs-  4 
 1/18/03  CPs-  5  
 1/19/03  CPs-  7   2Q
 1/25/03  CPs-  1  
 1/26/03  CPs-  8
 3/01/03  CPs-  5 
 3/07/03  CPs-  5  
 3/08/03  CPs-  6 
 3/09/03  CPs-  7 
 3/22/03  CPs-  4 
 3/23/03  CPs-  7   2Q
 4/06/03  CPs-  6 
 4/13/03  CPs-  4 
 5/17/03  CPs-  3
 5/25/03  CPs- 11   2Q
 5/26/03  CPs-  5
 6/14/03  CPs-  6   2Q	
 6/15/03  CPs-  7	
 7/20/03  CPS   8   2Q   
 8/09/03  CPS   1
 9/20/03  CPS   8
 9/21/03  CPS   2 
10/18/03  CPS   5	
10/19/03  CPS  11   2Q	
10/25/03  CPS  17   2Q	
10/26/03  CPS   6	
11/02/03  CPS   5   
11/14/03  CPS  16   2Q	
11/15/03  CPS  12  
11/16/03  CPS   3 
11/22/03  CPS  11
11/23/03  CPS  12   2Q	

 1/08/04  CPS   8   2Q	      
 1/11/04  CPS   5 
 1/16/04  CPS   7 
 1/17/04  CPS   5 
 1/18/04  CPS   3 
 1/24/04  CPS  17   2Q	
 2/07/04  CPS   9 
 2/08/04  CPS   5 
 2/13/04  CPS  15   2Q
 2/15/04  CPS   2 
 3/04/04  CPS   6 
 3/05/04  CPS  17   2Q
 3/07/04  CPS  13 
 3/26/04  CPS  10 
 3/27/04  CPS   6   2Q
 3/28/04  CPS  13   2Q
 4/08/04  CPS   8 
 4/09/04  CPS   7   2Q
 4/10/04  CPS  14   2Q
 4/11/04  CPS   5 
 4/23/04  CPS  18   2Q	
 4/24/04  CPS  15   2Q	
 4/25/04  CPS  14   2Q
 5/01/04  CPS   5	
 5/02/04  CPS   6	
 5/06/04  CPS  12   2Q	
 5/07/04  CPS  14   2Q
 5/15/04  CPS   4	
 5/16/04  CPS   7	
 5/29/04  CPS   6	
 5/30/04  CPS   9   2Q	
 5/31/04  CPS  12   2Q
 6/24/04  CPS   4   2Q	
 6/25/04  CPS   5
 6/26/04  CPS   8   2Q
 6/27/04  CPS   7	
 7/08/04  CPS  13   2Q
 7/09/04  CPS   9   2Q
 7/10/04  CPS   6
 7/11/04  CPS   7	
 7/15/04  CPS  11   2Q
 7/16/04  CPS   6   2Q
 7/17/04  CPS   2
 7/18/04  CPS   7
 8/20/04  CPS  12   2Q		
 8/21/04  CPS   9   2Q
 8/22/04  CPS   6   2Q	
 9/04/04  CPS  10   2Q
 9/05/04  CPS  13   2Q
 9/06/04  CPS  13   2Q
 9/18/04  CPS  13   2Q
 9/19/04  CPS   5       MACH

 9/26/04  CPS  11   2Q		
 9/29/04  CPS   4 
10/22/04  CPS   8 
10/24/04  CPS   8 
11/12/04  CPS   0 
11/13/04  CPS   1 
12/03/04  CPS   7
12/04/04  CPS   8
12/05/04  CPS   6

 1/21/05  CPS   8
 1/23/05  CPS   5 
 1/29/05  CPS  16   2Q
 1/30/05  CPS   6
 2/04/05  CPS   7
 2/05/05  CPS   7
 2/06/05  CPS  10
 2/19/05  CPS   7   2Q
 2/20/05  CPS  10   2Q
 3/17/05  CPS   8
 3/18/05  CPS  13   2Q
 3/19/05  CPS   6	
 3/20/05  CPS   7	
 4/02/05  CPS  16
 4/22/05  CPS  10
 4/23/05  CPS   7	
 5/29/05  CPS   6
 5/30/05  CPS  14   2Q
 6/23/05  CPS  11
 6/24/05  CPS   8
 6/25/05  CPS   8
 6/26/05  CPS  15   2Q
 7/15/05  CPS  14   2Q
 7/16/05  CPS  14   2Q
 7/17/05  CPS  11
 7/21/05  CPS   0	
 7/23/05  CPS   6	
 7/24/05  CPS  13   2Q	
 8/19/05  CPS   5	
 8/20/05  CPS   4	
 8/21/05  CPS  12   2Q	
 8/26/05  CPS   5
 8/27/05  CPS  11	
 8/28/05  CPS  10	
 9/28/05  CPS  20   2Q
10/21/05  CPS   4 
10/22/05  CPS  14   2Q
10/23/05  CPS   1
10/30/05  CPS  11   2Q
11/18/05  CPS   8 
11/19/05  CPS   1 
12/17/05  CPS  10   2Q
12/18/05  CPS  15   2Q
 
 1/20/06  CPS   7 
 1/21/06  CPS  15   2Q
 1/28/06  CPS   8   2Q 
 1/29/06  CPS   4  
 2/11/06  CPS  15   2Q
 2/12/06  CPS   8
 3/31/06  CPS   4 
 4/02/06  CPS   6 
 4/07/06  CPS  15   2Q
 4/08/06  CPS   5 
 4/09/06  CPS   9   2Q
 4/14/06  CPS   7
 4/15/06  CPS   9
 4/21/06  CPS   8 
 4/22/06  CPS   7
 4/23/06  CPS  11   2Q
 5/06/06  CPS   6 
 5/07/06  CPS  10   2Q
 5/29/06  CPS   7   2Q
 6/22/06  CPS  19   2Q
 6/23/06  CPS  17   2Q
 6/24/06  CPS  13   2Q
 6/25/06  CPS  12   2Q
 7/21/06  CPS   7
 7/23/06  CPS  10   2Q
 7/27/06  CPS   9
 7/29/06  CPS   6
 7/30/06  CPS  10   2Q
 8/27/06  CPS   7 
 9/22/06  CPS  13 
 9/24/06  CPS   8
10/28/06  CPS  11 2Q   MACH 2
10/29/06  CPS   7   

 Total    CPs-1511  2Qs- 71

MACH      CPs-750   2Qs- 20 - 19 September 2004
MACH2     CPS-1500  2Qs- 40 - 28 October 2006



---

Bud Qualifying at the 2002 Nationals in Monterey, CA
30 September 2002
Photo by Craig Chatterton
---
Bud's Links:
BAD
BCCA
2006
2005
2004
2003
2002
2001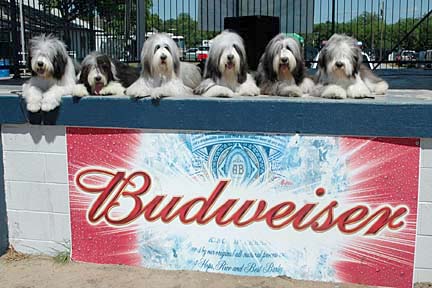 Dos, Shiner, Dru, Miller, Brew, and Michelob
5/15/05
Hi again Libby-
Just got back from the conformation trial in Denton where 6 of the Beardies entered were Bud's kids. I'm attaching a photo of the troup that was taken on the band stand at the show. It was a "perfect" setting as you will see. The pups are in order from left to right: Dos, Shiner, Dru, Miller, Brew, and Michelob. The puppies were all very cute. They tend to look a lot like Budweiser..especially the boys. They have very nice heads and tend to be slightly smaller than Miller and Dru at their respective ages. Who knows what they will mature into but for now I was pleased.
Karen
---

Here is a picture of our clan taken 26 June 2007...the day BEFORE the flood...thought it was cute enough to put on our pages.
Left to Right: Dru Budweiser Jet Miller Arbi Boo!
---

Off to a BAD Start
[BAD Handlers] | [BAD Dogs] | [BAD Events] | [BAD Links]
[BAD Greetings] | [BAD News] | BAD Beginnings]
[BAD Advice] | [BAD Attitudes] | [BAD Goods]

Email Libby with an update