OTCH MACH O'Duinnin Oh Dat Jack B Nimble

UDX4 OM1 RE MXS MJC MJP3 VX
Jill Scarborough's Jack
June 22, 1999 - Mar 29, 2014
"It is with great sadness that I had to help Jack leave this world today.
It was one hell of a ride we went on together going for the OTCH and MACH. He earned 13 HIT,13 HC, 58 1s/t places in obedience and 57 in agility.People that saw him work knew he was SPECIAL He was a great ambassador for the breed and there are those who got their first ever beardie because of Jack.
Jack loved to work. When I would try to take a day off from training him he would just stare at me until I would give in and do something with him. You could say he trained ME pretty well.
Life was better with Jack in it and I am so going to miss him so much."
---
High in Standard - 1st/65

Excellent B 20" - 1st/23 - 100 - 41.40'/65' - 179 yds

4.918 yards/second

High In FAST - 1st/53

Novice B - Score of 79 out of 80 points

completed his run in 25.34 seconds
---
Jack - DL79219304 - Dog - Bridge
Breeder: Eileen and John Dineen
Ch Shanaspree Snodrift O'Duinnin (Drifter) x Ch O'Duinnin Oh DeLorean, AX, AXJ, CD, VX (DeLorean)
Owner/Handler: Jill Scarborough, Jonesboro, Arkansas
---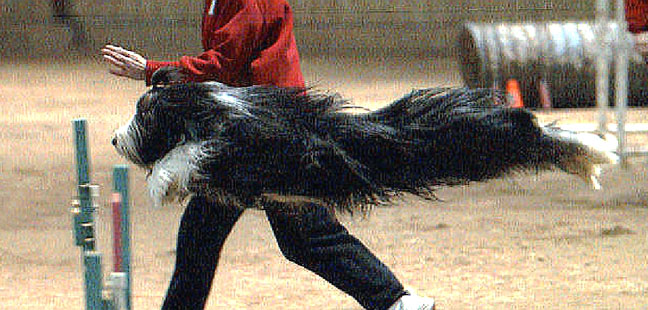 Sterling Photos
---
AKC DL79219305
Standard Titling

 9/17/00   Novice B 20" Leg 1    100    2nd/13   41.53'/73'
 9/23/00   Novice B 20" Leg 2    100    1st/3    37.25'/69'
 9/24/00   Novice B 20" Leg 3     95    2nd/3    42.53'/66'   NA

11/11/00   Open 20" Leg 1        100    1st/6    41.78'/54'
 4/27/01   Open 20" Leg 2        100    1st/10   45.57'/72'
 4/29/01   Open 20" Leg 3        100    1st/11   53.50'/79'   OA

 9/30/01   Excellent A 20" Leg 1 100    1st/4    55.07'/63'
10/06/01   Excellent A 20" Leg 2 100    1st/7    52.57'/66'
12/09/01   Excellent A 20" Leg 3 100    1st/4    51.30'/66'   AX
Jumpers with Weaves

 9/17/00   Novice B 20" Leg 1    100    1st/14   25.97'/41'
10/13/00   Novice B 20" Leg 2    100    1st/6    23.37'/37'
10/14/00   Novice B 20" Leg 3    100    1st/9    22.47'/38'   NAJ

10/15/00   Open 20" Leg 1         95    3rd/12   34.37'/41'
11/12/00   Open 20" Leg 2        100    1st/5    30.47'/37'
 1/07/01   Open 20" Leg 3         95    3rd/9    29.32'/38'   OAJ

 9/15/01   Excellent A 20" Leg 1 100    1st/13   37.65'/37'
10/14/01   Excellent A 20" Leg 2 100    1st/8    33.12'/43'
10/21/01   Excellent A 20" Leg 3 100    1st/4    33.29'/42'   AXJ
Championship Legs:
Standard Titling

1/12/02    Excellent B 20"-Leg 1  100    2nd/14  51.52'/62'   CPs- 15
4/13/02    Excellent B 20"-Leg 2  100    2nd/22  48.70'/67'   CPs- 27
5/05/02    Excellent B 20"-Leg 3  100    1st/26  51.02'/67'   CPs- 30  2Q
5/12/02    Excellent B 20"-Leg 4  100    1st/11  48.90'/63'   CPs- 28
6/06/02    Excellent B 20"-Leg 5  100    3rd/27  46.38'/66'   CPs- 19
9/15/02    Excellent B 20"-Leg 6  100    2nd/14  47.69'/65'   CPs- 25
10/5/02    Excellent B 20"-Leg 7  100    4th/12  47.61'/65'   CPs- 17
11/10/02   Excellent B 20"-Leg 8  100    1st/23  47.85'/68'   CPs- 40
1/31/03    Excellent B 20"-Leg 9  100            51.99'/68'   CPs- 16
3/02/03    Excellent B 20"-Leg 10 100    3rd/21  45.28'/63'   CPs- 17       MX

4/13/03    Excellent B 20"-Leg 11 100    2nd/11  51.16'/67'   CPs- 22  2Q
11/02/03   Excellent B 20"-Leg 12 100    2nd/12  52.88'/61'   CPs- 12
11/28/03   Excellent B 20"-Leg 13 100    3rd/29  45.00'/63'   CPs- 18  2Q
11/30/03   Excellent B 20"-Leg 14 100    3rd/29  42.00'/58'   CPs- 16  2Q
1/18/04    Excellent B 20"-Leg 15 100    1st/11  48.67'/65'   CPs- 32  2Q
3/04/04    Excellent B 20"-Leg 16 100    3rd/19  48.49'/64'   CPs- 15  2Q
3/05/04    Excellent B 20"-Leg 17 100    2nd/21  46.88'/63'   CPs- 24
4/25/04    Excellent B 20"-Leg 18 100    1st/16  46.70'/62'   CPs- 30  2Q
4/30/04    Excellent B 20"-Leg 19 100            52.22'/65'   CPs- 12  2Q
5/15/04    Excellent B 20"-Leg 20 100    1st/27  45.58'/64'   CPs- 36  2Q

5/16/04    Excellent B 20"-Leg 21 100    2nd/26  48.98'/66'   CPs- 25
5/23/04    Excellent B 20"-Leg 22 100    2nd/18  52.29'/66'   CPs- 19
6/24/04    Excellent B 20"-Leg 23 100    3rd/36  48.58'/64'   CPs- 15
9/12/04    Excellent B 20"-Leg 24 100    1st/19  46.71'/68'   CPs- 42  2Q
12/04/04   Excellent B 20"-Leg 25 100    1st/21  45.65'/63'   CPs- 34       MXB
12/05/04   Excellent B 20"-Leg 26 100    2nd/22  44.10'/60'   CPs- 22  2Q
1/29/05    Excellent B 20"-Leg 27 100    1st/45  45.41'/61'   CPs- 30
3/11/05    Excellent B 20"-Leg 28 100            52.84'/68'   CPs- 15  2Q
3/13/05    Excellent B 20"-Leg 29 100    2nd/21  49.96'/68'   CPs- 27  2Q
4/10/05    Excellent B 20"-Leg 30 100    1st/16  44.47'/66'   CPs- 42  2Q

4/22/05    Excellent B 20"-Leg 31 100    1st/14  42.54'/62'   CPs- 38
5/07/05    Excellent B 20"-Leg 32 100    2nd/35  43.79'/63'   CPs- 28  2Q
6/23/05    Excellent B 20"-Leg 33 100    7th/49  47.94'/66'   CPs- 18
6/24/05    Excellent B 20"-Leg 34 100    6th/49  46.71'/67'   CPs- 18  2Q
7/08/05    Excellent B 20"-Leg 35 100    6th/40  51.59'/66'   CPs- 14  2Q
7/28/05    Excellent B 20"-Leg 36 100    2nd/38  46.40'/64'   CPs- 25
7/29/05    Excellent B 20"-Leg 37 100    4th/41  45.08'/64'   CPs- 18  2Q
7/30/05    Excellent B 20"-Leg 38 100    3rd/40  49.64'/65'   CPs- 15  2Q
7/31/05    Excellent B 20"-Leg 39 100    3rd/41  45.00'/61'   CPs- 16  2Q   MACH
8/18/05    Excellent B 20"-Leg 40 100            44.49'/64'   CPs- 19  2Q

9/28/05    Excellent B 20" Leg 41 100    1st/23  41.40'/65'   CPs- 46       HIT National Specialty-Omaha
11/05/05   Excellent B 20"-Leg 42 100    2nd/41  50.16'/67'   CPs- 24
12/02/05   Excellent B 20"-Leg 43 100    1st/20  49.81'/68'   CPs- 36  2Q
1/26/06    Excellent B 20" Leg 44 100            48.72'/68'   CPs- 19
3/10/06    Excellent B 20" Leg 45 100    1st/17  40.81'/62'   CPs- 42  2Q
3/12/06    Excellent B 20" Leg 46 100    2nd/20  43.76'/65'   CPs- 31  2Q	
4/09/06    Excellent B 20" Leg 47 100    1st/20  43.97'/60'   CPs- 32
4/14/06    Excellent B 20" Leg 48 100    5th/39  50.27'/66'   CPs- 15
4/16/06    Excellent B 20" Leg 49 100    3rd/37  46.78'/68'   CPs- 21  2Q
5/06/06    Excellent B 20" Leg 50 100    3rd/32  47.84'/64'   CPs- 16  2Q   MXS

5/19/06    Excellent B 20" Leg 51 100    4th/32  42.56'/66'   CPs- 17
6/23/06    Excellent B 20" Leg 52 100    7th/68  42.55'/64'   CPs- 21  2Q
6/25/06    Excellent B 20" Leg 53 100    8th/65  49.81'/68'   CPs- 18
8/17/06    Excellent B 20" Leg 54 100    3rd/43  43.98'/67'   CPs- 23
8/19/06    Excellent B 20" Leg 55 100            50.39'/68'   CPs- 17
5/04/07    Excellent B 20" Leg 56 100    3rd/35  47.75'/67' 4.49  CPs- 19  QQ	
6/30/07    Excellent B 20" Leg 57 100            47.47'/62' 4.19  CPs- 14 		
8/18/07    Excellent B 20" Leg 58 100            48.03'/61' 4.04  CPs- 12 
1/24/08    Excellent B 20" Leg 59 100    4th/41  43.89'/61' 4.45  CPs- 17  QQ
1/25/08    Excellent B 20" Leg 60 100            44.91'/59' 4.18  CPs- 14

5/03/08    Excellent B 20" Leg 61 100            49.45'/65' 4.18  CPs- 15
5/17/08    Excellent B 20" Leg 62 100            43.14'/63' 4.72  CPs- 19
5/18/08    Excellent B 20" Leg 63 100    3rd/38  43.18'/60' 4.48  CPs- 16  QQ
Jumpers with Weaves
3/10/02    Excellent B 20"-Leg 1   100    1st/14  35.34'/43'   CPs- 14
4/27/02    Excellent B 20"-Leg 2   100    2nd/7   34.15'/48'   CPs- 19
4/28/02    Excellent B 20"-Leg 3   100    2nd/8   31.16'/40'   CPs- 12
5/05/02    Excellent B 20"-Leg 4   100    2nd/21  32.49'/38'   CPs-  7  2Q
5/11/02    Excellent B 20"-Leg 5   100    1st/7   32.15'/42'   CPs- 18
9/14/02    Excellent B 20"-Leg 6   100    2nd/15  31.69'/44'   CPs- 18
10/6/02    Excellent B 20"-Leg 7   100    3rd/11  31.16'/42'   CPs- 10
10/13/02   Excellent B 20"-Leg 8   100    2nd/10  30.34'/44'   CPs- 19
11/29/02   Excellent B 20"-Leg 9   100            25.69'/35'   CPs-  9
12/01/02   Excellent B 20"-Leg 10  100    1st/24  30.09'/38'   CPs- 14      MXJ

12/07/02   Excellent B 20"-Leg 11  100            34.93'/48'   CPs- 13
1/30/03    Excellent B 20"-Leg 12  100    3rd/27  30.02'/41'   CPs- 10
2/02/03    Excellent B 20"-Leg 13  100            34.46'/43'   CPs-  8
3/09/03    Excellent B 20"-Leg 14  100    2nd/7   29.91'/41'   CPs- 16
3/29/03    Excellent B 20"-Leg 15  100    2nd/7   32.73'/45'   CPs- 18
4/13/03    Excellent B 20"-Leg 16  100    1st/13  30.16'/39'   CPs- 16  2Q
4/27/03    Excellent B 20"-Leg 17  100    1st/11  32.37'/47'   CPs- 28
5/03/03    Excellent B 20"-Leg 18  100    2nd/26  30.25'/38'   CPs- 10
5/04/03    Excellent B 20"-Leg 19  100    1st/26  30.86'/44'   CPs- 26
5/17/03    Excellent B 20"-Leg 20  100    1st/22  32.99'/41'   CPs- 16

5/18/03    Excellent B 20"-Leg 21  100    1st/22  31.31'/38'   CPs- 12
7/26/03    Excellent B 20"-Leg 22  100    4th/36  27.24'/38'   CPs- 10	
9/14/03    Excellent B 20"-Leg 23  100    1st/19  24.82'/34'   CPs- 18	
10/04/03   Excellent B 20"-Leg 24  100    4th/11  30.00'/43'   CPs- 13
10/05/03   Excellent B 20"-Leg 25  100    3rd/11  32.75'/44'   CPs- 11      MJB
10/10/03   Excellent B 20"-Leg 26  100    1st/14  28.64'/43'   CPs- 28
11/28/03   Excellent B 20"-Leg 27  100    5th/37  30.72'/41'   CPs- 10  2Q
11/30/03   Excellent B 20"-Leg 28  100    1st/39  29.11'/40'   CPs- 20  2Q
1/18/04    Excellent B 20"-Leg 29  100    1st/11  29.14'/41'   CPs- 22  2Q
1/30/04    Excellent B 20"-Leg 30  100    4th/49  28.89'/39'   CPs- 10

2/29/04    Excellent B 20"-Leg 31  100    2nd/25  31.24'/42'   CPs- 15
3/04/04    Excellent B 20"-Leg 32  100    2nd/19  29.84'/40'   CPs- 15  2Q
3/07/04    Excellent B 20"-Leg 33  100    1st/24  33.31'/46'   CPs- 24
4/09/04    Excellent B 20"-Leg 34  100    3rd/28  28.18'/38'   CPs-  9
4/10/04    Excellent B 20"-Leg 35  100            32.52'/48'   CPs- 15
4/23/04    Excellent B 20"-Leg 36  100    1st/11  27.71'/38'   CPs- 20
4/25/04    Excellent B 20"-Leg 37  100    2nd/16  30.73'/41'   CPs- 15  2Q
4/30/04    Excellent B 20"-Leg 38  100    1st/31  27.16'/38'   CPs- 20  2Q	
5/02/04    Excellent B 20"-Leg 39  100    4th/32  28.20'/38'   CPs-  9	
5/15/04    Excellent B 20"-Leg 40  100    2nd/29  28.88'/41'   CPs- 18  2Q

5/22/04    Excellent B 20"-Leg 41  100    1st/19  32.24'/41'   CPs- 16
6/25/04    Excellent B 20"-Leg 42  100    4th/47  29.87'/42'   CPs- 12
6/26/04    Excellent B 20"-Leg 43  100            30.34'/41'   CPs- 10
8/20/04    Excellent B 20"-Leg 44  100    4th/39  25.49'/39'   CPs- 13
9/12/04    Excellent B 20"-Leg 45  100    2nd/19  33.49'/45'   CPs- 16  2Q
11/06/04   Excellent B 20"-Leg 46  100    3rd/14  36.72'/46'   CPs-  9
11/21/04   Excellent B 20"-Leg 47  100    1st/30  29.36'/42'   CPs- 24
12/03/04   Excellent B 20"-Leg 48  100    2nd/20  28.72'/42'   CPs- 19
12/05/04   Excellent B 20"-Leg 49  100    2nd/20  29.86'/40'   CPs- 15  2Q

2/25/05    Excellent B 20"-Leg 50  100    2nd/30  31.30'/46'   CPs- 21      MJS
2/26/05    Excellent B 20"-Leg 51  100    3rd/33  29.92'/43'   CPs- 13
2/27/05    Excellent B 20"-Leg 52  100    3rd/33  30.30'/43'   CPs- 12
3/10/05    Excellent B 20"-Leg 53  100    2nd/23  28.86'/43'   CPs- 21
3/11/05    Excellent B 20"-Leg 54  100    3rd/24  28.33'/41'   CPs- 12  2Q
3/12/05    Excellent B 20"-Leg 55  100    2nd/28  27.50'/44'   CPs- 24
3/13/05    Excellent B 20"-Leg 56  100    2nd 22  30.82'/41'   CPs- 15  2Q
4/10/05    Excellent B 20"-Leg 57  100    1st/17  29.38'/42'   CPs- 24  2Q
4/24/05    Excellent B 20"-Leg 58  100    1st/16  27.00'/38'   CPs- 22
5/06/05    Excellent B 20"-Leg 59  100    1st/34  28.53'/45'   CPs- 32
5/07/05    Excellent B 20"-Leg 60  100    2nd/38  28.14'/43'   CPs- 21  2Q

5/08/05    Excellent B 20"-Leg 61  100    3rd/38  29.82'/42'   CPs- 12
5/15/05    Excellent B 20"-Leg 62  100    1st/37  32.93'/43'   CPs- 20
5/16/05    Excellent B 20"-Leg 63  100    2nd/37  28.81'/43'   CPs- 21
6/24/05    Excellent B 20"-Leg 64  100    7th/49  28.39'/42'   CPs- 13  2Q
6/25/05    Excellent B 20"-Leg 65  100    6th/52  34.05'/47'   CPs- 12
6/26/05    Excellent B 20"-Leg 66  100    3rd/50  26.92'/40'   CPs- 13
7/08/05    Excellent B 20"-Leg 67  100    3rd/40  31.73'/39'   CPs-  7  2Q
7/09/05    Excellent B 20"-Leg 68  100    4th/38  32.34'/42'   CPs-  9
7/29/05    Excellent B 20"-Leg 69  100            31.18'/42'   CPs- 10  2Q
7/30/05    Excellent B 20"-Leg 70  100    3rd/46  26.61'/37'   CPs- 10  2Q

7/31/05    Excellent B 20"-Leg 71  100    4th/44  31.26'/45'   CPs- 13  2Q  MACH
8/18/05    Excellent B 20"-Leg 72  100            28.62'/41'   CPs- 12  2Q	
8/20/05    Excellent B 20"-Leg 73  100            30.17'/39'   CPs-  8
9/18/05    Excellent B 20"-Leg 74  100    1st/13  25.34'/41'   CPs- 10
10/14/05   Excellent B 20"-Leg 75  100    2nd/24  28.98'/40'   CPs- 16      MJB
10/16/05   Excellent B 20"-Leg 76  100    3rd/26  32.33'/44'   CPs- 11
11/04/05   Excellent B 20"-Leg 77  100    3rd/30  29.31'/43'   CPs- 13
11/27/05   Excellent B 20"-Leg 78  100    3rd/34  27.35'/40'   CPs- 12
12/02/05   Excellent B 20"-Leg 79  100    1st/22  30.81'/43'   CPs- 24  2Q
12/03/05   Excellent B 20"-Leg 80  100    1st/20  26.78'/38'   CPs- 22

3/10/06    Excellent B 20" Leg 81  100    2nd/15  27.00'/39'   CPs- 18  2Q
3/11/06    Excellent B 20" Leg 82  100    4th/20  25.45'/41'   CPs- 15
3/12/06    Excellent B 20" Leg 83  100    2nd/20  23.56'/39'   CPs- 22  2Q	
4/08/06    Excellent B 20" Leg 84  100    3rd/22  29'76'/39'   CPs - 9
4/15/06    Excellent B 20" Leg 85  100    4th/40  30'11'/45'   CPS -14
4/16/05    Excellent B 20" Leg 86  100    6th/46  32.82'/46'   CPs -13  2Q
5/06/06    Excellent B 20" Leg 87  100    2nd/35  27.59'/39'   CPs -16  2Q
5/07/06    Excellent B 20" Leg 88  100    4th/35  30.40'/43'   CPs -12
5/20/06    Excellent B 20" Leg 89  100    4th/42  26.78'/37'   CPs -10
6/22/06    Excellent B 20" Leg 90  100    8th/65  26.90'/41'   CPs -14

 6/23/06   Excellent B 20" Leg 91  100    8th/70  25.21'/38'   CPs -12      QQ
 6/24/06   Excellent B 20" Leg 92  100    8th/71  30.07'/44'   CPs -13
 9/17/06   Excellent B 20" Leg 93  100    1st/6   27.95'/40'   CPs -12
 5/04/07   Excellent B 20"-Leg 94  100            33.25'/40' 4.54  CPs - 6  QQ	
 5/05/07   Excellent B 20" Leg 95  100    3rd/40  26.82'/41' 5.67  CPs -14 	
 5/06/07   Excellent B 20" Leg 96  100    2nd/37  27.47'/41' 5.57  CPs -19 	
 8/17/07   Excellent B 20"-Leg 97  100            28.87'/43' 5.54  CPs -14 	
10/12/07   Excellent B 20" Leg 98  100    4th/21  30.40'/43' 5.26  CPs -12 
11/10/07   Excellent B 20" Leg 99  100    2nd/13  27.05'/38' 5.25  CPs -10
11/23/07   Excellent B 20" Leg 100 100    4th/34  30.66'/42' 5.19  CPs -11  MJC 

11/24/07   Excellent B 20"-Leg 101 100            30.79'/47' 5.68  CPs -16
12/07/07   Excellent B 20"-Leg 102 100            26.79'/39' 5.49  CPs -12
12/08/07   Excellent B 20"-Leg 103 100            27.16'/37' 5.15  CPs - 9
 1/24/08   Excellent B 20"-Leg 104 100            27.90'/39' 5.23  CPs -11  QQ
 3/02/08   Excellent B 20"-Leg 105 100            25.78'/36' 5.20  CPs -10
 3/14/08   Excellent B 20" Leg 106 100    3rd/28  27.85'/40' 5.35  CPs -12
 3/15/08   Excellent B 20" Leg 107 100    2nd/33  28.68'/39' 5.13  CPs -15
 4/04/08   Excellent B 20" Leg 108 100    2nd/18  25.92'/41' 5.90  CPs -22
 4/05/08   Excellent B 20" Leg 109 100    2nd/23  27.82'/41' 5.50  CPs -19
 4/06/08   Excellent B 20" Leg 110 100    3rd/19  25.72'/40' 5.83  CPs -14

 5/18/08   Excellent B 20" Leg 111 100    4th/39  27.57'/39' 5.33  CPs -11  QQ
 6/26/08   Excellent B 20"-Leg 112 100            29.49'/41' 5.26  CPs -11	
Championship Points
1/12/02    CPs- 15
3/10/02    CPs- 14
4/13/02    CPs- 27
4/27/02    CPs- 19
4/28/02    CPs- 12
5/05/02    CPs- 37  2Q
5/11/02    CPs- 18
5/12/02    CPs- 28
6/06/02    CPs- 19
9/14/02    CPs- 18
9/15/02    CPs- 25
10/5/02    CPs- 17
10/6/02    CPs- 10
10/13/02   CPs- 19
11/10/02   CPs- 40
11/29/02   CPs-  9
12/01/02   CPs- 14
12/07/02   CPs- 13
1/30/03    CPs- 10
1/31/03    CPs- 16
2/02/03    CPs-  8
3/02/03    CPs- 17
3/09/03    CPs- 16
3/29/03    CPs- 18
4/13/03    CPs- 38  2Q
4/27/03    CPs- 28
5/03/03    CPs- 10
5/04/03    CPs- 26
5/17/03    CPs- 16
5/18/03    CPs- 12
7/26/03    CPs- 10	
9/14/03    CPs- 18	
10/04/03   CPs- 13
10/05/03   CPs- 11
10/10/03   CPs- 28
11/02/03   CPs- 12
11/28/03   CPs- 28  2Q
11/30/03   CPs- 36  2Q
1/18/04    CPs- 54  2Q
1/30/04    CPs- 10
2/29/04    CPs- 15
3/04/04    CPs- 30  2Q
3/05/04    CPs- 24
3/07/04    CPs- 24
4/09/04    CPs-  9
4/10/04    CPs- 15
4/23/04    CPs- 20
4/25/04    CPs- 45  2Q
4/30/04    CPs- 32  2Q
5/02/04    >CPs-  9
5/15/04    CPs- 54  2Q
5/16/04    CPs- 25
5/22/04    CPs- 16
5/23/04    CPs- 19
6/24/04    CPs- 15
6/25/04    CPs- 12
6/26/04    CPs- 10
8/20/04    CPs- 13
9/12/04    CPs- 58  2Q
11/06/04   CPs-  9
11/21/04   CPs- 24
12/03/04   CPs- 19
12/04/04   CPs- 34
12/05/04   CPs- 37  2Q
1/29/05    CPs- 30
2/25/05    CPs- 21
2/26/05    CPs- 13
2/27/05    CPs- 12
3/10/05    CPs- 21
3/11/05    CPs- 27  2Q
3/12/05    CPs- 24
3/13/05    CPs- 42  2Q
4/10/05    CPs- 66  2Q
4/22/05    CPs- 38
4/24/05    CPs- 22
5/06/05    CPs- 32
5/07/05    CPs- 49  2Q
5/08/05    CPs- 12
5/20/05    CPs- 20
5/21/05    CPs- 21
6/23/05    CPs- 18
6/24/05    CPs- 31  2Q
6/25/05    CPs- 12
6/26/05    CPs- 13
7/08/05    CPs- 21  2Q
7/09/05    CPs-  9
7/28/05    CPs- 25
7/29/05    CPs- 28  2Q
7/30/05    CPs- 25  2Q
7/31/05    CPs- 29  2Q  MACH
8/18/05    CPs- 31  2Q
8/20/05    CPs-  8
9/28/05    CPs- 46
9/18/05    CPs- 10
10/14/05   CPs- 16
10/16/05   CPs- 11	
11/04/05   CPs- 13
11/05/05   CPs- 24
11/27/05   CPs- 12
12/02/05   CPs- 60  2Q
12/03/05   CPs- 22
 1/26/06   CPs- 19
 3/10/06   CPs- 60  2Q
 3/11/06   CPs- 15
 3/12/06   CPs- 53  2Q	
 4/08/06   CPs-  9
 4/09/06   CPs- 32
 4/14/06   CPs- 15
 4/15/06   CPS- 14
 4/16/06   CPs- 34  2Q
 5/06/06   CPs- 32  2Q
 5/07/06   CPs- 12
 5/19/06   CPs- 17
 5/20/06   CPs- 10
 6/22/06   CPs- 14
 6/23/06   CPs- 33  2Q
 6/24/06   CPs- 13
 6/25/06   CPs- 18
 8/17/06   CPs- 23
 8/19/06   CPs- 17
 9/17/06   CPs -12
 5/04/07   CPs- 25  QQ
 5/05/07   CPs -14
 5/06/07   CPs -19
 6/30/07   CPs- 14
 8/17/07   CPs -14	
 8/18/07   CPs- 12
10/12/07   CPs -12
11/10/07   CPs -10
11/23/07   CPs -11
11/24/07   CPs -16
12/07/07   CPs -12
12/08/07   CPs - 9
 1/24/08   CPs -28  QQ
 1/25/08   CPs -14
 3/02/08   CPs -10
 3/14/08   CPs -12
 3/15/08   CPs -15
 4/04/08   CPs -22
 4/05/08   CPs -19
 4/06/08   CPs -14
 5/03/08   CPs -15
 5/17/08   CPs -19
 5/18/08   CPs -27  QQ
 6/26/08   CPs -11

   Total   CPs-3117  QQs-30

MACH       CPs- 750  QQs-20 - 31 July 2005
MACH2      CPs-1500  QQs-40
FAST

10/02/07   Novice B 20"-Leg 1       79    1st/20   25.34'/32' HIT in Trial-BCCA Nationals 
12/08/07   Novice B 20"-Leg 2       75    2nd/19   30.77'/32'
---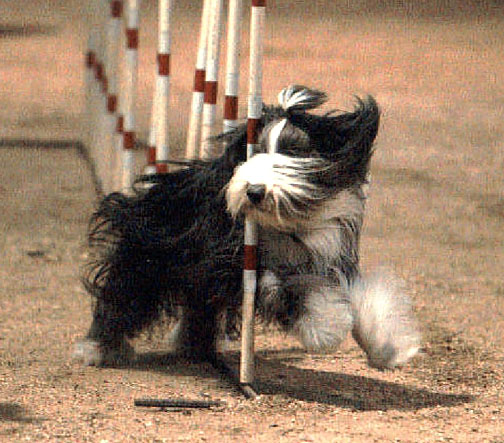 Sterling Photos
---
Preferred Standard Titling

 4/08/07   Novice P 16"-Leg 1      100    1st/3    34.33'/69'  4.53
Preferred Jumpers with Weaves

 4/07/07   Novice P 16"-Leg 1      100    1st/3    19.89'/45'  6.03
 4/08/07   Novice P 16"-Leg 2      100    1st/3    18.52'/40'  5.67
 7/24/08   Novice P 16"-Leg 3      100    1st/2    17.18'/38'  5.82  NJP
 7/25/08   Novice P 16"-Leg 4      100    1st/4    20.84'/41'  5.18

 7/26/08   Open P 16"-Leg 1        100    1st/2    22.45'/42'  5.75
 7/27/08   Open P 16"-Leg 2        100    1st/3    24.87'/40'  4.99
 8/15/08   Open P 16"-Leg 3        100    1st/1    24.59'/41'  5.16  OJP

10/03/08   Excellent AP 16"-Leg 1  100    1st/2    23.64'/43'  6.09
10/05/08   Excellent AP 16"-Leg 2  100    1st/2    23.13'/42'  6.01
11/08/08   Excellent AP 16"-Leg 3  100    1st/1    27.34'/45'  5.52  AJP

 1/25/09   Excellent B 16"-Leg 1   100    1st/4    33.33'/51'  5.16
 2/20/09   Excellent B 16"-Leg 2   100    1st/2    25.51'/44'  5.72
 2/22/09   Excellent B 16"-Leg 3   100    1st/1    28.97'/46'  5.25
 4/03/09   Excellent B 16"-Leg 4   100    1st/2    27.85'/41'  4.88
 4/04/09   Excellent B 16"-Leg 5   100    1st/2    26.76'/45'  5.64
 4/05/09   Excellent B 16"-Leg 6   100    1st/2    29.64'/47'  5.30
 4/10/09   Excellent B 16"-Leg 7   100    1st/6    25.16'/43'  5.19
 4/12/09   Excellent B 16"-Leg 8   100    1st/4    26.68'/44'  5.55
 5/02/09   Excellent B 16"-Leg 9   100    1st/1    29.23'/49'  5.64
 5/03/09   Excellent B 16"-Leg 10  100    1st/1    28.53'/47'  5.50  MJP

 6/25/09   Excellent B 16"-Leg 11  100    1st/6    28.42'/47'  5.49
 6/26/09   Excellent B 16"-Leg 12  100    1st/6    25.92'/43'  5.52
 7/31/09   Excellent B 16"-Leg 13  100    1st/2    28.87'/50'  5.78
 8/02/09   Excellent B 16"-Leg 14  100    1st/1    30.29'/46'  5.12
 8/14/09   Excellent B 16"-Leg 15  100    1st/5    28.32'/50'  5.97
 8/16/09   Excellent B 16"-Leg 16  100    1st/5    24.51'/42'  5.71
 8/22/09   Excellent B 16"-Leg 17  100    1st/6    33.88'/50'  5.02
10/06/09   Excellent B 16"-Leg 18  100    1st/3    28.25'/49'  5.88
10/22/09   Excellent B 16"-Leg 19  100    1st/2    24.92'/43'  5.74
10/24/09   Excellent B 16"-Leg 20  100    1st/2    24.86'/40'  5.31   MJP2

10/25/09   Excellent B 16"-Leg 21  100    1st/1    24.71'/43'  5.83
11/13/09   Excellent B 16"-Leg 22  100    1st/3    27.38'/46'  5.62
11/14/09   Excellent B 16"-Leg 23  100    1st/3    23.97'/42'  5.84
11/15/09   Excellent B 16"-Leg 24  100    1st/3    22.44'/40'  5.84
12/05/09   Excellent B 16"-Leg 25  100    1st/5    25.43'/43'  5.58   MJPB
 1/31/10   Excellent B 16"-Leg 26  100    1st      28.26'/47'  157
 2/18/10   Excellent B 16"-Leg 27  100    1st      30.03'/46'  153
 2/20/10   Excellent B 16"-Leg 28  100    1st      27.93'/43'  143
 2/26/10   Excellent B 16"-Leg 29  100    1st      27.85'/48'  163
 2/28/10   Excellent B 16"-Leg 30  100    1st      24.77'/43'  144    MJP3

 3/13/10   Excellent B 16"-Leg 31  100    1st      26.41'/41'  136
 3/14/10   Excellent B 16"-Leg 32  100    1st      26.31'/39'  129
 4/10/10   Excellent B 16"-Leg 32  100    1st      30.08'/47'  159
25 Clean Runs in 2009 / 78 FandF / 5.52 avg yps
8 Clean Runs in 2010
---
Jack's Links
BAD
BCCA
2007
2006
2005
2004
2003
2002
2001
2000
---

BAD-Southwest and Mountain Beardies
BAD Beardie Buddies of Texas and Arkansas-Allie, Arbi, Boo!, Budweiser, Dallas, DeLorean, Desirée, Harley, Jack, Jet, Raggmopp and Stoli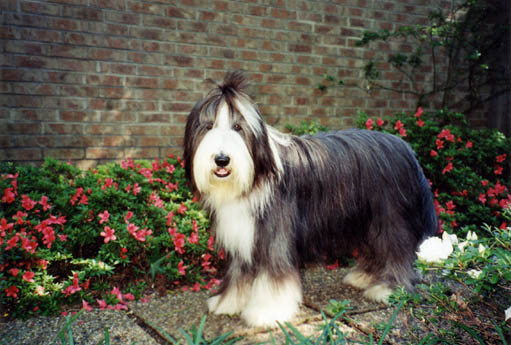 ---

Off to a BAD Start
[BAD Handlers] | [BAD Dogs] | [BAD Events] | [BAD Links]
[BAD Greetings] | [BAD News] | BAD Beginnings]
[BAD Advice] | [BAD Attitudes] | [BAD Goods]