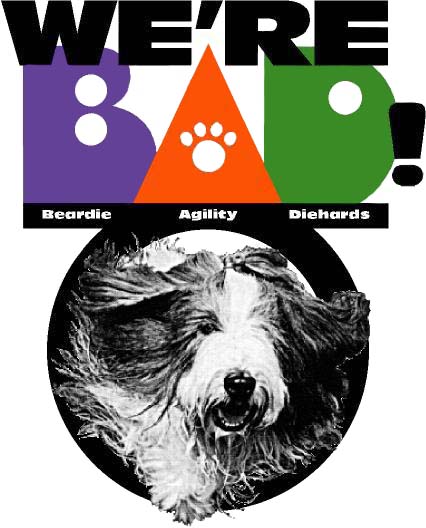 Second Annual BAD Awards Dinner
13 October 2000 at the BCCA National Specialty
Oconomowoc, Wisconsin
---
BAD at the Specialty
If there is one thing the BAD folk like to do, it's partying! All year long I looked forward to sharing a suite with my Texas buddies Karen Barratt and Ann Chandoha and their four beautiful Beardies, Arbi, Boo!, Jet and Budweiser! Together we enjoyed many evening escapades, including buying hallowe'en costumes for the BAD dinner (Ann was particularly charming in pig tail and freckles), singing outrageously, and celebrating Jet's MX.
The Agility Trial was enormously successful, with 26 out of the 42 Beardies qualifying. The lovely fall setting with geese flying overhead and swans swimming in the nearby lake was picture perfect!

Qualifiers in Excellent B
Beth Canner, Libby Myers-Buhite, Judge Jean Munger, Lisa Humm, Jan Norikane-Maggie, Charles Gibson-Mikie
Ann Krafcheck-Tasha, Karen Barratt-Jet (and Boo!), Leslie Dawson-North-Chase and Kassi, Liz Cox-Lucy, Sandy Weiss-Chip
Photo by Ann Chandoha
There was great joy at the BAD Dinner, especially for our retired Beardies, as Certificates of Recognition, designed by Gretchen Blackburn, and gifts, designed by Val Maloney, were given out. All of us are grateful to Val for her lovely hand-painted pins of the BAD Logo. Christiana Taylor expresses the sentiment well: "I absolutely adore my award, and will wear it with pride."
I was especially touched by the Birthday wishes at the BAD dinner and Doug Klein's lovely tribute: "Even though the dogs, trials, and ring competition were great to watch; even though the parade of veterans and rescue parade brought tears to my eyes, making me proud to be a part of the beardie family, one of the best moments of the whole specialty was giving you a standing ovation at the BAD dinner. We can't thank you enough for founding this group, guiding the BAD Website to its high level of quality, and keeping it there for so long."
As Best of Breed was drawing to a close on Sunday, Beth Canner told me that Charles Gibson needed to see me immediately. Much to my surprise Charles greeted us guitar in hand and regaled Ann Krafcheck, Beth Canner, and me with a fabulously funny concert! I kept wishing that more of the Agility folk could have heard Charles sing, since this was one of the best, most relaxing moments of the entire Specialty! Charles is a wonderful guitar player! I knew that he worked with strings for a living (tuning pianos) but was totally unprepared for his level of artistry on the guitar. He had composed music for both Tasha and Drake with agility themes and had prepared an introduction for Darthe Jennings' "Rainbow Bridge Song." On the spot we named him Entertainment Chair for Specialty 2001. Beth Canner is planning an entire day of Agility for that event, including the Trial, Agility Games, the BAD Dinner, and Agility Entertainment.
At the Awards Dinner on Sunday night Karen Barratt, Agility Co-Chair, Beth Canner, our first BCCA Agility Chair, and I gave out the Denia Award to a delighted Liz Cox and Lucy for her outstanding performance in Standard Agility. We also presented the Ryan Awards for Jumps with Weaves, the Standard Certificates, and the Register of Merit Awards. I was thrilled with the Versatility Excellent Award for Skyedance and the Open Standard Agility Award for Caper. The Specialty was a happy time of sharing with all of you and I will hold many vivid memories!
---
BAD Thankyous!
---
Specialty Agility Chair-2000
Lisa Humm
First BCCA Agility Chair
Beth Canner
Agility Gifts for the 2000 Specialty
Val Maloney
Dedication to compiling our AKC stats
Joanne Williamson
---
Five Beardie Agility Champions!
---
USDAA First ADCH Beardie-6/2/00
Leslie Dawson-North and Chase
Can Ch/ADCH Bedlam's Catch Me If You Can
MX, MXJ, MADC, AG.I, Am/Can CDX, HIC, FM, CGC
NADAC First NATCH Beardie-9/17/00
Jerry Bergen and Breezy
Ch/NATCH Baliwyn's Precious Friend
MX, MXJ, PDIII, PS, PJ, S-EAC, CD, TD, HIC, CGC, VX
UKC First U-ACHX Beardie-6/5/99
Charles Gibson and Mikie
Ch/U-ACHX Holm Mike L. Doglas
MX, MXJ, EAC, EGC, OJC, HIC, PT, CGC
UKC Second U-ACHX Beardie-6/6/99
Ann Krafcheck and Tasha
Ch/ U-ACHX Meadow's Fantasia
MX, AXJ, OAC, OJC, OGC-V
CD, U-CD, HIC, HCT, HT, CGC, VX
UKC Third U-ACH Beardie-1/29/00
Doug Klein and Maggie
U-ACH Chivalrous Lassie in Regalia, AX, AXJ
Handler: Jan Norikane
---
Rainbow Bridge: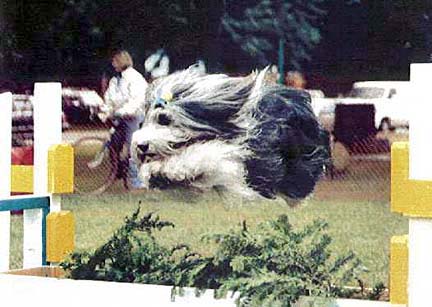 Denia-Emily Venator
Can/Am Ch Melville's Poetry in Motion
OA, NAC, NJC, ADC, HIC, FMX, CGC, TT, VA
---

In Recognition of our Agility Beardies who have worked with us so well!
"Remembering the Good Times"

---
Meredith Bar David and Oliver
Ch Aellen's Critic's Choice, NA, HT
Iris Berry and Spiff
Ch Chantilly Look Before You Leap
AD, AX, OAJ, EAC, OJC, NGC
FDCh, JHD-s, TT, JS-O, GS-N, CGC
Leslie Dawson-North and Koddi
Bedlam's Yumpin' Yiminny
OA, AAD, JM, AADC, Can CD, HIC, FM, TT, CGC
Eileen Dinneen and DeLorean
Ch O'Duinnin Oh DeLorean
AX, AXJ, CD, HC, ROM, ROMI, ROMAX, VX
Jana Dozet and Shelby
StCh, StIntCh Spindrift Best of Both Worlds
OA, OAJ, NAC, OJC, NGC, PT, JHD
Helix Fairweather and Brady
Ch Chelsic First Hello at Kweo
NA, NAJ, NAC-V, O-NJC-V, NGC-V, CGC
Pam Harris and Amber
Ch Spindrift Pride of Glengarry
OA, OAJ, NAC, OJC, U-AGI, CD, PT, JHD
ROM, ROMI, ROMO, ROMAX, VX
Linda Leek and Frosty
Ch/Otch Walkoway's Frosted Flakes
OA, NAC, NJC, UDX, HIC, HS, STDs, CGC, VX
Cindy Nellipowitz and Risky
Sunshine's Risky Business
NA, NAJ, NAC-V, NJC-V, UD
Wanda Packard and Stormy
Ch Pentangle's Stormy Skye
NA, NAJ, NAC, HS, CD, CGC
Sharon Prassa and Amos
Moonsong's Scottish Bobbie, CGC
Jill Scarborough and Raggmopp
Petticash Raggmopp OA, NAJ, NAC-V, HIC, CGC
Toni Tuck and Patty
Ch Britannia Peppermint Patty
MX, AXJ, OAC-V. OJC-V, NGC, AG.N
UDT, Can. CD, VX
Joanne Williamson and Corey
BIS Am/Can/Bda Ch Parcana Lord Corwin
OA, NAJ, CDX, HIC, ROMA, VX
---

AKC 1999
89 Beardie/Handler teams earned legs and 114 titles
---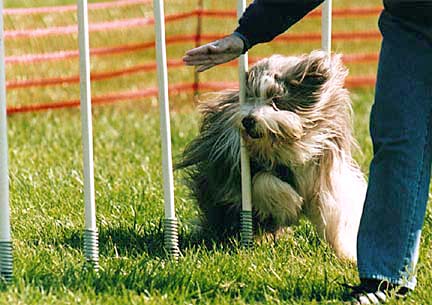 Most Outstanding AKC Beardie for 1999
Joanne Williamson and Sean
Ch Balgrae's Sean Mackay
MX, MXJ, NAC, NJC, CD, HS, JHDs, STDs, VX
60 AKC Excellent B level legs in 1999
All of these were with scores of 100
12 were with 1st placements
22 Double Qs
AKC Top Ten, all breed
---
Top Excellent A Beardies:
Karen Barratt and Jet
O'Duinnin HMT Sonic Boom
AX, MXJ, AD, NAC, NJC, NGC- 5 100s
Sandy Weiss and Chip
Ch/HCh Britannia Chip Thrills
AX, AXJ, UD, ROMA, MV- 5 100s
Joanne Williamson and Rob
Ch Balgrae's Rob Ruadh, AX, AXJ, HT, JHDs- 5 100s
Top Open Beardies:
Ann Chandoha and Arbi
Ch O'Duinnin HMT Rhythm 'N Booze
AX, OAJ, NAC, NJC, CGC- 3 100s, 3 95s
Eleanor Logue and Chelsie
Chelsie, AX, OAJ, AD, NAC, NJC- top f and f points

Top Novice B Beardies:
Joanne Williamson and Beau
Britannia Beau Brummel
OA, NAJ- 5 100s
Sandy Weiss and Diva
Ch Ashberry Portrait of a Lady
AX, OAJ, PT, CD- 5 100s
Top Novice A Beardie:
Wanda Packard and Stormy
Ch Pentangle's Stormy Skye
NA, NAJ, NAC, HS, CD, CGC- 7 100's
Only Beardie to earn 3 Jumpers titles-1999
Eileen Dinneen and DeLorean
Ch O'Duinnin Oh DeLorean
AX, AXJ, CD, HC, ROM, ROMI, ROMAX, VX
Highest in Standard Agility-1999 Specialty*
Betty Winfield and Miss C
Oak Meadows Fawn Calypso
MX, MXJ, AAD, JM, SM, EAC, OGC, OJC, AADC
Highest in JWW Agility-1999 Specialty*
Jack Buhite and Caper
Ch. Skyedance Lord a-Leaping
OA, AXJ, NAC, NJC, OGC, PT, HCT, CGC, VX
*based on scores and yards/second
---

USDAA 1999
21 Beardie/Handler teams earned legs and titles.
---

3 BAD Beardies have earned USDAA Agility Firsts in 1999:
Championship Program Firsts: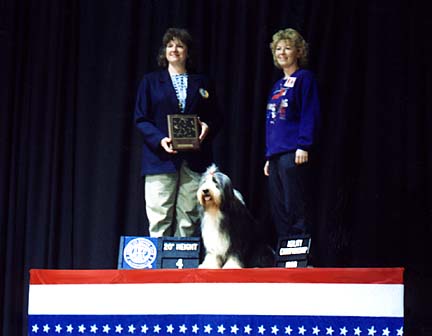 Leslie Dawson-North with Chase
Can Ch/ADCH Bedlam's Catch Me If You Can
MX, MXJ, MADC, AG.I, Am/Can CDX, HIC, FM, CGC
First RM-Relay Master- 8/1/99
First GM-Gamblers Master- 10/10/99
Fourth JM-Jumpers Master- 8/1/99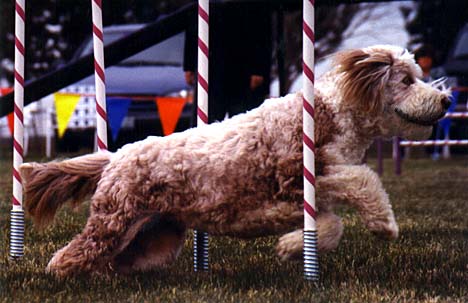 Betty Winfield and Miss C
Oak Meadows Fawn Calypso
MX, MXJ, AAD, JM, SM, EAC, OGC, OJC, AADC
First SM-Snooker Master- 6/6/99
Second JM-Jumpers Master- 6/5/99
---
Performance Program Firsts: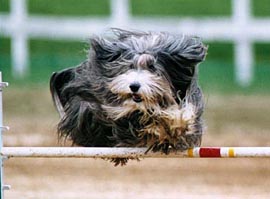 Jerry Bergen with Breezy
Ch/NATCH Baliwyn's Precious Friend
MX, MXJ, PDIII, PS, PJ, S-EAC, CD, TD, HC, CGC, VX
First PDIII-Performance Dog III- 9/18/99
First VS-Veteran Snooker Performance- 5/1/99
First VJ-Veteran Jumper Performance- 5/2/99
First PJ-Performance III Jumpers- 10/2/99
---
BAD Beardie USDAA Titlists in 1999:
Leslie Dawson-North and Koddi
Bedlam's Yumpin' Yiminny
OA, AAD, JM, AADC, Can CD, HIC, FM, TT, CGC
Fifth Beardie AAD-Advanced Agility Dog- 8/1/99
Third Beardie JM-Jumpers Master- 6/6/99
Eleanor Logue and Chelsie
Chelsie, AX, OAJ, AD, NAC, NJC
Thirteenth AD-Agility Dog- 2/21/99
Martha Faulk and Molly
Molly the Muffin, AX, AXJ, AD, NJC
Fourteenth AD-Agility Dog- 5/16/99
Anne Ellefsen and Olav
Olav, OA, OAJ, MAD, JM, RM, SM, EAC, EJC, OGC
Sixteenth AD-Agility Dog- 9/4/99
Karen Barratt and Jet
O'Duinnin HMT Sonic Boom
AX, MXJ, AD, NAC, NJC, NGC
Seventeenth AD-Agility Dog- 10/23/99
---

NADAC Agility 1999
31 Beardie/Handler teams earned legs and 41 titles
---
Standard Program Agility First: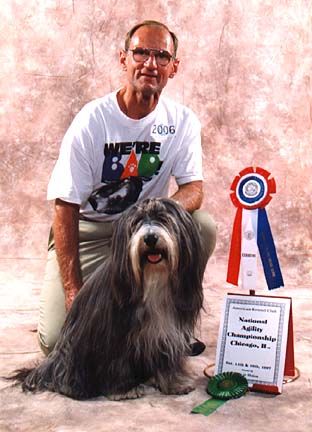 Jerry Bergen and Breezy
Ch/NATCH Baliwyn's Precious Friend
MX, MXJ, PDIII, PS, PJ, S-EAC, CD, TD, HC, CGC, VX

First Triple Elite Titlist- 7/17/99
Second EGC-Elite Gambling Class- 7/17/99
---
Top Beardies in Standard NADAC 1999:
Points are scored by NADAC rules:
10 per clean run
5 for qualifying run with one fault
Jerry Bergen and Breezy
Top Elite Beardie with 300 points
Ch/NATCH Baliwyn's Precious Friend
MX, MXJ, PDIII, PS, PJ, S-EAC, CD, TD, HC, CGC, VX
Anne Ellefsen and Olav
Top Open/Elite Beardie with 170 points
Olav, OA, OAJ, MAD, JM, RM, SM, EAC, EJC, OGC
Karen Barratt and Jet
Top Novice/Open Beardie with 90 points
O'Duinnin HMT Sonic Boom
AX, MXJ, AD, NAC, NJC, NGC
Neil Bryden and Talisker
Top Novice/Open Beardie with 90 points
Briarpatch Double Scotch, NA, AXJ, OAC, OJC
Veteran Program 1999 Agility Firsts:
Sharon Prassa and Annie
Moonsong Klassical Legacy
MX, AXJ, AD, EAC-V, OJC, NGC
CDX, HS, HTD-1-s, CGC, VX
First EJC-V-Elite Jumpers Class-Veteran- 10/17/99
Toni Tuck and Patty
Ch Britannia Peppermint Patty
MX, AXJ, OAC-V. OJC-V, NGC, AG.N, UDT, Can. CD, VX
First OAC-V-Open Regular Class-Veteran- 7/17/99
First OJC-V-Open Jumpers Class-Veteran- 3/29/99
Helix Fairweather and Brady
Ch Chelsic First Hello at Kweo
NA, NAJ, NAC-V, O-NJC-V, NGC-V, CGC
1st O-NJC-V-Outstanding Nov Jumpers Vet- 10/24/99
1st NGC-V-Novice Gamblers Veteran- 10/23/99
2nd NAC-V-Novice Regular Veteran- 7/5/99
2nd NJC-V-Novice Jumpers Veteran- 7/4/99
Cindy Nellipowitz and Risky
Sunshine's Risky Business
NA, NAJ, NAC-V, NJC-V, UD
First NAC-V-Novice Regular Class-Veteran- 4/11/99
Top Beardies in Veteran NADAC 1999:
Sharon Prassa and Annie
Top Elite Veteran Beardie with 30 points
Moonsong Klassical Legacy
MX, AXJ, AD, EAC-V, OJC, NGC
CDX, HS, HTD-1-s, CGC, VX
Toni Tuck and Patty
Top Open Veteran Beardie with 60 points
Ch Britannia Peppermint Patty
MX, AXJ, OAC-V. OJC-V, NGC, AG.N, UDT, Can. CD, VX
---
Ch Chelsic First Hello at Kweo
NA, NAJ, NAC-V, O-NJC-V, NGC-V, CGC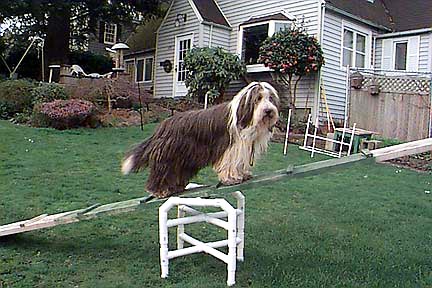 Helix Fairweather and Brady
Top NADAC Novice Veteran with 125 points
Ch Chelsic First Hello at Kweo
NA, NAJ, NAC-V, O-NJC-V, NGC-V, CGC

---
UKC Agility 1999
5 Beardie/Handler teams earned legs and 6 titles
---


UKC Agility Top Beardies 1999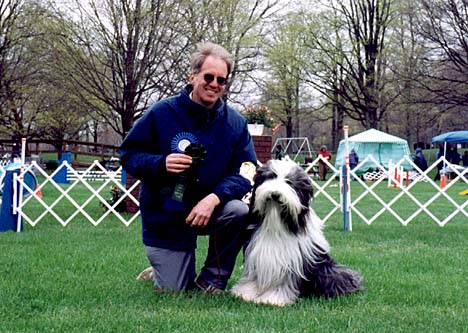 Charles Gibson and Mikie
U-ACHX Beardie- 6/5/99
Ch/U-ACHX Holm Mike L. Doglas, MX, MXJ, EAC, EGC, OJC, HIC, PT, CGC
Earned 16 UKC legs all with perfect scores of 200.
3 HITs/2 High Combined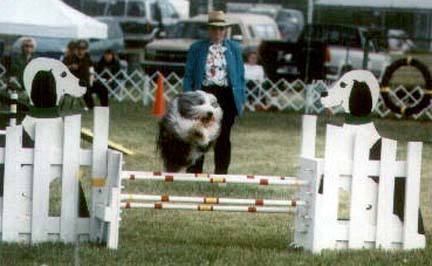 Ann Krafcheck and Tasha
U-ACHX Beardie- 6/6/99
Ch/ U-ACHX Meadow's Fantasia, MX, AXJ, OAC, OJC, OGC-V, CD, U-CD, HIC, HCT, HT, CGC, VX
Earned 10 UKC legs all with perfect scores of 200.
1 HIT/1 High Combined
---
UKC Agility First in 1999:
Charles Gibson and Mikie
Ch/U-ACHX Holm Mike L. Doglas
MX, MXJ, EAC, EGC, OJC, HIC, PT, CGC
1st U-ACHX-United Agility Champion Excellent-6/5/99

---
19 BAD Beardies have earned 10 or more Agility Titles:
---
31 Jerry Bergen and Breezy
Ch/NATCH Baliwyn's Precious Friend
MX, MXJ, PDIII, PS, PJ, S-EAC
[CD, TD, HIC, CGC, VX]
29 Leslie Dawson-North and Chase
Can Ch/ADCH Bedlam's Catch Me If You Can
MX, MXJ, MADC, AG.I
[Am/Can CDX, HIC, FM, CGC]
25 Leslie Dawson-North and Kassi
Can Ch/OTCH Buaidh Mithandril Xerox O'Jen,
MX, MXJ, MAD, JM, RM, MADC, MSN, AG.I
[Am CD, HIC, FbDCH, CGC]
25 Betty Winfield and Miss C
Oak Meadows Fawn Calypso
MX, MXJ, AAD, JM, SM
EAC, OJC, OGC, AADC
24 Anne Ellefsen and Olav
Olav OA, OAJ, MAD, JM, RM, SM
EAC, EJC, OGC
20 Charles Gibson and Mikie
Ch/U-ACHX Holm Mike L. Doglas
MX, MXJ, EAC, OJC, EGC
[HIC, PT, CGC]
18 Jack Buhite and Skyedance
Ch Melita Skyedance
AX, MXJ, AAD, EAC, O-EJC, OGC
[HIC, HCT, PT, CGC, VX]
17 Antoinette Krafcheck and Tasha
Ch/ U-ACHX Meadow's Fantasia
MX, AXJ, OAC, OJC, OGC-V
[CD, U-CD, HIC, HCT, HT, CGC, VX]
15 Sharon Prassa and Annie
Moonsong Klassical Legacy
MX, AXJ, AD, EAC-V, OJC, NGC
[CDX, HS, HTD-1-s, CGC, VX]
14 Karen Barratt and Boo!
Ch O'Duinnin Picabo Streak
MX, MXJ, OAC, OJC, NGC, AD
[HIC, ROMAX]
13 Toni Tuck and Patty
Ch Britannia Peppermint Patty
MX, AXJ, OAC-V. OJC-V, NGC, AG.N
[UDT, Can. CD, VX]
13 Mary Lott and Patsch
Edmar My Own Sweet Patsch
OA, OAJ, AD, EAC, OJC, EGC
[CDX, U-CD, HIC, HS, CGC, VX]
12 Iris Berry and Spiff
Ch Chantilly Look Before You Leap
AD, AX, OAJ, EAC, OJC, NGC
[FDCh, JHD-s, TT, JS-O, GS-N, CGC]
11 Sarah Halsey and Wizard
Anasazi Secret of the Wizard
OA, NAJ, AD, EAC, NJC, EGC
[ CGC]
11 Karen Barratt and Jet
O'Duinnin HMT Sonic Boom
AX, MXJ, AD, NAC, NJC, NGC
10 Joanne Williamson and Sean
Ch Balgrae's Sean Mackay
MX, MXJ, NAC, NJC
[CD, HS, JHDs, STDs, VX ]
10 Christiana Taylor and Jake
BIS Am/Can Ch. Britannia Good Day Sonshine
AX, AXJ, NAC, OJC, NGC
[CD, HIC, PT, STD-s, CGC, TDI, ROM, MV]
10 Betty Winfield and K.C.
Goldcrest K.C
AX, AAD, OAC, NJC, ADC
[CDX]
10 Jack Buhite and Caper
Skyedance Lord a-Leaping
OA, AXJ, AD, NAC, NJC, OGC
[HIC, HCT, PT, CGC, VX]
Last updated 11 December 2002
---
BAD Honors:
---
BAD Awards:
BCCA


Off to a BAD Start
[BAD Handlers] | [BAD Dogs] | [BAD Events] | [BAD Links]
[BAD Greetings] | [BAD News] | BAD Beginnings]
[BAD Advice] | [BAD Attitudes] | [BAD Goods]
Email Libby with an update