MACH PACH Chaniam Creag
MXS MJG MXP3 MXPB MJP7 MJPS PAX XF

PG1 PJ1 PR1 HIC CGC

2005 High in JWW - 1st/69
Excellent B 20" - 1st/24 - 100 - 29.21'/ 46' - 171 yards
5.854 yards/second

----------

Inspiration for the Lightning Award

July 24, 2001 - March 8, 2017
"I close my tear filled eyes for a moment and I can hear Rocky barking his head off, playing shaking his frisbee to death, running and jumping in heaven. You were with us for 15 years and 8 months, not long enough for sure. From the first day that I held you in my arms you were a little ball of fire. Everything you did in life was full tilt. We traveled all over the country together playing the game we both loved, agility.
After you retired you were content to be at my side and follow me around the house; you had to be involved in everything. You loved head rubs and you gave me sweet kisses. Oh Rocky, my sweet boy, the last act of love we could do for you was let you go. So, I held you on my arms one more time. You may be gone from my sight … but you are never gone from my heart.
Thank you to those of you that often asked about Rocky." - Lori, Jerry, Blade & Bolt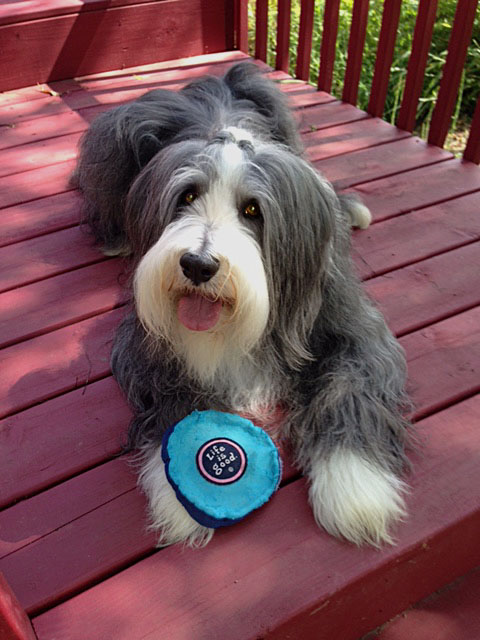 ---
Rocky-Dog-DL892863/06-Bridge
Breeder: Chantal Andrew
Ch Brigadoon Red Storm Rising x Ch Chaniam - Bedlam's Easaid (Sedge)
Owner/Handler: Lori A Weinberg of Edwardsville, IL
---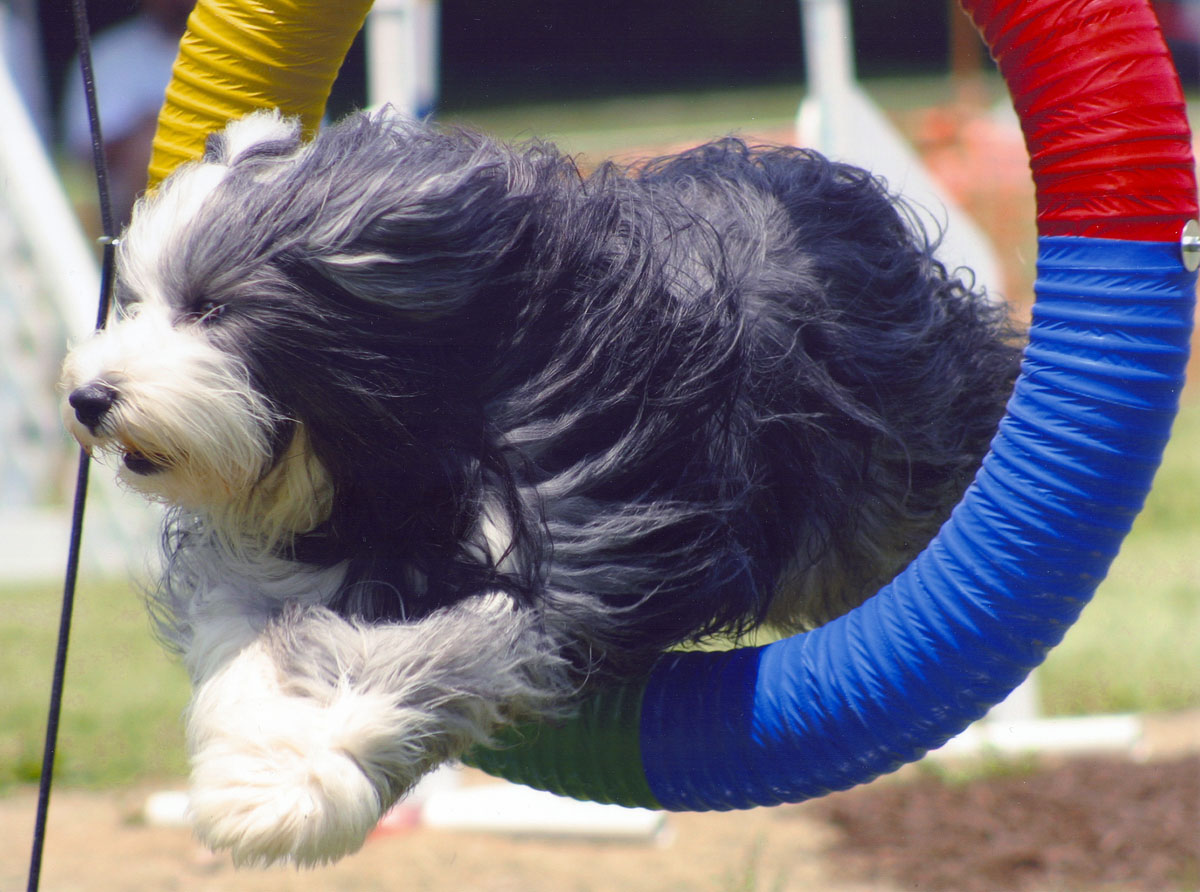 Rocky still ROCKS
April 16, 2012
Hi Libby,
I am overjoyed to share the news of Rocky and my past week of agility. He completed his PACH, his PAX as well as his MJP5 on April 12th, 2012.
The events of the week were just quintessential Rocky. I would like to share a few of those Rocky moments.
We have a pre-run routine of doing quiet games before we run, this is in an effort to focus as a team and prevent him from barking his little head off. The gate steward never has to look for Rocky and me, believe me they hear us :)). The scribe looks up to call our name and stops and smiles, she sees Rocky bouncing and barking as we go to the start line and says , "Yep, that's Rocky."
On one of his runs, I had barely unclasped his leash and off he went to take the first two jumps, REALLY :), there went that run.
And yes, we had our share of missed contacts. We won't discuss that because it is painful for me as the trainer of those contacts to admit :(.
The five second table count gave Rocky and me time to discuss (again) his acting his age!!!
Our runs are always exciting. Occasionally we get a really smooth run. But just as often, I end up hanging on by a thread throughout the run.
And at the end of each run Rocky grabs his leash and is tugging and pulling to stay in the ring. I end up dragging him out of the ring hanging on to the other end of the leash.
At the end of Rocky's PACH run the last obstacle was a triple. As I reach down to pick up the PACH and PAX bar, Rocky takes the triple backwards. I just had to laugh.
Rocky's PACH journey has been so enjoyable for me. We are far from the perfect agility team. But each time we step to the line I recognize that I have the privilege of running with this awesome team mate.
Rocky and I will now just do the jumpers class. No more contact obstacles for him. He is happy and healthy and even broke 6.0 yards per second on a jumpers run this past week. I so hope we have many, many more jumpers runs ahead!
Thanks to all of you that have cheered us on and celebrated those times with us. It means so much to me.
Lori & Rocky
---
AKC DL892863/06
Preferred Standard Agility

01/16/10   Novice P 16"-Leg 1        100     1st       34.98'/78'  152
02/06/10   Novice P 16"-Leg 2         95     1st       45.52'/65'  123
02/19/10   Novice P 16"-Leg 3         95     2nd       72.00'/72'  139      NAP

02/20/10   Open P 16"-Leg 1           95     2nd       47.36'/70'  158
02/21/10   Open P 16"-Leg 2          100     1st       42.05'/68'  153
04/09/10   Open P 16"-Leg 3          100     1st       38.49'/69'  156      OAP

04/24/10   Excellent AP 16"-Leg 1    100     1st       44.17'/65'  169
06/26/10   Excellent AP 16"-Leg 2    100     1st       43.22'/67'  177
06/27/10   Excellent AP 16"-Leg 3    100     1st       42.25'/70'  185      AXP

07/29/10   Excellent BP 16"-Leg 1    100     1st       42.99'/63'  163
08/01/10   Excellent BP 16"-Leg 2    100     1st       49.14'/67'  177  QQ
08/28/10   Excellent BP 16"-Leg 3    100     1st       49.03'/72'  192  QQ
09/11/10   Excellent BP 16"-Leg 4    100     1st       39.24'/61'  152
09/12/10   Excellent BP 16"-Leg 5    100     1st       48.41'/68'  180  QQ
10/02/10   Excellent BP 16"-Leg 6    100     1st       44.24'/73'  194
10/09/10   Excellent BP 16"-Leg 7    100     2nd       47.80'/63'  164        
10/10/10   Excellent BP 16"-Leg 8    100     1st       45.14'/71'  188  QQ
11/14/10   Excellent BP 16"-Leg 9    100     1st       38.49'/64'  166  QQ
02/18/11   Excellent BP 16"-Leg 10   100     1st/5     42.48'/72'  192      MXP

02/19/11   Excellent BP 16"-Leg 11   100     1st/8     42.07'/67'  178  QQ
03/04/11   Excellent BP 16"-Leg 12   100     2nd/7     41.10'/69'  184
03/05/11   Excellent BP 16"-Leg 13   100     2nd/9     37.85'/62'  161        
03/06/11   Excellent BP 16"-Leg 14   100     2nd/8     40.63'/66'  174  QQ
04/08/11   Excellent BP 16"-Leg 15   100     1st/1     42.82'/69'  184  QQ
04/16/11   Excellent BP 16"-Leg 16   100     1st/7     42.78'/70'  185   
07/29/11   Excellent BP 16"-Leg 17   100     1st/10    43.39'/68'  179  QQ    
07/30/11   Excellent BP 16"-Leg 18   100     1st/8     42.74'/67'  176  QQ
07/31/11   Excellent BP 16"-Leg 19   100     1st/9     43.23'/70'  185  QQ
08/06/11   Excellent BP 16"-Leg 20   100     1st/9     44.60'/70'  187  QQ  MXP2

09/05/11   Excellent BP 16"-Leg 21   100     1st/5     39.69'/68'  180       
09/21/11   Excellent BP 16"-Leg 22   100     1st/2     44.57'/70'  185       
10/01/11   Excellent BP 16"-Leg 23   100     1st/6     40.98'/64'  168  QQ
10/03/11   Excellent BP 16"-Leg 24   100     2nd/3     42.07'/68'  181  QQ
10/04/11   Excellent BP 16"-Leg 25   100     1st/4     40.95'/72'  191  QQ
10/29/11   Excellent BP 16"-Leg 26   100     1st/3     43.19'/67'  177   
10/30/11   Excellent BP 16"-Leg 27   100     1st/4     38.68'/63'  164       
11/10/11   Excellent BP 16"-Leg 28   100     2nd/8     39.65'/62'  160       
11/12/11   Excellent BP 16"-Leg 29   100     1st/11    41.10'/64'  166  QQ
01/15/12   Excellent BP 16"-Leg 30   100     1st       42.02'/70'           MXP3

02/17/12   Excellent BP 16"-Leg 31   100     1st       42.29'/69'       
02/18/12   Excellent BP 16"-Leg 32   100     1st       43.73'/66'       QQ
03/03/12   Excellent BP 16"-Leg 33   100     1st       41.19'/66'       QQ
03/04/12   Excellent BP 16"-Leg 34   100     1st       44.14'/71'       
03/10/12   Excellent BP 16"-Leg 35   100     1st       41.73'/68'       QQ
04/08/12   Excellent BP 16"-Leg 36   100     1st/6     42.61'/69'  184
04/12/12   Excellent BP 16"-Leg 37   100     2nd/5     41.80'/68'  180  QQ       
Preferred Jumpers with Weaves

01/16/10   Novice P 16"-Leg 1        100     1st       19.54'/46'  122
01/17/10   Novice P 16"-Leg 2        100     1st       21.36'/47'  126
02/05/10   Novice P 16"-Leg 3        100     1st       17.87'/39'  102      NJP

02/07/10   Open P 16"-Leg 1          100     1st       21.97'/38'  114
02/19/10   Open P 16"-Leg 2           95     1st       25.23'/42'  128
02/21/10   Open P 16"-Leg 3          100     1st       23.09'/43'  132      OJP

04/03/10   Excellent AP 16"-Leg 1    100     1st       25.95'/45'  150
04/04/10   Excellent AP 16"-Leg 2    100     1st       26.83'/48'  162
04/09/10   Excellent AP 16"-Leg 3    100     1st       26.77'/46'  153      AJP

04/11/10   Excellent BP 16"-Leg 1    100     1st       26.39'/45'  149
04/16/10   Excellent BP 16"-Leg 2    100     1st       26.19'/47'  156
04/17/10   Excellent BP 16"-Leg 3    100     1st       25.73'/46'  154
04/23/10   Excellent BP 16"-Leg 4    100     1st       27.97'/48'  160
06/25/10   Excellent BP 16"-Leg 5    100     3rd       24.47'/42'  139
06/26/10   Excellent BP 16"-Leg 6    100     2nd       22.99'/44'  148
06/27/10   Excellent BP 16"-Leg 7    100     2nd       27.61'/47'  156
07/17/10   Excellent BP 16"-Leg 8    100     1st       25.40'/45'  150
07/18/10   Excellent BP 16"-Leg 9    100     1st       26.87'/47'  157
07/31/10   Excellent BP 16"-Leg 10   100     1st       24.60'/44'  147      MJP

08/01/10   Excellent BP 16"-Leg 11   100     1st       25.79'/46'  153  QQ
08/27/10   Excellent BP 16"-Leg 12   100     1st       26.74'/47'  158
08/28/10   Excellent BP 16"-Leg 13   100     1st       27.80'/50'  169  QQ
08/29/10   Excellent BP 16"-Leg 14   100     1st       28.63'/51'  174
09/06/10   Excellent BP 16"-Leg 15   100     1st       28.11'/45'  150
09/12/10   Excellent BP 16"-Leg 16   100     1st       30.88'/43'  142  QQ
10/08/10   Excellent BP 16"-Leg 17   100     1st       27.11'/42'  139
10/10/10   Excellent BP 16"-Leg 18   100     1st       27.95'/46'  155  QQ
11/13/10   Excellent BP 16"-Leg 19   100     1st       26.60'/43'  143
11/14/10   Excellent BP 16"-Leg 20   100     2nd       27.08'/44'  145  QQ  MJP2

11/27/10   Excellent BP 16"-Leg 21   100     1st       28.83'/49'  166
11/28/10   Excellent BP 16"-Leg 22   100     1st       22.58'/42'  138
02/19/11   Excellent BP 16"-Leg 23   100     1st/8     25.73'/46'  152  QQ
02/20/11   Excellent BP 16"-Leg 24   100     1st/6     25.31'/41'  135       
03/06/11   Excellent BP 16"-Leg 25   100     1st/9     27.61'/46'  152  QQ
04/08/11   Excellent BP 16"-Leg 26   100     1st/1     30.82'/48'  161  QQ  
04/09/11   Excellent BP 16"-Leg 27   100     1st/2     24.81'/42'  140
04/10/11   Excellent BP 16"-Leg 28   100     1st/2     28.75'/46'  155
04/17/11   Excellent BP 16"-Leg 29   100     1st/8     29.25'/47'  157 
07/29/11   Excellent BP 16"-Leg 30   100     1st/11    30.10'/45'  150  QQ  MJP3

07/30/11   Excellent BP 16"-Leg 31   100     1st/8     30.00'/49'  164  QQ
07/31/11   Excellent BP 16"-Leg 32   100     1st/10    28.97'/48'  160  QQ
08/06/11   Excellent BP 16"-Leg 33   100     1st/11    34.82'/52'  175  QQ  
08/07/11   Excellent BP 16"-Leg 34   100     1st/10    27.50'/47'  157
08/28/11   Excellent BP 16"-Leg 35   100     1st/10    26.83'/44'  146
09/04/11   Excellent BP 16"-Leg 36   100     1st/6     28.59'/49'  165       
10/01/11   Excellent BP 16"-Leg 37   100     1st/6     27.65'/44'  148  QQ
10/03/11   Excellent BP 16"-Leg 38   100     1st/3     28.65'/47'  156  QQ
10/04/11   Excellent BP 16"-Leg 39   100     1st/4     31.13'/50'  167  QQ
10/28/11   Excellent BP 16"-Leg 40   100     1st/3     29.66'/47'  157      MJP4

11/12/11   Excellent BP 16"-Leg 41   100     1st/12    29.07'/47'  157  QQ
11/26/11   Excellent BP 16"-Leg 42   100     1st/10    27.38'/46'  152
01/14/12   Excellent BP 16"-Leg 43   100     1st       28.23'/49' 
02/18/12   Excellent BP 16"-Leg 44   100     2nd       28.70'/46'       QQ
02/19/12   Excellent BP 16"-Leg 45   100     1st       29.73'/47'       
03/03/12   Excellent BP 16"-Leg 46   100     1st       28.16'/50'       QQ  
03/10/12   Excellent BP 16"-Leg 47   100     1st       30.54'/46'       QQ
04/06/12   Excellent BP 16"-Leg 48   100     1st/5     30.99'/47'  156
04/11/12   Excellent BP 16"-Leg 49   100     1st/3     26.31'/47'  158
04/12/12   Excellent BP 16"-Leg 50   100     1st/4     25.27'/45'  149  QQ  MJP5 MJS PACH

04/13/12	JWWEXCBP	16INCHES	100	1     	8	31.27	49	166	17
04/21/12	JWWEXCBP	16INCHES	100	1     	10	27.45	48	160	20
04/22/12	JWWEXCBP	16INCHES	100	1     	10	27.87	47	158	19
05/05/12	JWWEXCBP	16INCHES	100	1     	4	30.15	47	158	16
05/06/12	JWWEXCBP	16INCHES	100	1     	4	28.46	46	154	17
05/25/12	JWWEXCBP	16INCHES	100	2     	6	27.42	44	145	16
06/08/12	JWWEXCBP	16INCHES	100	1     	2	27.37	47	156	19
06/10/12	JWWEXCBP	16INCHES	100	1     	2	27.19	43	141	15
07/26/12	JWWEXCBP	16INCHES	100	1     	12	30.69	46	154	15
08/03/12	JWWEXCBP	16INCHES	100	1     	10	27.15	45	150	17  MJP6

08/31/12	JWWEXCBP	16INCHES	100	1     	11	30.79	47	158	16
09/25/12	JWWEXCBP	16INCHES	100	1     	3	26.62	45	149	18
09/28/12	JWWEXCBP	16INCHES	100	1     	8	25.8	43	141	17
10/12/12	JWWEXCBP	16INCHES	100	1     	3	29.11	46	153	16
11/16/12	JWWEXCBP	16INCHES	100	1     	8	28.18	46	154	17
02/22/13	JWWEXCBP	16INCHES	100	1     	13	30.04	48	162	17
03/08/13	JWWEXCBP	16INCHES	100	1     	14	28.20	46	154	17
04/05/13	JWWEXCBP	16INCHES	100	1     	12	29.33	48	161	18
04/12/13	JWWEXCBP	16INCHES	100	2     	14	31.28	49	166	17
06/28/13	JWWEXCBP	16INCHES	100	2     	12	29.8	45	149	15  MJP7

08/02/13	JWWEXCBP	16INCHES	100	2     	10	35.44	48	160	12
09/10/13	JWWEXCBP	16INCHES	100	1     	4	29.32	45	150	15
09/27/13	JWWEXCBP	16INCHES	100	2     	13	30.35	46	153	15
09/30/13	JWWEXCBP	16INCHES	100	1     	5	25.48	45	150	19

2010 - 47 Clean Runs
2011 - 40 Celan Runs
04/12/12 Total PACH points - 1775 - QQs - 20 MJP5 MJS PACH

Preferred Beardies
---
Standard Agility

 7/26/03   Novice B 20"-Leg 1      90   1st/9     56.20'/72'
 7/27/03   Novice B 20"-Leg 2     100   1st/6     46.42'/67'
 8/31/03   Novice B 20"-Leg 3     100   1st/4     51.48'/77'                      NA

 9/14/03   Open 20"-Leg 1          95   3rd/11    49.98'/63'
 9/22/03   Open 20"-Leg 2          90   2nd/11    59.47'/69'
 9/28/03   Open 20"-Leg 3          95   1st/6     56.47'/61'                      OA
 9/29/03   Open 20"-Leg 4          90   1st/6     63.77'/72'

11/30/03   Excellent A 20"-Leg 1  100   2nd/19    47.92'/58'
 2/29/04   Excellent A 20"-Leg 2  100   1st/7     49.74'/68'
 4/09/04   Excellent A 20"-Leg 3  100   2nd/10    44.78'/66'                      AX
Jumpers With Weaves

 9/14/03   Novice B 20"-Leg 1     100   1st/3     20.92'/34'
 9/16/03   Novice B 20"-Leg 2      95   1st/2     26.77'/37'
 9/22/03   Novice B 20"-Leg 3      93   6th/14    41.43'/39'                      NAJ

 1/10/04   Open 20"-Leg 1         100   2nd/11    30.55'/35'
 1/11/04   Open 20"-Leg 2          95   1st/8     33.16'/38'
 1/31/04   Open 20"-Leg 3         100   1st/10    33.97'/42'                      OAJ

 7/30/04   Excellent A 20"-Leg 1  100   1st/10    27.10'/39'
 8/01/04   Excellent A 20"-Leg 2  100   1st/16    31.86'/43'
 9/06/04   Excellent A 20"-Leg 3  100   1st/6     30.50'/44'                      AXJ
Championship Legs
Standard Agility

 6/06/04   Excellent B 20"-Leg 1  100   2nd/19    43.25'/64'    30 CPs
 8/01/04   Excellent B 20"-Leg 2  100   4th/41    40.67'/60'    19 CPs
 9/12/04   Excellent B 20"-Leg 3  100   2nd/20    46.98'/68'    31 CPs        QQ
10/09/04   Excellent B 20"-Leg 4  100   2nd/20    44.90'/62'    25 CPs
 3/06/05   Excellent B 20"-Leg 5  100   4th/36    45.76/'68'    22 CPs        QQ
 4/09/05   Excellent B 20"-Leg 6  100   1st/8     47.97'/68'    40 CPs 
 4/10/05   Excellent B 20"-Leg 7  100   2nd/8     45.13'/67'    31 CPs
 6/12/05   Excellent B 20"-Leg 8  100   3rd/8     52.00'/68'    16 CPs
 7/15/05   Excellent B 20"-Leg 9  100   7th/34    46.77'/64'    17 CPs
 7/17/05   Excellent B 20"-Leg 10 100   6th/34    52.74'/67'    14 CPs            MX

 7/31/05   Excellent B 20"-Leg 11 100             45.63'/61'    15 CPs 
 8/05/05   Excellent B 20"-Leg 12 100   3rd/28    48.11'/63'    14 CPs        QQ
10/02/05   Excellent B 20"-Leg 13 100   1st/7     53.13'/68'    28 CPs
10/08/05   Excellent B 20"-Leg 14 100   1st/8     43.41'/66'    44 CPs
11/05/05   Excellent B 20"-Leg 15 100   2nd/19    43.83'/67     34 CPs 
 1/21/06   Excellent B 20"-Leg 16 100   1st/31    43.19'/59'    30 CPs
 1/28/06   Excellent B 20"-Leg 17 100   4th/43    42.49'/67'    24 CPs        QQ
 1/29/06   Excellent B 20"-Leg 18 100   3rd/42    40.69'/60'    19 CPs
 2/18/06   Excellent B 20"-Leg 19 100   3rd/41    46.29'/64'    17 CPs
 3/04/06   Excellent B 20"-Leg 20 100   8th/52    42.50'/65'    22 CPs

 4/28/06   Excellent B 20"-Leg 21 100   3rd/15    47.25'/68'    20 CPs
 5/05/06   Excellent B 20"-Leg 22 100   6th/41    42.54'/62'    19 CPs        QQ
 6/02/06   Excellent B 20"-Leg 23 100   3rd/30    44.43'/67'    22 CPs
 6/04/06   Excellent B 20"-Leg 24 100   4th/35    42.26'/61'    18 CPs
 6/11/06   Excellent B 20"-Leg 25 100   5th/28    46.59'/68'    21 CPs            MXB
 6/23/06   Excellent B 20"-Leg 26 100   7th/38    49.39'/63'    13 CPs
 7/27/06   Excellent B 20"-Leg 27 100  11th/54    39.91'/62'    22 CPs        QQ
 8/06/06   Excellent B 20"-Leg 28 100   5th/46    45.83'/63'    17 CPs
 9/02/06   Excellent B 20"-Leg 29 100   2nd/24    47.20'/64'    24 CPs
11/04/06   Excellent B 20"-Leg 30 100   6th/18    42.03'/56'    13 CPs        QQ

 7/26/07   Excellent B 24"-Leg 31 100   1st/25    39.57'/63'    46 CPs   5.09
 7/29/07   Excellent B 24"-Leg 32 100   1st/29    44.56'/62'    34 CPs   4.47 QQ
 8/25/07   Excellent B 24"-Leg 33 100   4th/37    50.57'/63'    12 CPs   3.99 QQ
10/19/07   Excellent B 24"-Leg 34 100             48.07'/62'    13 CPs   4.09 QQ	
10/20/07   Excellent B 24"-Leg 35 100   3rd/24    44.63'/62'    17 CPs   4.44
11/25/07   Excellent B 24"-Leg 36 100   2nd/22    46.17'/64'    25 CPs   4.44
 1/12/08   Excellent B 24"-Leg 37 100   1st/12    45.61'/60'    28 CPs   4.16
 1/13/08   Excellent B 24"-Leg 38 100   2nd/11    50.24'/61'    15 CPs   3.85 QQ
 1/18/08   Excellent B 24"-Leg 39 100             48.58'/64'    15 CPs   4.20
 6/06/08   Excellent B 24"-Leg 40 100   1st/18    44.81'/62'    34 CPs   4.45

 7/12/08   Excellent B 24"-Leg 41 100   1st/10    44.23'/55'    20 CPs   3.98
 7/13/08   Excellent B 24"-Leg 42 100   4th/14    42.23'/56'    13 CPs   4.22
11/01/08   Excellent B 24"-Leg 43 100   1st/34    44.67'/63'    36 CPs   4.51 QQ									
11/30/08   Excellent B 24"-Leg 44 100             41.33'/60'    18 CPs   4.68 QQ	
 1/10/09   Excellent B 24"-Leg 45 100   1st/25    46.38'/66'    4.57  CPs- 38 QQ
 1/11/09   Excellent B 24"-Leg 46 100   3rd/25    47.94'/63'    4.17  CPs- 15
 1/29/09   Excellent B 24"-Leg 47 100             44.56'/66'    4.75  CPs- 21
 1/30/09   Excellent B 24"-Leg 48 100   3rd/49    41.69'/65'    5.07  CPs- 23 QQ								
 2/15/09   Excellent B 24"-Leg 49 100   1st/27    46.49'/63'    4.31  CPs- 32 QQ
 2/27/09   Excellent B 24"-Leg 50 100             48.08'/66'    4.39  CPs- 17     MXS

 4/04/09   Excellent B 24"-Leg 51 100   4th/24    46.98'/68'    4.62  CPs- 21
 4/05/09   Excellent B 24"-Leg 52 100   2nd/23    42.58'/65'    4.92  CPs- 33
 4/10/09   Excellent B 24"-Leg 53 100   3rd/51    43.35'/63'    4.64  CPs- 19 QQ								
 5/02/09   Excellent B 24"-Leg 54 100   3rd/41    46.91'/65'    4.41  CPs- 18
 6/21/09   Excellent B 24"-Leg 55 100   4th/50    42.98'/64'    4.79  CPs- 21 QQ
 7/11/09   Excellent B 24"-Leg 56 100   1st/28    46.15'/62'    4.30  CPs- 30								
 7/24/09   Excellent B 24"-Leg 57 100             50.94'/65'    4.03  CPs- 14
 7/25/09   Excellent B 24"-Leg 58 100             52.72'/68'    4.07  CPs- 15 QQ
 7/26/09   Excellent B 24"-Leg 59 100             42.37'/62'    4.71  CPs- 19 QQ  MACH								
 9/26/09   Excellent B 24"-Leg 60 100             47.63'/65'    4.34  CPs- 17	

10/04/09   Excellent B 24"-Leg 61 100   3rd/40    42.95'/58'    4.30  CPs- 15

    2009 - 366 front and finish points / 368 MACH points / 4.49 avg yps
Jumpers with Weaves

 9/12/04   Excellent B 20"-Leg 1  100   1st/19    32.41'/45'    24 CPs        QQ
10/30/04   Excellent B 20"-Leg 2  100   1st/20    27.93'/37'    18 CPs
10/31/04   Excellent B 20"-Leg 3  100   2nd/22    25.50'/37'    16 CPs
11/26/04   Excellent B 20"-Leg 4  100   3rd/31    31.08'/46'    14 CPs
12/11/04   Excellent B 20"-Leg 5  100   7th/85    28.48'/42'    13 CPs
12/12/04   Excellent B 20"-Leg 6  100   6th/88    27.81'/42'    14 CPs
 2/20/05   Excellent B 20"-Leg 7  100   2nd/32    27.27'/38'    15 CPs 
 3/04/05   Excellent B 20"-Leg 8  100   2nd/30    28.39'/41'    18 CPs
 3/06/05   Excellent B 20"-Leg 9  100   1st/36    29.13'/40'    20 CPs        QQ
 4/16/05   Excellent B 20"-Leg 10 100   7th/47    28.92'/41'    12 CPs            MXJ

 5/09/05   Excellent B 20"-Leg 11 100   1st/7     30.77'/44'    20 CPs
 6/18/05   Excellent B 20"-Leg 12 100   1st/42    32.88'/44'    22 CPs
 7/16/05   Excellent B 20"-Leg 13 100   7th/48    30.29'/44'    13 CPs
 8/05/05   Excellent B 20"-Leg 14 100   4th/31    25.11'/35'     9 CPs        QQ
 8/21/05   Excellent B 20"-Leg 15 100   1st/33    34.40'/45'    20 CPs	
 9/28/05   Excellent B 20"-Leg 16 100   1st/24    29.21'/46'    32 CPs HIGH IN TRIAL
10/01/05   Excellent B 20"-Leg 17 100   1st/6     28.97'/43'    28 CPs
12/03/05   Excellent B 20"-Leg 18 100   4th/31    27.37'/37'     9 CPs
12/04/05   Excellent B 20"-Leg 19 100   3rd/33    25.81'/39     13 CPs
 1/26/06   Excellent B 20"-Leg 20 100   3rd/39    28.13'/43'    14 CPs

 1/27/06   Excellent B 20"-Leg 21 100   5th/44    24.95'/36'    11 CPs
 1/28/06   Excellent B 20"-Leg 22 100   1st/48    26.29'/41'    28 CPs        QQ
 2/03/06   Excellent B 20"-Leg 23 100   3rd/23    29.24'/40'    10 CPs
 2/04/06   Excellent B 20"-Leg 24 100   2nd/26    30.52'/42'    16 CPs
 2/19/06   Excellent B 20"-Leg 25 100   1st/40    29.28'/44'    28 CPs            MJB
 4/15/06   Excellent B 20"-Leg 26 100   5th/37    30.94'/46'    15 CPs
 4/30/06   Excellent B 20"-Leg 27 100   1st/17    27.52'/42'    28 CPs
 5/05/06   Excellent B 20"-Leg 28 100   7th/44    28.26'/42'    13 CPs        QQ
 5/28/06   Excellent B 20"-Leg 29 100   1st/26    23.58'/35'    22 CPs
 7/08/06   Excellent B 20"-Leg 30 100   5th/27    29.54'/41'    11 CPs

 7/09/06   Excellent B 20"-Leg 31 100   7th/24    31.40'/42'    10 CPs
 7/27/06   Excellent B 20"-Leg 32 100  13th/50    32.93'/41'     8 CPs        QQ
 7/29/06   Excellent B 20"-Leg 33 100  13th/68    25.83'/38'    12 CPs
 8/20/06   Excellent B 20"-Leg 34 100   1st/11    25.17'/38'    24 CPs
 9/04/06   Excellent B 20"-Leg 35 100   1st/18    26.78'/42'    30 CPs
 9/29/06   Excellent B 20"-Leg 36 100   3rd/47    26.79'/35'     8 CPs
10/14/06   Excellent B 20"-Leg 37 100   1st/28    28.59'/39'    20 CPs
10/15/06   Excellent B 20"-Leg 38 100   2nd/24    27.99'/38'    15 CPs
11/04/06   Excellent B 20"-Leg 39 100   2nd/23    24.68'/42'    25 CPs        QQ
11/05/06   Excellent B 20"-Leg 40 100   1st/26    25.56'/43'    34 CPs

11/25/06   Excellent B 20"-Leg 41 100   2nd/46    28.16'/42'    19 CPs
11/26/06   Excellent B 20"-Leg 42 100   5th/31    29.98'/40'    10 CPs
 1/27/07   Excellent B 20"-Leg 43 100             29.00'/42'    13 CPs   5.41
 4/21/07   Excellent B 20"-Leg 44 100   3rd/40    25.08'/39'    13 CPs   5.82
 6/22/07   Excellent B 20"-Leg 45 100   6th/41    27.58'/43'    15 CPs   5.91
 6/23/07   Excellent B 20"-Leg 46 100   4th/40    30.60'/45'    14 CPs   5.46
 7/27/07   Excellent B 24"-Leg 47 100   1st/25    28.21'/43'    28 CPs   5.74
 7/29/07   Excellent B 24"-Leg 48 100   1st/30    29.55'/42'    24 CPs   5.31 QQ
 8/24/07   Excellent B 24"-Leg 49 100   2nd/30    27.82'/42'    21 CPs   5.64
 8/25/07   Excellent B 24"-Leg 50 100   4th/34    30.06'/44'    13 CPs   5.52 QQ  MJS

10/19/07   Excellent B 20"-Leg 51 100             31.89'/40'     8 CPs   4.70 QQ
11/03/07   Excellent B 24"-Leg 52 100   2nd/24    31.45'/43'    16 CPs   5.15
11/04/07   Excellent B 24"-Leg 53 100   1st/23    29.02'/42'    24 CPs   5.44
 1/13/08   Excellent B 24"-Leg 54 100   1st/11    30.00'/41'    22 CPs   5.07 QQ	
 2/01/08   Excellent B 24"-Leg 55 100   2nd/20    25.01'/40'    21 CPs   6.00
 2/02/08   Excellent B 24"-Leg 56 100   2nd/23    28.02'/41'    18 CPs   5.50
 2/03/08   Excellent B 24"-Leg 57 100   2nd/23    27.15'/40'    18 CPs   5.49
 3/02/08   Excellent B 24"-Leg 58 100   2nd/31    24.77'/36'    16 CPs   5.41
 8/15/08   Excellent B 24"-Leg 59 100   3rd/20    30.89'/43'    12 CPs   5.28
 8/17/08   Excellent B 24"-Leg 60 100   3rd/22    30.22'/46'    15 CPs   5.69

 9/01/08   Excellent B 24"-Leg 61 100   2nd/13    28.53'/45'    24 CPs   5.92
 9/27/08   Excellent B 24"-Leg 62 100   1st/22    29.08'/44'    28 CPs   5.67
 9/28/08   Excellent B 24"-Leg 63 100   1st/24    27.51'/42'    28 CPs   5.74
11/01/08   Excellent B 24"-Leg 64 100   1st/34    28.56'/42'    26 CPs   5.50 QQ
11/02/08   Excellent B 24"-Leg 65 100   1st/35    26.63'/40'    26 CPs   5.60	
11/07/08   Excellent B 24"-Leg 66 100   4th/32    27.02'/42'    14 CPs   5.85	
11/09/08   Excellent B 24"-Leg 67 100   2nd/34    29.29'/45'    22 CPs   5.77	
11/29/08   Excellent B 24"-Leg 68 100   2nd/59    26.68'/42'    22 CPs   5.85
11/30/08   Excellent B 24"-Leg 69 100   2nd/57    25.98'/41'    22 CPs   5.93 QQ  F&F 334	
 1/10/09   Excellent B 24"-Leg 70 100   3rd/22    31.45'/46'    5.47  CPs- 14 QQ

 1/30/09   Excellent B 24"-Leg 71 100             27.54'/39'    5.34  CPs- 11 QQ
 2/01/09   Excellent B 24"-Leg 72 100             25.58'/39'    5.79  CPs- 13
 2/14/09   Excellent B 24"-Leg 73 100   2nd/22    27.97'/41'    5.43  CPs- 19
 2/15/09   Excellent B 24"-Leg 74 100   2nd/25    29.55'/43'    5.41  CPs- 19 QQ
 2/28/09   Excellent B 24"-Leg 75 100             27.37'/40'    5.44  CPs- 12     MJG	
 4/03/09   Excellent B 24"-Leg 76 100   1st/13    27.48'/44'    5.97  CPs- 32							
 4/10/09   Excellent B 24"-Leg 77 100             27.16'/38'    5.19  CPs- 10 QQ
 4/12/09   Excellent B 24"-Leg 78 100   3rd/49    25.59'/39'    5.78  CPs- 13							
 6/21/09   Excellent B 24"-Leg 79 100   4th/49    27.32'/40'    5.49  CPs- 12 QQ								
 7/12/09   Excellent B 24"-Leg 80 100   2nd/26    26.53'/37'    5.20  CPs- 15
						
 7/25/09   Excellent B 24"-Leg 81 100             27.32'/41'    5.67  CPs- 13 QQ
 7/26/09   Excellent B 24"-Leg 82 100             31.02'/43'    5.22  CPs- 11 QQ  MACH
 8/21/09   Excellent B 24"-Leg 83 100             28.23'/45'    6.02  CPs- 16
 8/22/09   Excellent B 24"-Leg 84 100             30.07'/45'    5.65  CPs- 14
 8/23/09   Excellent B 24"-Leg 85 100             31.44'/44'    5.25  CPs- 12
 9/25/09   Excellent B 24"-Leg 86 100             28.07'/42'    5.59  CPs- 13								
10/03/09   Excellent B 24"-Leg 87 100   4th/39    27.48'/39'    5.39  CPs- 11								
10/31/09   Excellent B 24"-Leg 88 100   2nd/28    25.24'/38'    5.67  CPs- 18
11/22/09   Excellent B 24"-Leg 89 100   3rd/30    28.57'/39'    5.18  CPs- 10

    2009 - 289 front and finish points / 288 MACH points / 5.51 avg yps
Championship Points
 6/06/04    CPs-  30
 8/01/04    CPs-  19
 9/12/04    CPs-  55  QQ	
10/09/04    CPs-  25
10/30/04    CPs-  18
10/31/04    CPs-  16
11/26/04    CPs-  14
12/11/04    CPs-  13
12/12/04    CPs-  14 
 2/20/05    CPs-  15
 3/04/05    CPs-  18
 3/06/05    CPs-  42  QQ	
 4/06/05    CPs-  12
 4/09/05    CPs-  40
 4/10/05    CPs-  31
 5/09/05    CPs-  20 
 6/12/05    CPs-  16 
 6/18/05    CPs-  22 
 7/15/05    CPs-  17 
 7/16/05    CPs-  13 
 7/17/05    CPs-  14 
 7/31/05    CPs-  15
 8/05/05    CPs-  23  QQ	
 8/21/05    CPs-  20
 9/28/05    CPs-  32 HIGH IN TRIAL
10/02/05    CPs-  28
10/08/05    CPs-  44
11/05/05    CPs-  34
10/01/05    CPs-  28
12/03/05    CPs-   9
12/04/05    CPs-  13
 1/21/06    CPs-  30
 1/26/06    CPs-  14
 1/27/06    CPs-  11
 1/28/06    CPs-  52  QQ	
 1/29/06    CPs-  19
 2/03/06    CPs-  10
 2/04/06    CPs-  16
 2/18/06    CPs-  17
 2/19/06    CPs-  28
 3/04/06    CPs-  22
 4/15/06    CPs-  15
 4/28/06    CPs-  20
 4/30/06    CPs-  28
 5/05/06    CPs-  32  QQ	
 5/28/06    CPs-  22
 6/02/06    CPs-  22
 6/04/06    CPs-  18
 6/11/06    CPs-  21
 6/23/06    CPs-  13
 7/08/06    CPs-  11
 7/09/06    CPs-  10
 7/27/06    CPs-  30  QQ	
 7/29/06    CPs-  12
 8/06/06    CPs-  17
 8/20/06    CPs-  24
 9/02/06    CPs-  24
 9/04/06    CPs-  30
 9/29/06    CPs-   8
10/14/06    CPs-  20
10/15/06    CPs-  15
11/04/06    CPs-  38  QQ	
11/05/06    CPs-  34
11/25/06    CPs-  19
11/26/06    CPs-  10
 1/27/07    CPs-  13
 4/21/07    CPs-  13
 6/22/07    CPs-  15
 6/23/07    CPs-  14
 7/26/07    CPs-  46  QQ	
 7/27/07    CPs-  28
 7/29/07    CPs-  58  QQ	
 8/24/07    CPs-  21
 8/25/07    CPs-  25
10/19/07    CPs-  21  QQ	
10/20/07    CPs-  17
11/03/07    CPs-  16
11/04/07    CPs-  24
11/25/07    CPs-  25
 1/12/08    CPs-  28
 1/13/08    CPs-  37  QQ
 1/18/08    CPs-  15
 2/01/08    CPs-  21
 2/02/08    CPs-  18
 2/03/08    CPs-  18
 3/02/08    CPs-  16
 6/06/08    CPs-  34
 7/12/08    CPs-  20
 7/13/08    CPs-  13
 8/15/08    CPs-  12
 8/17/08    CPs-  15
 9/01/08    CPs-  24
 9/27/08    CPs-  28
 9/28/08    CPs-  28 
11/01/08    CPs-  62  QQ
11/02/08    CPs-  26
11/07/08    CPs-  14
11/09/08    CPs-  22
11/29/08    CPs-  22
11/30/08    CPs-  40  QQ
 1/10/09    CPs-  52  QQ
 1/11/09    CPs-  15
 1/29/09    CPs-  21
 1/30/09    CPs-  34  QQ
 2/01/09    CPs-  13
 2/14/09    CPs-  19
 2/15/09    CPs-  51  QQ
 2/27/09    CPs-  17
 2/28/09    CPs-  12	
 4/03/09    CPs-  32
 4/04/09    CPs-  21
 4/05/09    CPs-  33
 4/10/09    CPs-  29  QQ
 4/12/09    CPs-  13
 5/02/09    CPs-  18
 6/21/09    CPs-  33  QQ
 7/11/09    CPs-  30										
 7/12/09    CPs-  15
 7/24/09    CPs-  14
 7/25/09    CPs-  28  QQ
 7/26/09    CPs-  30  QQ MACH	
 8/21/09    CPs-  16
 8/22/09    CPs-  14
 8/23/09    CPs-  12
 9/25/09    CPs-  13	
 9/26/09    CPs-  17								
10/03/09    CPs-  11
10/04/09    CPs-  15								
10/31/09    CPs-  18
11/22/09    CPs-  10

STD 2009 - 366 front and finish points / 368 MACH points / 4.49 avg yps
JWW 2009 - 289 front and finish points / 288 MACH points / 5.51 avg yps

 Total      CPs-2937  QQs-20

 7/26/09    MACH
FAST

 3/03/07  Novice B 20"-Leg 1       67             27.35'/32'
 4/13/07  Novice B 20"-Leg 2       66             36.92'/32'
 4/14/07  Novice B 20"-Leg 3       56             29.99'/32'  63.0  NF

 7/26/07  Open 24"-Leg 1           67   1st/14    34.18'/32'
 7/27/07  Open 24"-Leg 2           67             31.19'/32'
 8/18/07  Open 24"-Leg 3           64   2nd/2     23.99'/32'  66.0  OF

 8/19/07  Excellent A 24"-Leg 1    73   2nd/2     25.86'/32'
 9/02/07  Excellent A 24"-Leg 2    70   2nd/3     26.96'/32'
10/19/07  Excellent A 24"-Leg 3    63   2nd/4     33.21'/32'  68.7  XF

10/20/07  Excellent B 24"-Leg 1    76   3rd/5     33.89'/32'
11/03/07  Excellent B 24"-Leg 2    70   1st/1     35.80'/32'  73.0
---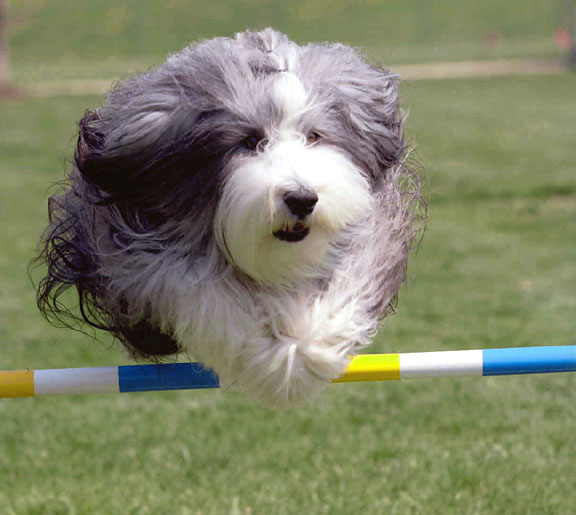 ---
USDAA U506227

 6/10/07  P1 Standard 22"-Leg 1        1st/4      37.42'/65'

 5/19/07  P1 Gamblers 22"-Leg 1        2nd/?      41 points
 6/09/07  P1 Gamblers 22"-Leg 2                   41 points
 6/10/07  P1 Gamblers 22"-Leg 3        1st/4      38 points    PG1

 5/19/07  P1 Jumpers 22"-Leg 1         1st/?      20.55'/35'
 6/10/07  P1 Jumpers 22"-Leg 2         1st/3      19.83'/35'
12/29/07  P1 Jumpers 22"-Leg 3         2nd/29     18.07'/34'   PJ1

 5/19/07  P1 Snooker 22"-Leg 1         1st/?      42 points
 6/10/07  P1 Snooker 22"-Leg 2         1st/4      48 points

 5/20/07  P1 Pairs 22"-Leg 1           1st/?      33.98'/57'        with Cheryl Richards and Kylie
 6/09/07  P1 Pairs 22"-Leg 2           1st/3      32.43'/63'        with Cheri Omnus and McKay
12/29/07  P1 Pairs 22"-Leg 3           1st/6      32.65'/63'   PR1  with Larry Dalan and Portia

 5/20/07  Local Performance National Standard Championship 22" - 1st/?   40.81'/54
              (Regional Bye Voucher)

 5/19/07  Performance Speed Jumpers 22" Round 1 - 1st/?  34.86'/47.22'
 5/20/07  Performance Speed Jumpers 22" Round 2 - 1st/?  33.98'/?
 6/09/07  Performance Speed Jumpers 22" Round 1 - 1st/6  37.94'/50.94'

 6/10/07  5th PG1
12/29/07  7th PJ1
12/29/07  2nd PR1 
---
Rocky's Links
BAD
BCCA
Organizations
---

Off to a BAD Start
[BAD Handlers] | [BAD Dogs] | [BAD Events] | [BAD Links]
[BAD Greetings] | [BAD News] | BAD Beginnings]
[BAD Advice] | [BAD Attitudes] | [BAD Goods]

Email Libby with an update