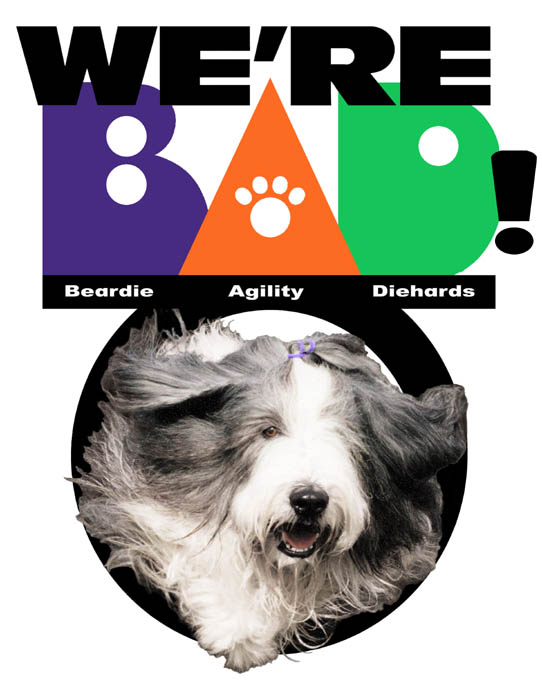 Eleventh Annual BAD Awards
---
It has been very rewarding sharing more than twelve years with all of you and seeing so many Diehards at the 2009 BCCA National Specialty in Minneapolis! Those participating in the Agility Trial were truly worthy of the name Diehards. By the time the final Standard courses were run, the puddles were ankle deep! Our Beardies, of course, were in their element, and twenty of them earned legs despite the downpour. Both Judi Morris and her Co-Chair Sue Jamison did a wonderful job with the trial, hospitality, and prizes. A delicious, warm lunch in the middle of a cold wet day was welcome indeed! A full article on the trial is in this Bulletin, but I'd like to offer congratulations to Jill Scarborough and Shug for Highs in Trial for both Standard and JWW. Jill set a standard with Jack, and Shug is definitely following in his footsteps! Jan Norikane and Gina earned a High in Trial in FAST. The courses were NOT easy and only three qualified in that class all day: Gina, Zoom, and Flash. It was lovely sharing a BAD dinner with several of you on the eve of the trial. Judge Tom Slattery was our guest of honor. This dinner is always a highlight of the Specialty for me. We began the Awards Dinner tradition at the 1999 Specialty in Olympia Washington, getting together for an informal evening and ordering out for pizza and beer. Since then many have enjoyed our annual dinners. Our largest ever was in Maryland where 61 BADsters gathered. I am very grateful to Sheila Franklin who donates her pottery for our top Awards and to Joanne Williamson for ordering our 10th Anniversary BAD pins. Joanne also ordered our 12th Anniversary cake, which we shared at the trial.
The Beardie Agility Diehards began on-line in February 1997. Since then we have grown from 33 members and 38 Beardies to 229 members and 408 Beardies. We first gathered in 1997 at the BCCA Specialty in Rohnert Park, California. There our BAD t-shirts, designed by Gretchen Blackburn, revealed our new logo. A group of us shared our first BAD dinner with Karen Norteman and discussed creating our award winning BAD website. I like to joke that Karen gave me my life's work! It was also at the 1997 Specialty that we decided to support the publication of agility articles in the Bulletin. To date we have contributed $14,055 to the Bulletin.
In Memory of Eleanor Logue
BAD Member Eleanor Logue of Baltimore Maryland passed away this spring. Her friends say that she was always kind and never had a bad thing to say about anyone. She was generous with her time and resources and rescued several dogs and cats. Her death from pancreatic cancer was fairly quick, but painful. She loved her ILP Beardie Chelsie (MX AXJ NJP AD OAC NJC NGC) and gave her a full life.
---
Thankyous - 2009 BAD Attitude Awards:
Joanne Williamson: Joanne, the BCCA Agility Co-Chair, has been working with the Agility Committee for eleven years, tracking all of our Beardies' AKC legs and titles. She has been instrumental in working out the point systems for all of our BCCA Agility Awards. When I think of Joanne, dedication is the word that springs to mind. As well as diligently training her agility Beardies, Beau, Belle, and Flash, Joanne has given of herself tirelessly to us all.
Jan Norikane: Many thanks to Jan Norikane who confirms NADAC legs and titles for our BAD Beardies.
Judi Morris and Sue Jamison - BCCA Trial Co-Chairs: Our thanks to Judi and Sue for taking on such a huge task and doing a wonderful job with this year's agility trial.
---
BAD Member Of The Year Award: Ann Chandoha
It gives me great pleasure to announce that Ann Chandoha was unanimously nominated as the BAD Person of the Year. I first became acquainted with Ann in the summer of 1997 when her Stoli, CH O'Duinnin Andy Gabel Stolaway, wrote me a delightful letter letting me know how much he loved agility and how much he and his mom Ann would like to be BAD. Since then Ann and I have become good friends and I always look forward to seeing her. Ann is delightful to be with, full of good humor, a great storyteller, and caring and helpful towards others. I love that she is so in touch with her feelings, which lie very close to the surface. She is devoted to her Beardies, trains them lovingly, and cares about everyone else's Beardies as well. Ann truly deserves to be the BAD person of the year because she PERSONIFIES the "BAD Attitude."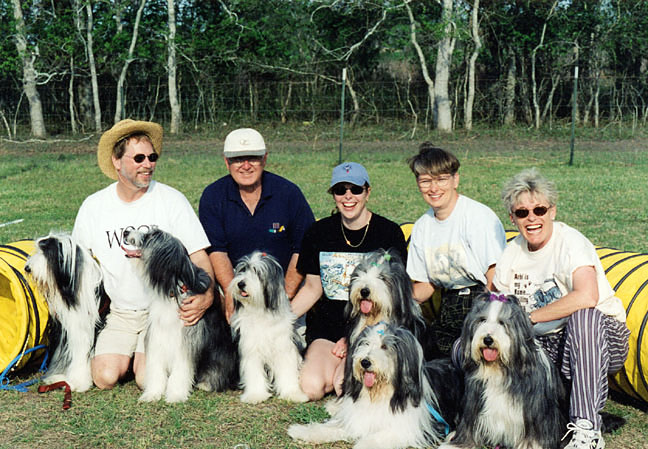 David Williamson, Wade Pelton, Jo Sermon, Karen Barratt, and Ann Chandoha

Karen Barratt
WOW! Ann is certainly BAD person of the year in my books. Besides being my very best "amiga" she was my savior after hurricane Ike. Budweiser, Jet and Miller found a loving, caring home-away-from-home for "nine" months with Ann and Ron while I dealt with the aftermath of the storm. She groomed five (yes five!) Beardies every week, drove them an hour each way to her vet for medical checkups and worked with Miller to maintain his agility skills. If I live to be one hundred there won't be time enough for paybacks.
Ann is everyone's friend, trusting (sometimes) to a fault, entertaining, a great handler both in conformation and agility and therefore richly deserves this honor.
Wade Pelton
Could you give Ann some sort of Beardie Angel award at the specialty? Ann does the little things that add up to making her a very special person.
I have not been able to run in a trial since last September. Ann ran my Shadow last November after I was hurt, even though she had never practiced with her and even got a leg. Little did I know it would be a year-long journey before I was able to run again.
After hurricane Ike wiped our Karen Barratt's home in August, Ann took in her three beardies for about 9 months while Karen was in Houston rebuilding her house. Having 5 Beardies in the house to care for and groom is a Herculean task that takes a very special person.
She was there for Gretchen Blackburn when she put her 16 year old Allie down.
Gretchen and Darron Blackburn
Ann and I met at a show in Austin 16+ years ago. She fell in love with our Allie and I contacted Eileen Dinneen, who was about to have a litter, and bragged about what a sweet person Ann was and that she should offer her a puppy. Ann jumped to the top of the list and got Stoli a few months later.
Ann is always so thoughtful and generous to others. She is as bright a light as there is. Folks are attracted to her like moths to a flame. She's a joy to hang with and will make you laugh until your sides hurt. She's comfortable in her skin and what you see is what you get. She's an emotional powder keg and will show her emotions at the drop of a hat. All animals love her except the monkey in a dress that slapped her across the face when she went to pet it.
She's so deserving of this award. I have never met anyone nicer and happier for other's victories and successes. She is the first to laugh at her misfortunes on the agility course and will do anything for anyone at anytime.
Ann checked daily during our beardie Allie's health crisis this last month. She was with us when we sent Allie to the Rainbow Bridge Sept 15th, too. It would have been a lot harder if she weren't there.
Ann didn't know the first thing about conformation, agility or getting a beardie to do what you ask them to! Look at her now! We're so proud of her accomplishments. She's worked hard for many years to achieve the agility and conformation awards she's received. What we are most proud of is that she is still the same sweet person we met 16 years ago. It's an honor and a blessing to be her friend.
Eileen Dinneen
Ann has the unique capacity to make everyone her friend. She laughs when you laugh and cries when you cry. And best of all, she honestly wants everyone in the dog world to do well.
Robin Fortenberry
I'm SO glad someone thought of Ann. Nothing could be more perfect. I met Ann a few years ago when I first got Dos. Ann is always so friendly. I've seen it numerous times, where you may not remember someone's name you have met, but Ann always knows everyone. Ann is one of the most loyal and honest people I know, always willing to help and share any knowledge she has. With my first beardie I needed lots and lots of help, especially in the grooming area. Ann was always there willing to help. Ann, also, has a heart the size of Texas. Ann was one of Dos' most favorite people and he was always SO excited to see Ann. I do not know what I would have done without her during these past months after losing Dos.
Jenny Scheytt
I am so excited to hear that Ann was selected for the award. I was actually going to suggest her as well. I had so much fun spending a week with her back in February at the agility camp in Florida. Ann is such a caring, genuine person who is always putting others before herself. She is always the first to offer up encouragement to others on their runs or about their beardies in general. She is a great teammate running with Dru, even though she doesn't think so. I am excited that she will be a part of the family now as she is going to take home one of Zoe's boys! She is coming up to Michigan in November to pick her puppy. Hey, her Award will give us one more thing to celebrate when she is up here. I know she will be just overjoyed and I'm sure many a tear will be shed.
Carol Hegg and the Beardies 4: Dusty, Joli, Maya, Zoey
Congratulations! We beardie folks here in Texas are so very glad to have you, Ann, in our midst, and all our Texas beardies know you and love you. You are the best and and we are Texas Proud of you!
Debbie and Glenn Alexander
Congrats you ole'gal! We knew Dru could make it but we were worried that you might unravel before the job was done. Our very best!
Kay, Mike and Michelob Sakowski
Ann, our congratulations! We can't think of anyone who deserves more to be BAD person of the year!! And you had sooooo much fun deserving it!
Andrea Hobe and Colby
What can I say without making Ann cry? :) I can't think of a better person to win BAD person of the year. She's done so much with her dogs and she's a wonderfully talented agility handler, although she doesn't realize it. She's always the first to congratulate you on your run (no matter what it looked like). She's caring, encouraging, compassionate, and one of the sweetest people I've ever met. I'm thrilled that she's getting this accomplishment and I'm so proud to call her a friend.
Beth Scorzelli and Brew
I can't think of anyone that deserves it more than "Auntie Ann."
Heather Gahres
I'd like to nominate Ann Chandoha whom I met this winter at the Jo Sermon/Stuart Mah camp. She was so supportive, kind, and helpful to me. She gave many words of encouragement. Her MACH with Dru is a testament of the joy they have running together.
Kim Krueger and Grendel
HUGE CONGRATS to Ann and Dru! Ann is one of the nicest, funniest people I have ever met. I can't think of a nicer team to get a MACH!
Pam Harris
That's perfect!
Wade Pelton
When I sent my nomination for Ann, I had not talked to any of the others of The Texas group. Obviously I was not the only one that recognized her super efforts. Ann, you earned this award by being yourself!
---
Sixteen Beardie Championships
BAD recognizes and congratulates TWELVE Beardies who have earned SEVENTEEN Agility Championships since last year's specialty. We now have THIRTY-SIX Agility Champion Beardies who have earned SEVENTY-EIGHT Championships in six venues.
American Kennel Club:
MACH9 Wizard (Anasazi Secret of the Wizard)
Sarah Halsey - 29 March 2009
MACH9 Zoom (CH Wigglesworth Super Sonic)
Jeff Ipser - 18 July 2009
MACH8 Zoom (CH Wigglesworth Super Sonic)
Jeff Ipser - 5 April 2009
MACH7 Zoom (CH Wigglesworth Super Sonic)
Jeff Ipser - 25 October 2008
MACH2 Patch (Raintree Ha'Penny Hades)
Claire Cifarelli - 12 July 2009
MACH Brio (Springhills Spirit of Brio)
Sharon Williamson - 21 February 2009
MACH Flash (CH Britannia Flashback)
Joanne Williamson - 22 March 2009
MACH Hops (CH Wynsum Captivating Rhythm)
Jan Leverenz - 18 July 2009
MACH Rocky (Chaniam Creag)
Lori Weinberg - 26 July 2009
MACH Dru (CH Colquhoun's First Draw)
Ann Chandoha - 16 August 2009
MACH Mika (Fox Lane's Mika At Tweeddale)
Linda Porter - 4 September 2009
MACH Kip (CH Moonstone's Totally Unexpected)
Sandy McDonald - 20 September 2009
Canine Performance Events:
C-ATE2 Farley (Kamelott's Wild Thing Farley)
Nancy May - 18 July 2009
C-ATCH5 Hops (CH Wynsum Captivating Rhythm)
Jan Leverenz - 20 June 2009
C-ATCH4 Hops (CH Wynsum Captivating Rhythm)
Jan Leverenz - 5 December 2008
C-ATCH4 Guinness (CH Wynsum Hard Habit To Break)
Bob Leverenz - 20 June 2009
C-ATCH3 Guinness (CH Wynsum Hard Habit To Break)
Bob Leverenz - 16 November 2008
---
In Recognition of our Retired Agility Beardies
Who have worked and played with us so well!
Carol Hegg's Dusty
April Gold Star Dust AX AXJ SSA SJ NAC NJC NGC CGC
Debby Hobe's Barkley
Arcadia-Wildwood Mr. Blue MX MXJ AD AS SJ SG SR OAC EJC NGC TN-N CGC
Rosanne Hunt's Zoe
Camelot Sweet Zoe Latte PT AX OAJ HIC CGC
Jeff and Sharon Ipser's Libbee
CH Wigglesworth Make No Mistake AX AXJ NAP
Jeff and Sharon Ipser's Lizzee
CH Wigglesworth Oh Look At That RN PT MX AXJ AXP AJP CGC VX
Renee Lovett's Cocoa
Spindrift Dont U Just Lovett OA NAJ NAP NJP NAC CL2-R U-AGI HIC CGC

Don and Elodji Means' Frankie
CH Donalea's Frankly My Dear RN OA OAJ
Cindy Nellipowitz's Solo
CH Chantilly's Woofgang Amadeus CD RN HSAs NA NAJ NAP NJP NAC NJC CGC VX

Cindy Nellipowitz's Sundae
Chantilly's Hot Sundae AX AXJ NF NAC NJC NGC
Elaine O'Carroll's Rory
AM/CAN CH Colledge Spirit of Sheiling UD PT RE MX MXJ OJP NAP VX Can. AGN CDX HT VA
Karen Reed's Allye
Brandmar Puttin On The Ritz CDX RN AJP NFP
Annie Rudkin's Beau
Beau Rudkin HT OA AXJ MXP MJP PS1
Marilynn Snook's Lakotah!
U-ACH Walkoway's Vixen CD U-CD RN HSAs HTD1gs HRD1gs STDs OA OAJ OAP OJP NAC CL2-RFS TDI HIC CGC VX
Toni Tuck's Ella
CH Britannia Sings the Blues TD NA NAJ NAP NJP NAC
Marilou Watson's Digger
Jubo-Lee's Man In Black NAJ
David Williamson's Harley
MACH2 Harley of St. John PAX MXP6 MJP7 EAC EJC
Sharon Williamson's Brio
MACH Springhill's Spirit of Brio CD AAD JM RM PJ3 OAC EJC NGC TDI CGC
---
Our Agility Beardies at the Rainbow Bridge
Sharon Baker's Pearl
CH Select 3 Gemstone Pearl of a Girl RN HT MX MXJ HIC VX
14 June 1999 - 15 September 2008
Gretchen and Darron Blackburn's Allie
CH Shanaspre-O'Duinnin Intrigue OA NAJ HIC
14 April 1993 - 15 September 2009
Bobbie Bokelund's Shawna
Spindrift Leap of Faith OA NAJ NAC
22 April 1993 - 21 July 2009
Neil and Ruth Bryden's Talisker
Briarpatch Double Scotch RN OA AXJ O-EAC S-EJC O-EGC S-TN-E WV-E CGC
15 August 1995 - 1 July 2009
Jane Mohr Cooper's Emi
CH Ms Morning Star of Alamos NA
19 November 1993 - 16 July 2009
Jana Dozet and Pam Harris' Shelby
StCH / StIntCH Spindrift Best of Both Worlds PT JHD OA OAJ OAC OJC NGC ROM ROMI ROMAX
9 November 1994 - March 2009
Robin Fortenberry's Dos
AKC/UKC CH O'Duinnin Dos Equis OA OAJ NF SS
11 September 2004 - 8 April 2009
Dena and Jim Healy and Amy Steltz's Ripley
Britannia Believe It Or Not O-NJC NGC O-TN-N
1 December 2001 - 4 November 2008
Megg and Edward Hoffman
CH Cattail Hollow All Cheers CDX PD1 PS1 PJ2 PK1 PG1 PR2 TDI CGC
27 November 1997 – 25 October 2009
Kim Krueger's Delilah
Artisan Rook's Feather PT
27 May 2005 - 4 November 2008
Meaux and Jean Larroux's Chloe
27 March 1993 - 30 March 2009
Sandy McDonald's O'Shea
CH Black Friar's Moonstone OA OAJ CGC HIC ROM ROMIX ROMAX VA
14 March 1995 to 15 April 2009
Cheri and Tom Omnus' Murray
Springhills Star Dreamer NA NAJ NAP NJP
22 March 1995 - 12 September 2008
Cheryl Poliak and Steve Klinger's Indy
Am/Can CH Nonesuch New Sensation RE OA OAJ NAP OJP HIC CGC VX ROM ROMAX
8 October 1993 - 3 February 2009
Marilynn Snook's Cheyenne
Khiantah Cheyenne Bandit RN PT CGC TDI
7 January 1996 - 13 September 2009
Barbara Stone and Lynn Zagarella's Colton
CH Ragtyme Doubly Smashing CD U-CD RE HSAs JHD MX MXJ NAP NJP PD1 S-OAC S-OJC NGC HIC CGC VX
4 March 1994 - 23 June 2009
Kathrine and Carl Widell's Cydney
CH Caledonia Cydney Canuck PT NA NAJ VA
17 September 1992 - 6 February 2009
David Williamson's Darby
O'Duinnin Oh Dancin' Darby OA MXJ NF NJC
22 June 1999 - 18 December 2008
Joanne Williamson's Rob
CH Balgrae's Rob Ruadh CD RAE HT JHDs MX MXJ AD EAC EJC EGC TG-N TN-N WV-N VX
10 May 1994 - 9 February 2009
---
Annual BAD Awards - The Top Beardies
Special congratulations go to Nancy May's Farley, C-ATE2 C-ATCH Kamelott's Wild Thing Farley LC-PLT C-10 ExST ExJU ExFH ExSN ExJP ExWC ExCL ChST ChJU ChCL ChFH ChSN PD2 PS2 PJ3 PK2 PG2 EAC EJC ECC S-TN-E S-WV-O TG-E HP-N O-OVA CGC, the top BAD Beardie, the top CPE Beardie and the top NADAC Beardie. Farley is also the top Games Beardie, the top Gambling Beardie, the top Snooker Beardie, and is second in Standard and sixth in Jumpers.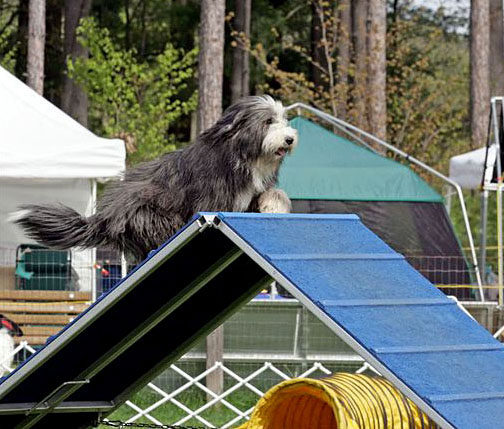 Nancy May's Farley
Top CPE and Top NADAC Beardie
Top Combined Beardie
Special congratulations go to Jeff Ipser's Zoom, CH MACH9 Wigglesworth Super Sonic RN NAP NJP MXF TQX PS1 PD1 PG1 PK1 PJ1 CGC VX, the Top AKC Beardie: 1st in Standard and Jumpers, 2nd in FAST, and 1st for the 2009 Agility Invitational. Zoom is the 2nd BAD Beardie in all venues combined and top in combined Standard and Jumpers.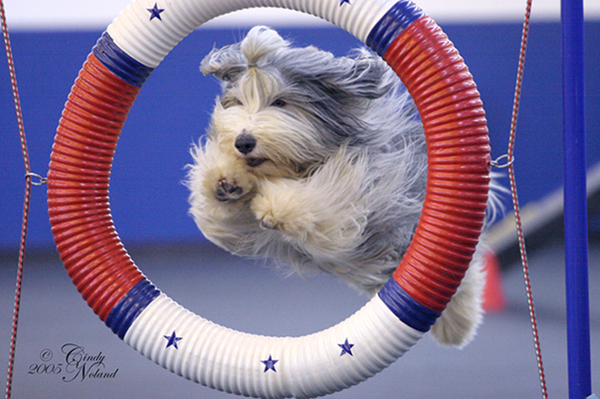 Jeff Ipser's Zoom
Top AKC Beardie
Special congratulations go to Joanne Williamson's Flash, CH MACH Britannia Flashback CD RAE HSAsd HIAs MXF OAC OJC OGC TN-O TG-N WV-N NVA HIT VX, the top Beardie in FAST, the 3rd AKC Beardie: 3rd in Jumpers, 4th in Standard, 4th for 2009 Agility Invitational, and 5th in AKC MACH rankings. Flash is the 8th BAD Beardie in all venues combined: 4th in Jumpers, 4th in Gamblers, and 7th in Standard.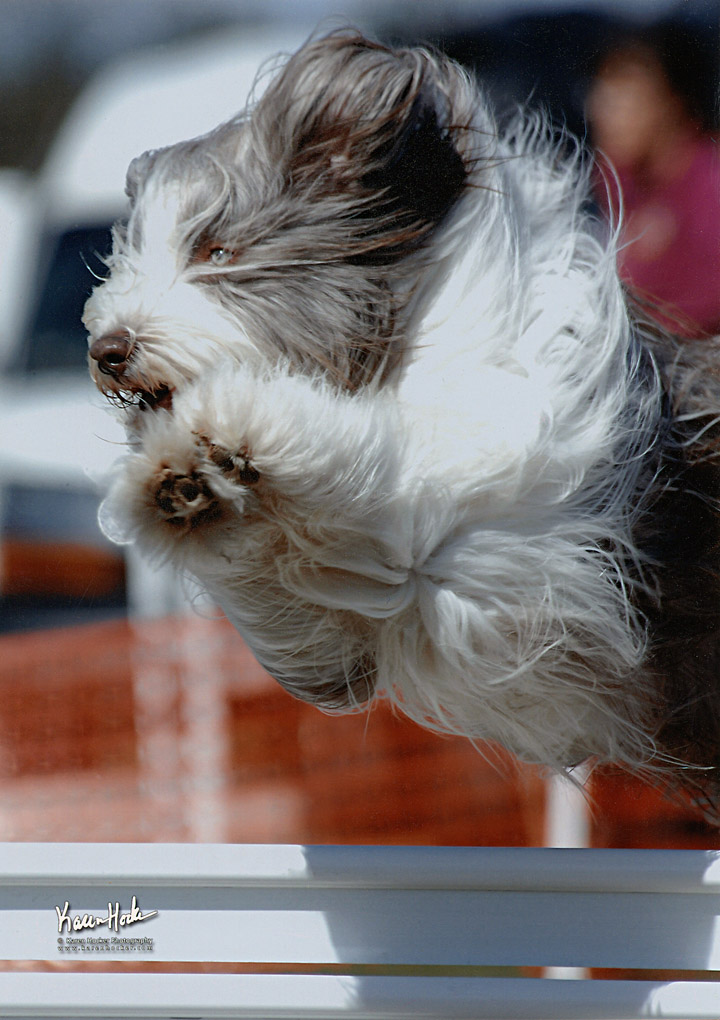 Joanne Williamson's Flash
Top FAST Beardie
Special congratulations go to Sheila Franklin's Bracey, ADCH NATCH Wynsum Embrace The Moment RN HT AX OAJ NF SACH JCH-Bronze GCH-Bronze SCH-Bronze RCH TM-Bronze S-EJC S-WV-E O-TN-E O-TG-O O-OVA VX, Top USDAA Beardie and 7th NADAC Beardie. Bracey is the 14th BAD Beardie in all venues combined: 2nd in Gamblers and 6th in Snooker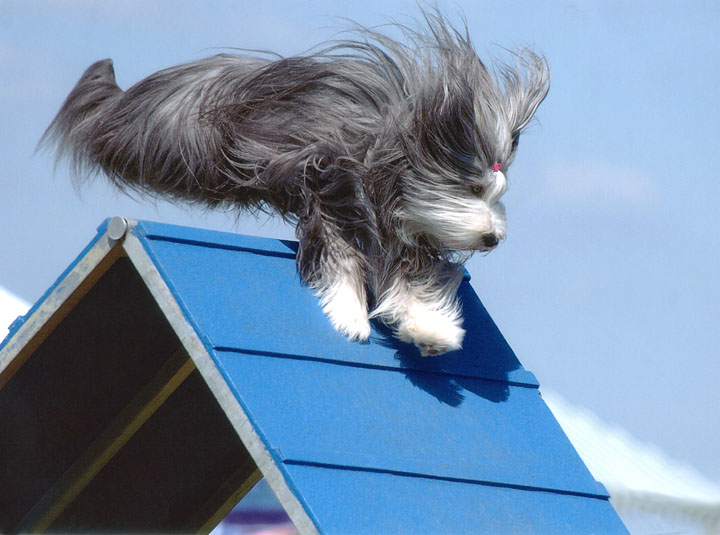 Sheila Franklin's Bracey
Top USDAA Beardie
---
Annual BAD Awards - The Top 20%
170 Beardies competed in agility during this award year, 1 July 2008 - 30 June 2009. 158 earned AKC legs, 31 earned USDAA legs, 18 earned CPE legs, and 17 earned NADAC legs. In all, Beardies earned 2987 legs in 4 USA venues. 149 or 87.6% of the Beardies in competition belong to BAD and these BAD Beardies earned 2884 legs or 96.5% of the agility legs earned. Every year at this time, the top BAD Beardies are acknowledged.
Nancy May and Farley – 216 legs
C-ATE2 C-ATCH Kamelott's Wild Thing Farley
LC-PLT C-10 ExST ExJU ExFH ExSN ExJP ExWC ExCL ChST ChJU ChCL ChFH ChSN
PD2 PS2 PJ3 PK2 PG2 EAC EJC ECC S-TN-E S-WV-O TG-E HP-N O-OVA CGC
Top BAD Beardie in all venues combined:
Top Games Beardie: 1st in Gamblers, 1st in Snooker, 2nd in Standard, 6th in Jumpers
Top CPE and NADAC Beardie, 12th USDAA Beardie
Jeff Ipser and Zoom – 169 legs
CH MACH9 Wigglesworth Super Sonic
RN NAP NJP MXF TQX PS1 PD1 PG1 PK1 PJ1 CGC VX
2nd BAD Beardie in all venues combined:
Top in Combined Standard and Jumpers
Top AKC Beardie: 1st in Standard and Jumpers, 2nd in FAST
1st 2009 Agility Invitational / 1st in 2008 MACH QQ Rankings
Jan Leverenz and Hops – 145 legs
AmCan CH MACH C-ATCH5 Wynsum Captivating Rhythm
CDX Can CD-HIT RAE MX MXJ XF CGC HIC VX
AAD ASA AJ AS AR SG OAC O-OJC NGC TN-O WV-N ChST ChJU ChJP ChWC ChCL ChFH ChSN
3rd BAD Beardie in all venues combined: 2nd in Games: 2nd in Snooker, 4th in Gamblers,4th in Standard, 5th in Jumpers
2nd CPE, 8th USDAA, 9th NADAC Beardie
5th AKC Beardie: 5th in Standard (BAD ranking)
8th AKC Beardie and 8th 2009 Agility Invitational (AKC ranking)
Bob Leverenz and Guinness – 115 legs
AmCan CH C-ATCH4 Wynsum Hard Habit To Break
RA MX MXJ OF PK1 ChST ChJU ChCL ChSN ChFH ChJP NAC NJC CGC HIC VX
4th BAD Beardie in all venues combined: 4th in Gamblers, 5th in Games, 5th in Snooker, 6th in Standard, 7th in Jumpers
3rd CPE Beardie
Sarah Halsey and Wizard - 108 legs
MACH9/ADCH Anasazi Secret of the Wizard
MXF SACH EAC EJC EGC CGC
5th BAD Beardie in all venues combined: 2nd in Jumpers and 3rd in Standard
2nd AKC Beardie: 2nd in both Standard and Jumpers
2nd 2009 Agility Invitational / 2nd in 2008 MACH QQ Rankings
Linda Porter and Mika – 97 legs
MACH Foxlane's Mika At Tweeddale
XF MAD ASA JM AG AR NAC
6th BAD Beardie in all venues combined: 3rd in Jumpers, 5th in Standard, and 8th in Gamblers
2nd USDAA and 8th NADAC Beardie
4th AKC Beardie: 3rd in Standard and 4th in JWW
3rd 2009 Agility Invitational / 3rd in 2008 MACH QQ Rankings / 4th in 2008 Invitational Competition
Steve Lausman and Izzy – 86 legs
CH Springhill's Isabelle
NA NAJ NF OJC TN-N CL2-R CL3-S CL4-FH
7th BAD Beardie in all venues combined: 3rd in Gamblers, 4th in Games, 6th in Snooker, 12th in Jumpers
2nd in NADAC and 4th in CPE
Joanne Williamson and Flash - 77 legs
CH MACH Britannia Flashback CD RAE HSAsd HIAs MXF HIT MV
OAC OJC OGC TN-O TG-N WV-N NVA
8th BAD Beardie in all venues combined: 4th in Jumpers, 4th in Gamblers, and 7th in Standard
3rd AKC Beardie: 1st in FAST, 3rd in Jumpers, 4th in Standard
4th 2009 Agility Invitational / 5th in 2008 MACH QQ Standings
Nancy May and Granite – 73 legs
Kamelott's Great Stone Face
OJC TN-E CL2 CL4-FSH ChSN ChFH ChJU
9th BAD Beardie in all venues combined: 3rd in Games, 3rd in Snooker
2nd in NADAC and 5th in CPE
Jack Buhite and Ceilidh – 61.5 legs
UCI Int BA Ch O'Duinnin Celebration Ale
RE PT NA NAJ NF SJ SS SG CL2-R CL3-HS CL4-F TN-N HCT HIC CGC VX
10th BAD Beardie in all venues combined: 3rd in Snooker, 6th in Games, 12th in Gamblers
5th in USDAA and 6th in CPE
Bobbie Raguse and Kira – 52 legs
MACH Shanaspree Rose Of Kilravock
RN PT XF NJC NGC CL3-R CGC VX
11th BAD Beardie all venues combined: 9th in Standard and 12th in Games
11th AKC Beardie: 9th 2009 Agility Invitational / 7th in 2008 MACH QQ Standings
Pat Coreris and Roger – 51 legs
Spindrift Risa Over And Out
CD RAE HT AX OAJ NJP OF PD1 PS1 CL2 HIC CGC VX
12th BAD Beardie all venues combined: 8th in Gamblers, 7th in Games, 10th in Standard, 12th in Snooker
7th in CPE and 8th in USDAA
Carl Widell and Polo – 50 legs
CH Caledonia's O Polo Mio RN PT MX MXJ XF NAP NJP VX
PD1 PS1 PJ1 PG1 PK1 PR1 NAC O-NJC TNS-E WV-O TG-O CL3-RS
13th BAD Beardie all venues combined: 8th in Gamblers and Games
6th NADAC Beardie
11th AKC Beardie: 3rd in FAST
19th 2009 Agility Invitational / 25th in 2008 MACH QQ Standings
Sheila Franklin and Bracey – 48.5 legs
ADCH NATCH Wynsum Embrace The Moment
RN HT AX OAJ NF SACH JCH-Bronze GCH-Bronze SCH-Bronze RCH TM-Bronze S-EJC S-WV-E O-TN-E O-TG-O O-OVA VX
14th BAD Beardie all venues combined: 2nd in Gamblers, 6th in Snooker
Top USDAA Beardie and 7th NADAC Beardie
Claire Cifarelli and Patch – 42 legs
MACH2 Raintree Ha'Penny Hades CD RN VX
PD1 PS1 PJ1 PK1 PG1 PR1 OAC EJC NGC TN-O TG-N WV-N
15th BAD Beardie all venues combined: 10th in Jumpers and 18th in Standard
15th AKC Beardie: 17th in Standard and 13th in JWW
10th 2009 Agility Invitational / 14th in 2008 MACH QQ Standings
Carol Hegg and Joli – 41 legs
O'Duinnin Joli Goes Platinum CD RE PT MX MXJ NF CGC VX
AAD ASA JCH RM AS AG NAC NGC EJC TN-O WV-N JHD-sg
16th BAD Beardie all venues combined: 10th in Standard, 12th in Snooker
6th USDAA Beardie
19th AKC Beardie: 13th in Standard, 19th in JWW
20th 2009 Agility Invitational / 24th in 2008 MACH QQ Standings
Dawn Kinney and Buffy – 40 legs
Dunnachie's Buffy Slays Me
RN HT MX MXJ NF CL2-R HIC CGC VX
17th BAD Beardie all venues combined: 8th in Standard, 15th in Jumpers
6th AKC Beardie: 5th in Standard, 9th in JWW
13th 2009 Agility Invitational / 12th in 2008 MACH QQ Standings
Karen Barratt and Miller – 39 legs
CH MACH Colquhoun's No Time To Relax MXF NAC HIC
18th BAD Beardie all venues combined: 12th in Gamblers, 14th in Standard
7th AKC Beardie: 9th in Standard, 17th in JWW, 5th in FAST
6th 2009 Agility Invitational / 4th in 2008 MACH QQ Standings
Shannon Smart and Loki – 37.5 legs
Spindrift Risa Devil Made Me Do It
RN PT MX MXJ NF HIC CGC VX
19th BAD Beardie all venues combined: 8th in Jumpers
8th AKC Beardie: 19th in Standard, 5th in JWW
11th 2009 Agility Invitational
Cheri Omnus and McKay – 36 legs
CH Lakewood's Shining Star
RN MX MXJ NF PD2 PS2 PK3 PJ2 PG1 NAC NJC WV-N HIC CGC VX
20th BAD Beardie all venues combined: 10th in Jumpers
15th AKC Beardie: 8th in JWW, 24th in Standard
12th 2009 Agility Invitational / 15th in 2008 MACH QQ Standings
Lori Weinberg and Rocky – 36 legs
MACH Chaniam Creag XF PG1 PJ1 PR1 HIC CGC
20th BAD Beardie all venues combined: 13th in Jumpers, 14th in Standard
9th AKC Beardie: 9th in Standard, 9nd in JWW
5th 2009 Agility Invitational / 6th in 2008 MACH QQ Standings
Linda Porter and Bailey - 35 legs
CH MACH2 Oakengates Irish Cream
AXP MJP OF AAD ASA AJ AS SR SG O-NAC O-OJC O-NCC TN-E S-WV-N O-TG-N NVA ROMA
22nd BAD Beardie all venues combined: 8th in Jumpers
10th AKC Beardie: 5th in Jumpers, 10th in MACH QQ Standings for 2008
Ann Chandoha and Dru – 34 legs
CH MACH Colquhoun's First Draw XF NAC HIC
23rd BAD Beardie all venues combined: 14th in Standard, 19th in Gamblers
11th AKC Beardie: 9th in Standard, 21st in JWW, and 8th in FAST
21st 2009 Agility Invitational / 22nd in 2008 MACH QQ Standings
Diane Lipman and Paige – 34 legs
CH Wigglesworth Walk This Way RN MX MXJ XF VX
23rd BAD Beardie all venues combined: 18th in Standard, 15th in Gamblers
11th AKC Beardie: 13th in Standard, 20th in JWW, and 7th in FAST
14th 2009 Agility Invitational / 13th in 2008 MACH QQ Standings
Beth Scorzelli and Brew - 33 legs
CH Colquhoun's Hurricane Brewin'
CDX RAE2 PT MX MXJ OF AAD ASA JM AG AS AR CGC VX
25th BAD Beardie all venues combined
6th USDAA Beardie
27th AKC Beardie: 20th in JWW
18th 2009 Agility Invitational / 16th in 2008 MACH QQ Standings
Jan and Tony Vallone and Chloe – 33 legs
CH Blackfriar A Scot On The Rocks
CD RAE2 MX MXJ MXP2 MJP4 VX ROMAX
25th BAD Beardie all venues combined: 13th in Jumpers, 21st in Standard
15th AKC Beardie: 17th in Standard, 9th in JWW
Elaine O'Carroll and Conor - 31 legs
CH Sheiling Awesome Angel
UD RE PT MX MXJ AXP AJP NJC NGC VX
27th BAD Beardie all venues combined: 20th in Standard, 21st in Jumpers
18th AKC Beardie: 15th in Standard, 16th in JWW
17th 2009 Agility Invitational / 20th in 2008 MACH QQ Standings
Claire Cifarelli and Roxie – 30 legs
Roxie MX MXJ TN-O TG-N
28th BAD Beardie all venues combined: 10th in Standard
19th AKC Beardie: 7th in Standard, 20th in JWW
15th 2009 Agility Invitational / 16th in 2008 MACH QQ Standings
Terry Johnson and Streaker – 29 legs
Oakengates Winning Streak RN AX MXJ OF PJ3 PG2 PK2 PR2
29th BAD Beardie all venues combined: 8th in Snooker
3rd USDAA Beardie
Miranda Mulders and Rembrandt – 29 legs
Colard Fly With Me RN PT AX OJP AXJ OFP XF VX
EAC ECC EJC O-TN-E WV-O TG-O HP-O OVA
29th BAD Beardie all venues combined: 11th in Games, 15th in Gamblers
4th NADAC Beardie
Jeff Ipser and Jax – 28 legs
CH MACH3 Wigglesworth Out On A Limb
RN MXP MJP PS1 CGC ROMAX VX
31st BAD Beardie all venues combined: 22nd in Standard, 24th in Jumpers
21st AKC Beardie: 19th in Standard, 17th in JWW
Ruth and Neil Bryden and Glayva – 27.5 legs
Aceilidh's Nua Bliam Coilean CD RN PT NA CGC VA
PK1 PG1 PR1 NAC NGC NJC S-TN-E WV-N TG-N NVA CL3
32nd BAD Beardie all venues combined: 8th in Games, 9th in Snooker, 15th in Gamblers
8th CPE Beardie, 15th USDAA Beardie
Sandy McDonald and Kip – 27 legs
CH MACH Moonstone Totally Unexpected
RE PT OF CGC HIC VX
33rd BAD Beardie all venues combined: 10th in Standard
22nd AKC Beardie: 7th in Standard, 33rd in JWW
22nd 2009 Agility Invitational / 16th in 2008 MACH QQ Standings
Jenny Scheytt and Zoe – 26.5 legs
CH After Dark Seventh Star
OA AXJ OF CL2-RF HIC CGC-Carolinas-1st Award of Merit
34th BAD Beardie all venues combined: 15th in Gamblers
Walt Ernst and Mickie – 25 legs
CH MACH Oakengates Quite Contrary
35th BAD Beardie all venues combined: 15th in Jumpers
25th AKC Beardie: 9th in JWW: 9th in in 2008 MACH QQ Standings
Terry Johnson and Indy – 25 legs
Tweeddale's Dream Catcher
RA AX MXJ OF PD1 PS1 PG1 PJ2 PK2 PR2 U-AGI CGC
35th BAD Beardie all venues combined: 9th in Snooker, 18th in Games
3rd USDAA Beardie
Jan Norikane and Gina – 24 legs
Hyatt's Happy Go Lucky Girl MX MXJ
PD1 PG1 PK1 EAC EJC EGC TN-E TG-E WV-O OVA U-AGII HIC
37th BAD Beardie all venues combined: 22nd in Standard
26th AKC Beardie: 19th in Standard, 29th in JWW
7th 2009 Agility Invitational / 19th in 2008 MACH QQ Standings
---
---
---
---
Last updated 4 November 2011
---
---
BAD Honors:
---
BAD Awards:
---
BCCA
---
For those of you who are history buffs, you can find accounts of our fourteen trials along with scores and pictures at:
---
---
---
---
---

Off to a BAD Start
[BAD Handlers] | [BAD Dogs] | [BAD Events] | [BAD Links]
[BAD Greetings] | [BAD News] | BAD Beginnings]
[BAD Advice] | [BAD Attitudes] | [BAD Goods]
Email Libby with an update